Take card payments with your phone: iZettle
The iZettle service, released in beta this month, allows anyone with an iPad, iPhone or iPod Touch to accept debit card or credit card payments.
It's useful for sole traders and small businesses but also for ordinary consumers, especially those who want to get cash off their credit cards.
Since iZettle's Scandinavian launch at the end of last year, many have been waiting with bated breath for its arrival on UK shores and the full commercial launch in July.
So has it been worth the wait?
How it works
Specs
First things first, the iZettle service consists of a card reader which plugs into an iOS device and an app.
The reader - 59mm wide, 45mm tall and 9mm deep, on the left in the picture below - has a connecting jack at the top and a docking slot at the bottom for credit and debit cards.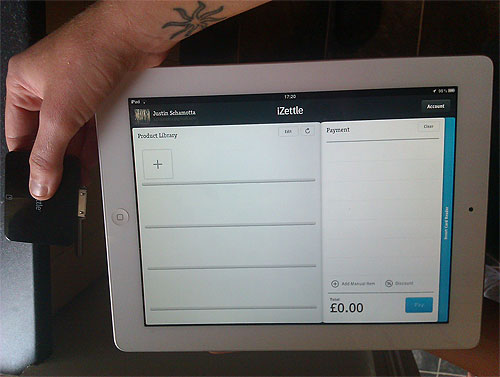 The iZettle app is available to download for free from Apple's app store.
How it works
Once the tech is assembled, users must create an account (either business or personal) at iZettle.com.
The account is verified - which takes less than a minute and users must then nominate a bank account, which must also be verified. It's much the same as when creating a Paypal account.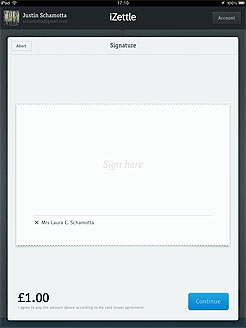 The dongle fits into the charging port of an iPhone simply enough and the application automatically launches.
The buyer inserts their card into the bottom of the card reader and the seller presses 'add manual item'. This causes a numeric pad to appear where the amount being paid can be entered.
Pressing 'pay' results in a brief pause while the bank is contacted to authorise the payment.
Once this is completed, the card is taken out and the iPhone or iPad handed over to the buyer to sign their name using their fingertip on the touchscreen (see screenshot above).
They then have the option of adding their email address in order to receive a receipt (as in the screenshot below).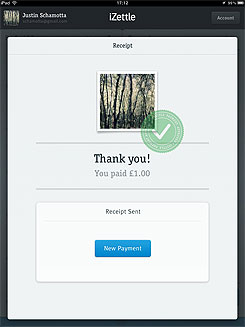 All in all, it's a simple and painless process.
The account at iZettle.com can be used by sellers to view their sales and create a portfolio of products with individual prices and images - ideal for market traders and vendors.
Account owners can also change the image (the forest image on the right) that will appear on their receipts.
Fees
iZettle make money by charging a fee on each payment.
The fee is 2.75% for Mastercard and Diners Club cards. For American Express cards it's 2.95%.
A major downside is that Visa is not yet available, though it'll be accepted in the future.
Compared with the classic merchant card machines, where the machine itself typically costs around £20 a month on top of the fees, it's a big saving. For consumers it's less appealing except, perhaps, in the case of credit cards.
Useful for credit cards?
PPI refunds or refunds for fraud often go back on to credit cards which means more people carrying a positive balance that they don't want to spend.
Drawing money out of an ATM with a credit card as a cash advance incurs both fees and interest at a very high rate.
Money transfers - sometimes known as super balance transfers, see guide - can help but even they have a transfer fee, usually 4%, as well as the threat of future interest after the 0% period is over.
So, we thought, iZettle could be a possible way for credit cardholders to 'pay' themselves for less.
Let's take a look at how much a typical credit card - charging a 27.9% p.a. rate on cash advances and a 3% fee - compares on a £1,000 withdrawal/payment.
| | 10 days* | 20 days | 30 days | 50 days |
| --- | --- | --- | --- | --- |
| Credit card ATM | £37.64 | £45.28 | £52.93 | £68.22 |
| Credit card iZettle | £27.50 | £27.50 | £27.50 | £27.50 |
* days refers to the number of days before the card balance is paid off in full.
It's not cheap. But it is a bit cheaper than most cash advances.
For more on credit cards and cash see this full guide.
The verdict
The iZettle reader is undeniably simple to operate, even at the end of a long night at the pub.
In brief
Pros
Easy to use
Ideal for SMEs
Cheaper than alternatives
Cons
No Visa support
2.75-2.95% fee
Only fairly sturdy
While the chance to immediately settle drunken bets will appeal to some, the device is more properly intended for micro businesses who can't justify the expense of a traditional card reading machine.
Though the device seems relatively sturdy, it's possible that the jack used to connect it to the phone could get damaged after repeated heavy handed usage - the metal could be bent out of shape with clumsy card insertions.
For those traders who've got an iPad or an iPhone (rather than the usual grubby mobile from the last millennium) iZettle is a great little device.
It's the UK's first mobile card reader and will undoubtedly prove extremely popular though probably more for businesses than consumers.
For more information visit iZettle here.