UK bank and building society overview: who owns who?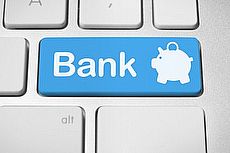 Many UK banks and building societies are linked, and it pays to know how.
Under the Financial Services Compensation Scheme (FSCS), for example, savers can get their money back if their bank goes bust. But coverage is limited to £85,000 for each banking licence.
A savings pot larger than that, spread over several linked banks, could be lost.
Knowing the market is also important for those trying to bank ethically: there's nothing more annoying than realising the alternative you moved to is actually owned by a banking brand you wouldn't want to touch with a barge pole.
Read on to find out who owns who.
UK banking groups
The following groups of banks, with the group name shown in bold, share a single banking licence.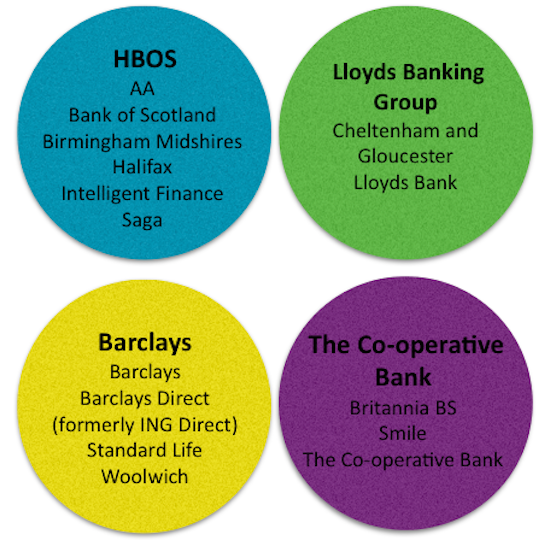 SOURCE: Choose.net editorial team.
Building societies are also generally linked into groups which share a banking licence.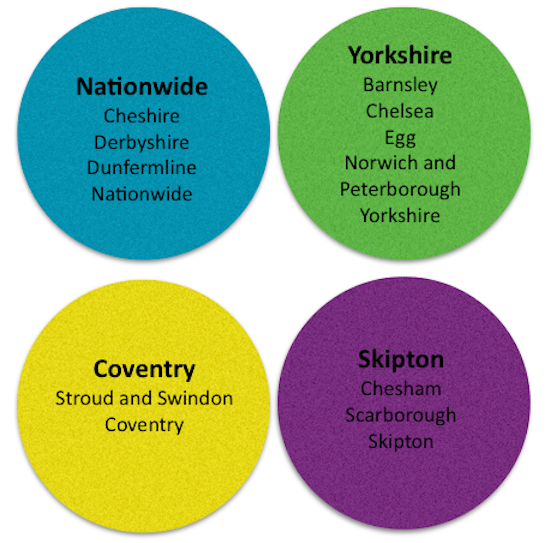 SOURCE: Choose.net editorial team.
One big notable group is not shown above: The Royal Bank of Scotland Group.
Although the following banks are a part of this group, they all have separate banking licences:
RBS
Natwest
Ulster Bank
Coutts
Smaller groups
There are also a number of smaller groups sharing a banking licence.
In most cases, these are a large bank with a smaller subsidiary, like the online banks First Direct and Cahoot.
Bank of Ireland UK
Clydesdale Bank PLC
Santander UK
HSBC
Bank of Ireland UK
Post Office
Clydesdale Bank
Yorkshire Bank
Cahoot
Santander
First Direct
HSBC
Note that although Santander is technically a foreign owned bank because it is owned by Banco Santander of Spain, savings are protected under FSCS because the bank has a UK licence. See below for more on this.
Single licence banks
TSB, which was previously part of Lloyds TSB, also have their own banking licence.
So do the following fairly new banks:
Sainsbury's Bank
Tesco Bank
Virgin Money
Foreign owned banks
When it comes to FSCS protection, it's particularly important whether a foreign owned bank has a UK banking licence.
A 2012 FSCS study found that 54% of consumers would avoid putting their money into foreign owned banks, perhaps recalling the Icesave crisis.
Yet, a huge number of these foreign owned banks actually operate in the UK under a UK banking licence which means that eligible customers' savings are just as protected as they would be in a UK grown bank.
Here are just a few foreign owned banks that fall into that category:
Santander UK
Axis Bank UK
Bank of Cyprus UK
ICICI Bank UK
State Bank of India UK
Bank of Baroda UK
Bank of China UK
For the full list, take a look at the full list on the FCA site here.
Government support for banks
Bank ownership has taken on a slightly different meaning over the past few years.
Often, now, what we really mean when we ask this question is, how much of these banks does the UK Government own?
The Government manages bank assets through two bodies set up to protect the interest of UK taxpayers as shareholders and to promote a better banking system, meaning a more stable and competitive system.
The most well known is UK Financial Investments (UKFI) which owns shares in:
Lloyds banking group: a 24.9% share as of March 2014, and
the Royal Bank of Scotland group: an 81% share based on figures released in September 2013.
UKFI also previously held Northern Rock, until it most of the company was bought by Virgin Money in 2012.
The rest of Northern Rock and the mortgage books of Bradford and Bingley and their subsidiary Mortgage Express are managed by UKAR (UK Asset Resolution Limited), another Government holding company.
UKAR functions to manage the mortgages of these banks' customers and basically get them to either pay off their mortgage in full or move it to another lender, in order for taxpayers to try and recover as much money from these so called 'bad' mortgage books as possible.