Broadband from Tentel: a flexible friend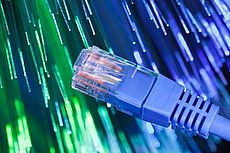 THERE'S one word that best sums up TenTel: flexible.
Based in the Scottish Borders, the ISP offer a variety of broadband packages, ranging from capped 30-day deals to 18-month unlimited fibre contracts.
Their target audience is young and mobile, hence their main broadband contracts being just six months long - but they also have an eye for a good longer term bargain as well.
And their flexible approach extends beyond their products: they're one of just a few providers who don't carry out extra credit checks, making them an option for those who need to get online but don't think their credit history will win them any favours.
In this guide, we'll look at what exactly they offer - including their claim of being a triple play provider - to find out just how flexible they are.
Tentel broadband
As far as broadband goes, the flexibility begins with Tentel's three basic up to 17Mb deals, with prices based on the data allowance:
Package
Broadband
Price
Line Rental
Total cost
Tentel
Hello Broadband 5
Up to 17Mb
5GB
£2.99
£15.99
£18.98
Tentel
Hello Broadband 40
Up to 17Mb
40GB
£6.99
£15.99
£22.98
Tentel
Hello Broadband Unlimited
Up to 17Mb
Unlimited
£12.99
£15.99
£28.98
Those looking at one of the capped packages and wondering if they can get by with a data limit should bear in mind that going over the cap will incur an excess data charge of £1.50 per GB.
That's not too bad if we know we're only going to exceed our limit every once in a while, but someone regularly getting through 8GB a month on the 5GB deal will be paying more than someone on the 40GB deal, which is a more realistic limit for most of us.
We've a guide to data usage, and how much is enough, here.
As most ISPs offer unlimited broadband these days, we'll use that as our comparison point with the biggest providers:
Package
Price
Line Rental
Total cost
Tentel
Hello Broadband Unlimited
£12.99
£15.99
£28.98
Unlimited Broadband + Weekend calls
£5
for 12 mths,
then £18
£18.99
£23.99
for 12 mths,
then £36.99
Unlimited + Line Only
Free
for 18 mths,
then £9.99
£17.99
£17.99
for 18 mths,
then £27.98
Broadband Unlimited + Talk
Free
for 12 mths,
then £10
£17.40
£17.40
for 12 mths,
then £27.40
Tentel appear to suffer from the fact that they don't offer the kind of introductory deal popular with other providers - but they have a couple of strings to their bow that their biggest rivals are missing.
Special offers
At the time of writing, Tentel have a couple of offers available to bring down the price of their unlimited broadband, including one where it's free for six months, and an upfront deal that covers not only the line rental, but broadband and weekend calls as well:
Package
Price
Line Rental
Contract length
Tentel
Hello Broadband Unlimited (6 months free)
Free
for 6 mths, then £6.99
£15.99
18 months
Tentel
Tentel Advance
(Unlimited up to 17MB broadband + line rental + weekend calls)
£249.99
for the year
N/A
12 months
Both of these deals offer significant savings for those who can commit to them.
Tentel Advance costs the equivalent of £20.83 a month - giving customers unlimited data and free weekend calls to UK landlines for less than the monthly price of the ISP's 40GB broadband and line rental deal.
Meanwhile the 18-month deal not only offers six months of unlimited broadband free of charge, but a further 12 months of unlimited broadband at almost half price.
Short contracts
Tentel specialise in short term broadband deals - ideal, as they put it, for renters and students. Unless we're signing up for one of the special offers above, each of their standard broadband packages is available on either 30-day or six-month terms.
Whichever terms customers choose to sign on for, they'll get a basic router completely free of charge (even postage and packing is covered), although there is the option of a "premium" router for £99.99, or adding a wireless booster for £34.99.
The only real difference between going for a short contract and a very short contract is that those signing up for the 30-day deal will need to pay a £35 setup fee.
The capped packages mean Tentel can claim to offer some of the cheapest short term broadband deals around - but those who want unlimited data should be aware that there are cheaper options available.
There's more on flexible broadband - who offers it, how much it costs, and what to be aware of - in our detailed guide here.
Fibre broadband from Tentel
The ISP also offer fibre broadband, although the minimum contract is 18 months long - and anyone looking for basic fibre (up to 38Mb) will need to agree to a data cap of 100GB.
Package
Broadband
Price
Line Rental
Total cost
Tentel
Hello Fibre 100
Up to 38Mb
100GB
£16.99
£15.99
£32.98
Tentel
Hello Fibre Unlimited
Up to 76Mb
Unlimited
£24.99
£15.99
£40.98
Both fibre packages require customers to pay a £49 activation fee.
Although the 38Mb deal comes with a cap, it's quite generous.
In their 2015 end of year report, Ofcom said that each month the average household gets through 82GB of data - both downloading and uploading.
That report also showed a sharp uptick in the average amount of data homes get through once their connection exceeds 40Mb, rising to 112GB per month.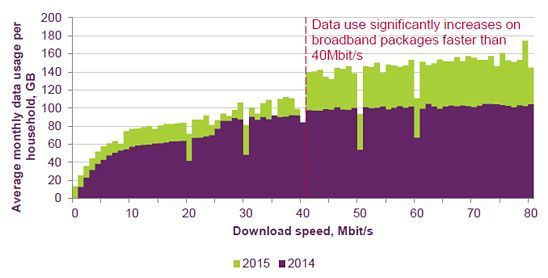 SOURCE: Ofcom Connected Nations 2015. Available here [pdf].
We'd go so far as to say that even gamers and serious streamers should be able to cope with the 100GB cap.
But the most data hungry households may find the faster, unlimited, deal is better - both in terms of the peace of mind it can offer, and its ability to cope with more devices without slowing any of them down too much.
Home phone from Tentel
At £15.99, Tentel's line rental is among the cheapest around these days - although it doesn't come with any calls bundled.
Rather than offering free calls at certain times of the day, however, Tentel sell bundles in the same way as mobile operators do.
Users pay for call time to particular types of number - with the basic bundles covering calls to UK landlines starting 01, 02, and 03 - but those calls can be made any time of day or night.
| | Package | You get | Price |
| --- | --- | --- | --- |
| Tentel | Hello Calls 60 | 60 minutes of calls | £2.50 |
| Tentel | Hello Calls 100 | 100 minutes of calls | £4 |
| Tentel | Hello Calls 200 | 200 minutes of calls | £6 |
| Tentel | Hello Calls Unlimited | Unlimited calls | £7.50 |
Once there's a basic call bundle in place, customers can add one of the following bolt-ons:
| | Package | You get | Price |
| --- | --- | --- | --- |
| Tentel | Hello Mobile | Half price calls to mobile numbers | £2.50 |
| Tentel | Hello International | 100 minutes to selected destinations | £6 |
| Tentel | Hello International Unlimited | Unlimited minutes to selected destinations | £10 |
Once those allowances have been used up, calls to UK landlines will cost 10p per minute; this is also the access charge for calls to 084, 087, 09 and 118 numbers.
Calls to UK mobiles are 15p per minute; call features other than 1471 are £1.50 per month.
In keeping with Tentel's philosophy of flexibility, there's no contract for the phone service - so customers can change their call bundle and features on a monthly basis if they need to.
Triple play of a sort
Since January 2016, Tentel have offered Roku sticks and boxes to their customers, at a discount.
Their head of marketing, David Riley, told us at the time, "our customers want... to watch TV."
It's not what most of us would consider TV, at least not in the traditional sense: the best way to describe Roku for the uninitiated is "like Amazon Fire TV but more so".
Unlike Amazon Fire devices and the (Roku-made) Now TV boxes, the full Roku boxes provide access to every streaming service it's possible to get in the UK, plus the terrestrial broadcasters' catch-up services, the Sky Store, and a whole bunch of other video on demand apps.
There are three options to choose from, each slightly better than the last:
| | Roku | You get | Price |
| --- | --- | --- | --- |
| Tentel | Roku Stick | Streaming, full HD support, dual band wireless | £49.99 £24.99 |
| Tentel | Roku 2 | As above, plus Ethernet, USB and micro SD card slots, HD optimised processor | £69.99 £54.99 |
| Tentel | Roku 3 | As Roku 2, plus motion control for gaming, headphone jack in remote | £99.99 £79.99 |
That list of features may not sound like much, but the dinky but powerful devices get very good reviews from all who encounter them - such as What Hi-Fi, for example.
It's an astute move from Tentel, offering what increasingly constitutes TV for the younger generation, with the same flexibility as they endeavour to offer with their broadband and phone services - and we'll keep an eye on how it's working out.
In all
Tentel aren't the cheapest broadband provider out there, even in the rather limited short term broadband market.
But they are among the most flexible - offering both capped and unlimited packages, contracts ranging from 30 days to 18 months, and call allowances rather than call bundles.
They also earn points for their fresh approach to triple play, and for those willing to commit, their longer term deals are competitive.