Sky or Virgin Media: which is better?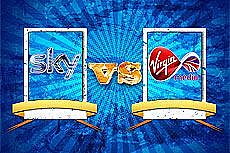 SKY and Virgin Media both claim to be the UK's best broadband, TV and phone bundle provider.
It's an extremely close competition, but in this guide we'll look at some of the differences between the home media giants that we think everyone should be aware of before choosing.
First: the best offers
The competition between Sky and Virgin Media does have one serious upside: money off for new customers.
We've a list of the latest offers from each below, which could be worth keeping in mind as you read on.
Sky
Sky have a reputation for running a good deal - and they've pulled the stops out for Black Friday week. They've one for people interested in their TV deals, and one for those more tempted by their broadband: click on the blue buttons to take advantage of them:
Those aren't all the deals available; here are their other current offers:
What's on offer?
When you join online for:
Get 33% off Sky TV for 12 months + £25 reward of your choice.
Hurry! Offer ends in 4 days!
11 February 2016
Any Sky TV bundle


12 months free Sky Unlimited Broadband (usually £10/mth)
Hurry! Offer ends 25 February 2016
Sky Unlimited Broadband
(as a new or existing Sky TV customer)


12 months free Sky Unlimited Broadband (usually £10/mth) + £75 M&S voucher.
Hurry! Offer ends 25 February 2016
Sky Unlimited Broadband
(without Sky TV)


Half price Sky Fibre for 12 months.
Hurry! Offer ends 25 February 2016
Sky Fibre 25GB or Sky Fibre Unlimited
(with or without Sky TV)


Find out more about Sky TV in our main guide to that, or for information on their broadband deals see this guide.
Virgin Media
Meanwhile, here's what Virgin are offering to try to tempt new customers:
What's on offer?
When you join online for:
Money off TV, broadband and phone for 6 months + free set up worth £49.95
One of Virgin Media's Big Bundles
Save over £180 on broadband and phone + free set up
Virgin Media broadband
(with a Virgin phone line)
Exclusive offer: 50Mb broadband + phone £5 a month for the first 6 months (then £17.50)
This exclusive 50Mb broadband and weekend calls deal only
Save money on Virgin TV in 6 months
Virgin Media TV
(with a Virgin phone line)
Find out more about Virgin Media TV in this dedicated review, or read about the detail of their different broadband deals in our main Virgin Media broadband review, here.
Availability
Almost before comparing anything else, check each provider's availability. Sky TV coverage is pretty much nationwide, and their broadband is widely available too; Virgin Media fibre is only available to around 50% of homes, although their network is growing, slowly, all the time.
Use the box below to check availability for both.
Note that if Sky is listed as "not available", it may still be possible to get Connect broadband, their "out of area" deal. There's more on that below.
Enter your phone number and / or postcode above to check availability in your area.
Quick compare: So, who's best for...
Can't decide between
Sky and Virgin?

Take a quick look at which provider is ahead in the categories important to you by choosing from the selection on the left.
More detail: find out who's best on...
Price
(Seemingly) simple question: who offers what features cheapest?
Broadband only, or broadband and calls
For those wanting to ditch the phone line, Virgin Media is the only option - but it's not as cheap as might be hoped.
For those wanting decent broadband, Sky look to be cheapest.
Package
Price
Line rental
Total monthly
Sky Broadband Unlimited + Talk
Free
for 12 mths,
then £10
£17.40
£17.40
for 12 mths,
then £27.40
Virgin Media 50Mb broadband
£30.25
N/a
£30.25
Virgin Media 50Mb Broadband + Weekend calls
£8
for 6 mths,
then £19
£17.99
£25.99
for 6 mths,
then £36.99
Sky's line rental is now £17.40 for new customers; Virgin's has increased to £17.99 for new customers; existing customers will find theirs rises to match from February next year.
Sky's line rental no longer comes with any inclusive calls, and the cheapest call plan is their Evenings And Weekends Extra package, which costs £4 a month.
Even allowing for that, they're cheaper than Virgin by about £5 a month - but with much slower broadband.
Budget bundles
Virgin Media win this race with their Big Easy deal, offering a downsized version of their M+ TV package - just 60 channels - bundled with up to 50Mb broadband - which should soon rise to up to 70Mb - and weekend calls.
It's hard for Sky to beat as their cheapest broadband may well be free, but at just 17Mb and with a 2GB data limit per month it's only suitable for light browsing and emails.
All in all, we think Virgin Media are the best budget bundle bet.
Package
Price
Line rental
Total monthly
Sky TV Original + Broadband Lite + Talk
£13.40
for 12 mths,
then £20
£17.40
£30.80
for 12 mths,
then £37.40
Virgin Media Big Easy Bundle
£10
for 6 mths,
then £24
£17.99
£27.99
for 6 mths,
then £41.99
Compare the two for budget bundles without sacrificing must have channels with our comparison table here.
Large bundles
We've picked out two "large" bundles with a good number of TV channels for each provider - 170 for Virgin Media; around 320 for Sky, of which about 50 are Freeview, with no HD - each provider's standard set top box and unlimited broadband.
The main difference here is the broadband speeds - for this example, we've used Sky's up to 17Mb package and Virgin's middleweight fibre, up to 100Mb. Ignoring that issue, it's incredibly close.
Package
Price
Line rental
Total Monthly
Sky TV Variety + Broadband Unlimited + Talk
£20.10
for 12 mths,
then £40
£17.40
£37.50
for 12 mths,
then £57.40
Virgin Media Big Fun Bundle
£20
for 6 mths,
then £40
£17.99
£37.99
for 6 mths,
then £57.99
We used to have to build our own Virgin Media bundle to create similarly priced packages - and ours included their 50Mb broadband. The fact that the new Big Fun deal costs just a couple of pounds more than our hand built version shows how seriously Virgin take the value of their Big Bundle deals.
For a little more flexibility regarding large bundles, or to see what it'll cost to include any must have channels, it's also worth looking at our family bundle comparison table.
Line rental and calls
Virgin line rental costs more than Sky's, at £17.99 a month compared to £17.40. However, Virgin are better value for those looking for weekend calls; people wanting evening and weekend calls, or anytime calls, will find prices much closer than they once were.
Line rental only
Inclusive
Weekend Calls
Inclusive
Evening and Weekend Calls
Inclusive
Anytime Calls
£17.40
n/a
£21.40
£25.40
n/a
£17.99
£22.59
£25.99
TV
First things first: how many channels are up for grabs?
We count them up in the table below. Note that we count HD channels separately.
Freeview
VM: M
VM: M+
VM: L
VM: XL
Sky: Original
Sky: Variety
Sky: Family
Up to 80
(up to 12 HD)
60
(10 HD)
130+
(11 HD)
170+
(11 HD)
230+
(47 HD)
40 + 240 free
(11 HD)
80 + 240 free
(11 HD)
80 + 240 free
(50+ HD)
From these figures it looks as though Sky offer far more channels, but among their free channels are a lot more "+1" channels, and some oddities like Renault TV.
Budget channel choice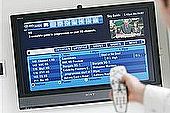 Sky TV programming guide
From the table above, Virgin Media seem like a good choice for those looking for a budget TV deal: TV M offers a little less than people with the best Freeview reception can expect to get.
Do note the following though:
Virgin's TV M package is only available as part of the Big Easy bundle, with unlimited 50Mb broadband and weekend calls. It costs £22 a month, plus £17.99 line rental.
Sky's basic Original TV package costs £20 a month. Add in their Broadband Lite and phone package, and we've a package with a similar price as Virgin's, but with far more channels.
It depends what's more important, TV or broadband - but where TV is concerned, customers get more for their money with Sky.
On demand content
Both Sky and Virgin offer TV on demand with catch up from at least the past seven days and limited other TV content as standard.
Virgin Media's increases dependent on the TV pack:
M and More TV 700 hours catch up.
M+ 1,500 hours on demand, 700 hours catch up.
L 1,700 hours on demand, 700 hours catch up.
XL 2,200 hours on demand, 700 hours catch up.
Virgin Media customers can add Netflix to their subscriptions from £5.99 a month, which combined with one of their Tivo boxes can add another dimension to on demand viewing.
Sky describe their catch up and extra content service as the UK's biggest, though content depends on the subscription.
Basic catch up services are available with both the Original and Variety TV options, while Variety subscribers also have access to catch up services provided on their extra channels - mainly kids' shows and documentaries.
Box sets on demand are only available with the Family option, while Movies On Demand are only available with the Movies pack, which is £17 a month.
Sky don't offer Netflix. Instead they have their own streaming TV service, Now TV, for people who don't have and don't want to sign up to Sky, but fancy some of the extra content only available through them. There's more on that here - and how it compares to Netflix and Amazon Prime Video here.
HD channels
We've already made a quick comparison of HD channels available in the main channel count above, but which channels are included, and which come at a premium differs.
Among the cheaper packages, Sky and Virgin are neck and neck - both offer 11 Freeview HD channels.
But despite gradually adding more HD channels to their XL TV line-up, Virgin are still short of the 50 Sky offer with their Family bundle:
| Freeview | VM: M+ | VM: L | VM: XL | Sky: Family |
| --- | --- | --- | --- | --- |
| 12 | 11 | 11 | 47 | 50 |
The extra HD channels Sky have include Sky Sports News HD and Sky Atlantic HD, and Universal HD.

Virgin Media HD channels
Note that the figures above don't include sports and movies channels in HD. With both Sky and Virgin there's an extra charge for premium channels in high definition.
To get Sky Sports in HD, for example, customers would need to take:
Family TV: £36
Sky Sports: £25.50
HD pack: £5.25
Total: £66.75
Virgin customers who want to watch Sky HD channels must pay another £7 a month.
We think this is pretty shocking overcharging, but as both providers are doing it, it's likely to continue.
Because of the slightly lower cost of their premium HD pack, and the higher number of channels available both with and without it, Sky are the clear HD winners.
Sky Sports
As might be obvious from the above, competition between Sky and Virgin for the Sky Sports channels is fierce.
Virgin offer customers either Sky Sports 1 or Sky Sports 2 for an extra £19 a month, or all of the channels bar Sky Sport News HQ for £29.25 a month on top of any other TV package costs. Sky charge £25.50 a month for the full line up.
Every now and again, Virgin will offer a Sky Sports "Season Ticket" deal for those willing to pay upfront. It was last available in summer 2014, giving savings of about £120 over the season.
For more guidance on this see our full Sky Sports guide; anyone who's interested in getting even more sport by adding BT Sport should see this guide.
Broadband
This is an easy one, at least at face value.
Virgin offer the fastest broadband and no longer limit download speeds - but they do throttle uploads for heavy users.
Sky, on the other hand, offer a truly unlimited broadband connection for a very good price - and they often run appealing cheap or "free" broadband deals.
Each provider's main broadband deals:
Speed
Usage
Line rental
Price
Up to 17Mb
Unlimited
£17.40
Free
for 12 mths,
then £10
Up to 38Mb
Unlimited
£17.40
£10
for 12 mths,
then £20
Up to 50Mb
Unlimited
£17.99
£8
for 6 mths,
then £19
Up to 100Mb
Unlimited
£17.99
£13
for 6 mths,
then £24
Up to 200Mb
Unlimited
£17.99
£21
for 6 mths,
then £32
Speeds
Virgin Media offer one of the fastest broadband services in the UK.
Look at the above table: even Virgin's cheapest deal is based on speeds of up to 50Mb - quicker than Sky's 38Mb fibre deal, and much faster than standard broadband.
As our guide explains, Virgin's cable service is much more efficient than standard broadband.
For example, standard Sky broadband speeds are affected primarily by distance from the exchange - so customers who live a long way from their exchange should expect this to play some part in any lowering of speed. Because it uses cable, Virgin Media broadband is much less affected by distance.
Here's what that means in terms of real speeds, according to Ofcom tests published February 2015.
Advertised Speed
Average over 24 hours
Average at peak times
(8-10pm weekdays)
Sky ADSL
8.6Mb to 10.6Mb
8.5Mb to 10.5Mb
Up to 38Mb
34.3Mb - 36.4Mb
34.2Mb - 36.3Mb
Up to 50Mb
52.5Mb - 53.3Mb
51.5Mb - 52.8Mb
Up to 76Mb*
62Mb - 65.1Mb
59.3Mb - 62.6Mb
Up to 100Mb
94.3Mb - 99.5Mb
86.5Mb - 95.0Mb
Up to 152Mb**
129.5Mb - 135.8Mb
115.0Mb - 124.5Mb
* These are BT Infinity averages, the network used by Sky; Sky 76Mb data wasn't available in Feb 2015.
** Virgin's new top speed of up to 200Mb has yet to be included in independent speed tests; 152Mb is the previous top broadband package.
That said, Virgin Media broadband have come in for some stick for their traffic management policy. While Virgin say downloads should be completely unaffected, heavy uploaders - gamers and the like - can expect to find their uploads slowed by half.
Additionally, contention (the number of users signed up to the provider in the local area) particularly at peak times (during the evening and at weekends) can affect both providers - although Ofcom say Sky's 38Mb fibre suffers the least degradation as a result of contention.
'Unlimited' service
All but two of Sky's broadband packages - Lite and Connect (more below) - offer truly unlimited usage with no download limits or traffic management.
Virgin's deals are also unlimited, though the very heaviest broadband users may face some restrictions. For more information check out our guide on fair use policies.
Budget broadband
Right at the other end of the scale, Sky win for those who want the most basic of broadband connections for browsing and email.
Broadband Lite has a usage allowance of just 2GB - the UK's smallest - but it is free for those with both Sky TV and Sky Talk.
Check our broadband usage guide to see how realistic the option of "free" broadband is, depending on household usage.
Out of area broadband
Those not in a Virgin Media cable area are out of luck: the provider no longer offers ADSL "National" broadband.
Sky Broadband is much more widely available. In addition, where they can't supply the main deals, customers with TV packages can opt for a basic 6Mb "out of area" service called Sky Connect.
Here's more on Sky Connect:
Package
Price
Line Rental
Total Monthly
Sky TV
+ Connect (unlimited)
+ Talk
£30.40
for 12 mths,
then £37
£17.40
£47.80
for 12 mths,
then £54.40
Connect used to come with a 40GB download allowance, but that was removed at the end of 2014, giving users unlimited downloads.
Those downloads, however, are at considerably slower speeds - in fact, at up to just 6Mb, it's slower than the minimum Ofcom say is needed for the average home - and the service is subject to constant traffic management.
Anyone who's not sure whether they're in the main pricing area for Sky or Virgin should check with our postcode search.
Hardware
Sky and Virgin both offer free HD-ready set top boxes with their deals, as well as better quality hardware for an additional cost.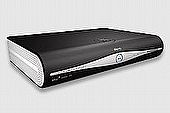 Sky's + HD box
Standard set top boxes
Both set top boxes offer the following standard features:
Pause and rewind live TV
Record at least two channels at once; stored on the box
Access extra on demand content
The main difference between the two is storage. Sky's box has 250GB, enough for about 185 hours of standard definition (SD) recording. Virgin's Tivo box has 500GB, enough for about 250 hours of SD recordings.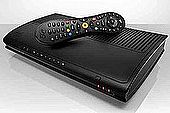 Virgin Media's Tivo box
Better set top boxes
In addition to the free options, both Virgin Media and Sky offer better set top boxes for an additional cost.
The basic advantage with both is more space to store recorded TV shows: one Terabyte (TB) of storage is enough to store about 500 hours of content in standard definition, although Sky claim their 2TB box can store up to 1180 hours of SD programming.
VM: 1TB
Tivo box
Sky: 2TB
Sky+ HD box
£49.95 if taken as the first box
or free with Big Daddy deal
£5/month for Tivo service except with Big bundle
View box
From £49 to £249 depending on existing services, services being added, and upgrades
View box
Note that a Tivo box is now standard for all new Virgin Media customers, but those who don't take one of the "Big Bundles" (Big Easy, Big Bang etc) must pay an extra £5 a month for the actual Tivo service.
Tivo's main selling point is a clear and intuitive user interface as well as the following:
Record three channels at once
Advanced search by title, actor etc
Streaming doesn't share the broadband connection so won't slow down other internet use
There's more on Tivo in our guide here.
New customers can save £5 a month by choosing the V HD box instead, but this is the very basic box, which can't record TV.
Expect all this to be shaken up again from early 2016, when Sky start rolling out their next generation of set top box, named Sky Q. We've taken a quick look at what they're capable of doing here.
Quick Poll
So, who did you choose? Sky or Virgin?
Let us know your thoughts in the comments below.