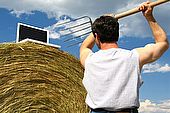 Around 166,000 people in the UK are stuck in rural broadband 'not spots' while a further two million in rural areas have inadequate broadband.
In this guide we have a look at the next steps if you're struggling to get things done online, or even get online at all, because you live away from a town or city.
Rural broadband: the options
The problem with rural broadband isn't that there's a lack of options but that so many are inadequate.
As we'll see below, broadband deals through a phone line, 3G or satellite can be somewhat slower and more restrictive than their equivalents in towns and cities and they're almost always more expensive.
We'll look into some ways to get more for your money below but for some rural users make do and mend isn't good enough.
Communities are increasingly getting together to bypass the system and improve their own broadband. Some have even ended up with up to 1000Mb speeds, faster than most town dwellers can access.
In the last section of this guide, we look at how more communities could do the same, but if you're interested in community broadband projects we've compiled a list of the five now superfast villages in the UK and how they did it in this full guide.
Keep reading for more on how individuals can get online in rural areas while they wait for the rollout of fibre to reach them.
ADSL broadband
If you can get a BT telephone line, you can get ADSL broadband.
Non-LLU
Unfortunately, however, rural areas are also often non-LLU areas.
If you had to cite one change to the UK broadband market in the past 15 years that made it into the very competitive market it is today it'd be Local Loop Unbundling (LLU).
In LLU or unbundled exchanges, companies put their own money and technical gear into a BT exchange, releasing them from relying on BT to administer their broadband and phone lines. This boosts competition: increasing quality - a small ISP, Be, first installed up to 24Mb ADSL2+, for example - and, ultimately, decreases prices.
All in all, it's great for broadband users. Or most of them.
Am I served by a non-LLU exchange?
14.2% of premises (business and households) in the UK have a non-LLU exchange.
To find out whether that applies to you try a postcode search on our comparison page.
If it returns 'normal rate' (Plusnet - market 1), 'Access' (O2 - non-LLU) deals then you're in a non-LLU area.
It's also likely that the search will only return 'National' deals, Virgin Media's - non-cable option.
Even if you get a result which indicates that you do have an unbundled exchange, however, you may still consider yourself to be a rural broadband user.
The best ADSL rural broadband
Best speeds
Whatever their exchange type, speed advertising is likely to be anathema to most rural broadband users.
Rural households are more likely than those in urban areas to be physically far from the exchange. With older ADSL, in particular (explained further here), this distance affects speeds drastically as the signal starts to attenuate fairly early on.
Rural ISPs, as we reported back in 2010, have in the past even made a joke out of countryside broadband speeds by racing downloads against pigeons. The pigeon won.
If you're in a non-LLU area that's something you'll have to resign yourself to with ADSL: all the providers are using BT wholesale so they'll all be about the same.
If you are in an LLU area, however, the provider makes more of a difference. Take a look at our speed guide to learn more.
Best download allowances
Most non-LLU deals have fairly restrictive download allowances or, if they're 'unlimited', restrictions such as fair use policies (detailed here).
Don't assume that rules that apply to the provider's main deals apply out in the wilds.
O2 are well known for their completely unlimited broadband, for example. Yet O2 Access, their non-LLU deal, has a limit of just 20GB a month.
Cheapest deals
Non-LLU packages tend to be about £10 a month more expensive than their more widely available counterparts.
BT are one of the only ISPs that don't increase prices for those on the least competitive exchanges (see BT's packages here).
John Lewis broadband (packages) is another one: they resell the Plusnet service but don't adopt Plusnet's stance on geographical pricing.
Even so, however, these 'flat rate' priced ISPs aren't always the cheapest bet: budget LLU providers tend to also be budget non-LLU providers.
In addition, non-LLU users generally have access to fewer discounts such as a few months free for signing up. But keep an eye out, they do exist.
Rural fibre
As you may have noticed, BT FTTC (Infinity) and Virgin Media cable hasn't reached much of the countryside yet.
That's a shame because fibre is so much better at covering long distances without signal attenuation but unless your village was a winner of the Race to Infinity campaign, which took place in 2011, or your community lobbies BT or uses an outside provider (see below) it's very unlikely.
Mobile broadband
For those that can't get a BT phone line or find ADSL inadequate a mobile broadband package could be the next best option.
However, speeds will almost always be slower than ADSL and per GB it's much more expensive so, although something approaching unlimited mobile broadband does exist, it's generally a poor option, especially for the heaviest broadband users.
For more in depth information on mobile broadband: check out our full guide here.
Signal quality
The big problem, however, is signal quality. Here too there's an inequality between rural and urban areas: you're less likely to find good coverage.
Checking coverage maps from individual providers before signing up is a must or take a look at a site like OpenSignal

for a rough point of comparison between providers.
Since external mobile broadband modems, tethered mobile phones or 3G devices such as the iPad are mobile they can make it slightly easier to find signal than with a USB stick in a stationary computer.
Femtocells, basically a modem that routes 3G through a home broadband line to boost signal, can help. Vodafone's Sure Signal is about the only one available right now.
Sure Signal isn't cheap - £50 for subscribers, £100 for non-subscribers - however and requires a 1Mb broadband connection.
4G
4G services should also benefit rural areas when the spectrum is put to use by the major networks later in 2014, the winners have already been announced.
EE has promised to help extend rural coverage, and in an effort to do that has launched a 4G service in one of the most stranded areas of the UK in terms of fast internet - Cumbria.
They've been trailing the service since May 2012, and during the spring of 2013 will be rolled out to 84% of the Northern Fells, allowing 2,000 residents access to speeds of up to 12Mbps, with prices from £15.99/month.
Satellite broadband
Satellite broadband has been floating around the edges of the UK broadband market for a few years now, held back from becoming more popular because of its high start-up costs and fairly low speeds and download allowances.
The market is slowly growing more competitive but Tooway satellite broadband (reviewed here), for example, ask for just under £130, plus installation, to set up the service and then around another £25 to £80 per month, depending on the usage allowance, from 2GB to unlimited.
Satellite broadband is a potential shot in the arm for rural broadband since, unlike the options above, it provides coverage equally to rural and urban areas.
Satellite subsidies
The Welsh Government offers a satellite subsidy called the broadband support scheme

.
Applicants must live in Wales and have only a basic (less than 2Mb) broadband connection currently.
A similar scheme is also available for residents of Devon and Somerset.
Depending on their postcode, households in Central and East Devon, and also Wheddon Cross in Exmoor might be eligible for this grant, which funds the entire setup cost of Tooway satellite broadband.
The scheme works on a 'first come, first served' basis, however, and it started rolling out in November 2011.
Find out more on the Tooway website here

.
Community broadband projects
So far we've concentrated solely on the ways that individual households in rural areas can improve their broadband.
But community broadband projects are bypassing the system rather than working within it to bring better internet access to whole villages.
Some projects - such as the village of Wray's fibre

which is provided by researchers from the University of Lancashire - seem easier to replicate than others.
Bribing BT 1: FTTP on demand
From the end of March 2013, it'll be possible to order Fibre to the Premises (FTTP), cables which can offer up to 300Mb speeds, on demand.
The local exchange will already need to be FTTC enabled and prices are based on the distance from the properties to the local fibre point, which in an rural area could be some way.
Current wholesale prices are about £1,500 for a property about 500m from the local fibre point but we'll have to wait for the real, consumer side prices.
Providers will be keen for fibre to 'catch on' and go to many households once it's at one in a local area, so demonstrating strong local community demand could help. Again, we'll have to wait and see.
Bribing BT 2: demanding FTTC
In March 2010, residents of Iwade in Kent noticed that a local BT exchange was about to be upgraded to a FTTC (fibre-to-the-cabinet) service but their more rural exchange wasn't.
Village residents nabbed £13,000 from Kent council's broadband fund which persuaded BT to upgrade their exchange. To increase take up they even offered up to £75 for each household to cover the cost of installing a fibre service like BT Infinity.
Other villages have done a similar thing by using very local ISPs to, essentially, unbundle their local exchange and install new equipment.
In April 2010, for example, local investors raised £37,000 to bring fibre broadband to Lyddington, Rutland in this way.
High-speed wi-fi
Other villages have chosen to bypass BT altogether and ask a private company to install a local network.
Usually, that takes the form of a high-speed wi-fi network: so the company will lay a fibre line to a transmitter on a high point like a public building and then subscribers in the local area buy their own aerials to pick up the signal.
In Ashby de la Launde, Lincolnshire, for example, this method has provided up to 70Mb broadband speeds, although speeds do vary from project to project.
Private companies aren't the only option, however.
Three's Rural Broadband Working Group, for example, provided 11 communities with free 3G access in August 2011.
The take away
The take away is that local councils and bodies like the Rural Development Programme for England do have money set aside for upgrading broadband in rural areas.
As the dates of our examples illustrate, though, a lot of that cash is starting to dry out and, even if you can get some, the projects take time and commitment.
For committed rural residents hope is far from over though, the Rural Broadband Community Fund is currently in it's third round and open to new applicants until May 2013.
This article was first published 23 October 2009, it was last updated 4 April 2013.