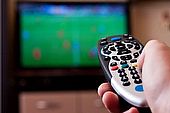 Confused about the differences between the biggest pay TV providers or just looking to get the best value for money?
Our guide to the deals from Sky, Virgin Media and BT can help.
TV ABC
There are three main differences between the UK's three big pay TV providers:
Availability: varies across the UK
Broadband: BT require it and all three offer different services and
Channel choice: every company holds different rights
See? Easy as ABC.
Offers
First though, it's always worth taking a look at the special offers.
Sky, Virgin and BT are all known for slashing prices for new customers as well as offering money off vouchers.
Sky
£50 M&S voucher
ends 25 Apr 2013
Sign up for Sky TV or Sky HD TV for this offer here
Free Sky Unlimited broadband for 6 months + £25 M&S voucher
ends 16 May 2013
Sign up to Sky Unlimited broadband with or without Sky TV for this offer (available standalone or for existing Sky TV customers only) here
See more deals, prices and check availability on our main Sky table here.
Virgin Media
£60 free credit plus 6 months half price on collections
ends 30 Jun 2013
Sign up here for one of Virgin Media's pre-made bundles: Essentials , Premier or VIP for this offer
£40 free credit plus £4-£6 off TV for 6 months (with phone)
ends 30 Apr 2013
Sign up for Virgin Media TV and take a Virgin phone line for this offer here
£40 free credit plus £14.50 off broadband for 6 months (with phone)
ends 30 Apr 2013
Sign up for Virgin Media broadband and take a Virgin phone line for this offer here
£20 free credit plus £5 off broadband for 3 months
ends 30 Apr 2013
Sign up with Virgin Media broadband without a Virgin phone line for this offer here
Better than half price: £10 off for 6 months with Classic collection
ends 30 Apr 2013
Sign up here for Virgin Media's pre-made Classic collection bundle for this offer
Free setup worth £49.95
Sign up for Virgin Media TV, broadband and phone for free setup worth £49.95 here
See more deals, prices and check availability on our main Virgin Media table here.
BT
Free unlimited broadband for 6 months + £25 Sainsbury's gift card
ends 8 May 2013
Sign up for BT unlimited broadband for this offer here
£40 Sainsbury's gift card + money off for the first 3 months
ends 8 May 2013
Sign up for BT Infinity broadband for this offer here
£25 Sainsbury's gift card
ends 8 May 2013
Sign up online for any BT broadband deal for this offer here
Free phone line installation worth £130
Sign up for BT broadband and phone to get this offer here (Only applicable if you need a new phone line)
See more deals, prices and check availability on our main BT table here.
Availability
The UK's three biggest pay TV providers offer their channels in three different ways: BT through a snazzy Freeview box, Sky through satellite and Virgin Media through their fibre broadband.
The first step to comparing them, then, is checking availability.
Sky's satellite covers 98% of the UK but can be slightly tricky to sort out for those who live in flats, though communal or mini dishes are often available.
The vast majority should also have access to BT YouView through Freeview: take a look at the Freeview coverage checker

to check.
Anyone who wants Sky Sports or ESPN with BT will need to opt for BT Vision, which is now only available to customers in an Infinity enabled area (BT FTTC) - check availability in the tool below.
Virgin TV is, by comparison, more limited: just over 50% of households should be able to access it. You can check whether you're in a fibre enabled area using our Virgin Media postcode tool below.
Enter your phone number and / or postcode above to check availability in your area.
Broadband
Second, it's worth knowing that you must take a broadband package to access either of BT's TV services.
It's not necessary to take a broadband package or home phone line from Virgin Media or Sky to get their TV services but both do offer big discounts to subscribers who are willing to bundle services - Sky even offer basic internet access for free - so it's worth thinking about.
We won't go into broadband in this guide so please see our full broadband reviews for more detail: BT, Sky and Virgin.
We've also compared the providers head to head on broadband, as well as further comparison on price and packages in our reviews on:
- How to choose between Virgin and Sky
- Who does fibre best? BT Infinity or Virgin Media
Channels
Finally, the pay TV providers like to throw around a lot of conflicting channel counts.
In fact, not counting HD channels, they compare something like this.
The number of Freeview channels available will depend on area but 50 is around about right.
As you can see with BT and, to a lesser extent, with Virgin Media's TV M+ the monthly price you pay is really giving you access to the provider's hardware and on demand services.
If you're not interested in either, the one off fee for a Freeview box will be much better value.
Note that the channel count above doesn't include HD or premium channels: sports channels like ESPN, Sky Sports and team channels and movie channels are extra.
Note as we mention above, to get Sky Sports or ESPN from BT customers will need to opt for BT Vision instead of BT YouView - and this is only available in BT Infinity broadband enabled areas.
Sky Movies isn't available on BT.
Getting the best value for money
So, as you can see, it's not really as easy as ABC. Once you get into the details the providers are tricky to compare precisely side by side.
We think a better strategy is to home in on the stuff you really want and get the best value for money you can. Here's how.
Have TV already? It's negotiation time
Few businesses put as much time and effort into retaining their existing customers as the pay TV providers.
If you have a TV deal already and are looking to move to cut costs it's definitely negotiation time.
It's worth having a vague idea what you want to pay and which services you definitely want to keep before calling (see next section) but remember there's a limit to how much the cancellation teams can offer and that calling isn't committing to anything.
Getting a new price will usually mean starting a new 12 month minimum contract period so don't be afraid to say "you know what, I'll think about it and call you back" if you're feeling pressured.
See our full guide for more on negotiating price cuts and special offers from Virgin Media, Sky and BT.
Pay for what you use
Because of the way the providers package everything into deals and bundles it's highly unlikely that you'll use everything you pay for.
Minimise the amount you're needlessly paying for by identifying the channels and services you do use:
Unmissable channels: scroll through your current channels or look online and note down the ones you really can't do without.
On demand: using services like Netflix or Lovefilm on demand could be more cost effective than paying for a premium movie channel or to access on-demand content.
Hardware space: set top boxes that can store thousands of hours of content are great but they're not necessary for everyone.
Compare using 'extras'
Finally, we think it's worthwhile to compare by must have 'extras'.
The three pay TV providers diverge much more in this respect: only Virgin has the TiVo service, for example, and Sky retain the rights to most HD channels.
We look at who's got the best deals on these and other extras in the last section below.
The best hardware, HD and other options
Hardware for TV
Virgin and Sky differ on their choice of boxes slightly.
Sky now offer a 2TB box as an upgrade option from the 300GB of storage on the included Sky+ box.
Virgin's standard V HD Box can't record TV but customers can upgrade to a choice of 500GB or 1TB storage on the TiVo box.
Capacity
Recordable TV
Upgrade Price
Virgin TiVo 500GB
500GB
250 hours SD
£5/mth
Virgin TiVo 1TB
1TB
500 hours SD
£5/mth
+ £49.95 one off
Sky+ box
~300GB
185 hours SD
Free
Sky+ HD 2TB
2TB
1180 hours SD
£149 one off with HD
£279 one off
BT YouView box
500GB
300 hours SD
Free
Virgin's TiVo box really does offer more than just television.
It includes apps for Facebook, Twitter, eBay and iPlayer. Another great feature is TiVo suggestions which allows you to rate a show and receive suggestions based on your rating.
Sky offers 3D TV with compatible TVs and has the extremely useful multi room option.
High definition (HD) channels
If you've seen TV in HD, you'll know it: it's around four times sharper than average TV and colours are brighter.
However, you'll need more than a hankering for high definition to actually see in HD: even if you've got a fancy HD TV you're not actually watching high definition without a subscription to either Sky, Virgin Media or Freeview HD.
We say this because, according to the BVA, 6.5 million people think that they're watching HD TV when, in fact, they're just seeing normal quality because they're missing vital equipment.
Channels
Sky are way ahead of other providers in terms of HD channels.
| Freeview | VM: M+ | VM: L | VM: XL | Sky: Ent | Sky: Extra |
| --- | --- | --- | --- | --- | --- |
| 6 | 6 | 6 | 27 | 31 | 45 |
Sky's basic entertainment TV pack that includes all of the terrestrial channels - BBC HD, BBC One HD, ITV1 HD and Channel 4 HD as well as the Sky HD channels (Sky 1, Atlantic, Living, Arts) and other including Syfy and Universal.
Note that if you sign up for Sky Sports and some movies with Sky or Virgin you'll also get them in HD.
BT YouView offers four of the Freeview HD channels (BBC One HD, BBC HD, ITV 1 HD and 4HD), as well as offering films in HD on demand.
If you want to find out more about HD TV see our full guide here.
Prices
Freeview HD is now being rolled out across the country. You can receive it through a normal aerial and although you need a set top box (for around £100) you won't ever pay a subscription so you'll save money over time.
More widely available is Freesat HD - that requires a bigger upfront cost because you need a satellite dish as well as a set top box but, again, you won't ever pay a monthly subscription.
Sky HD will add £10.25 onto the monthly price of your Sky deal. In comparison, Virgin Media HD is included for free with any package.
Sports channels
Getting the best deal on the sports channels is so important that we have a whole Sky Sports guide devoted to it.
This article was first published 23 April 2012, it was last updated 8 March 2013.