How to compare BT, Sky and Virgin TV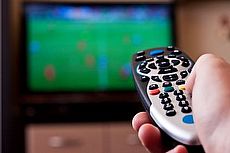 CAN'T decide between the big three home media providers?
Our guide to the deals from Sky, Virgin Media and BT can help you choose quickly, so you can get on with enjoying the service.
TV ABC
There are three main differences between the UK's three big pay TV providers:
Availability: varies across the UK
Broadband: BT require it; all three offer different services
Channel choice: every company holds different rights
See? Easy as ABC.
Offers
Before we get into the detail of these three aspects, though, it's worth taking a look at the special offers available.
Sky, Virgin and BT are all known for slashing prices for new customers, and offering money off vouchers. Their really big deals change frequently, but we'll highlight them here as and when they appear.
At the moment, Sky are offering the following to new customers signing up to one of their TV deals via Choose:
Then there are the other special offers and deals, which look like this:
Sky
What's on offer?
When you join online for:
Half price TV for six months + £25 Prepaid MasterCard
Hurry! Offer ends in 7 days!
28 July 2016
Any Sky TV bundle (excluding Sky Q)


Sky Unlimited Broadband £5 for 12 months (then £10/mth) + £50 Prepaid MasterCard
Hurry! Offer ends in 7 days!
28 July 2016
Sky Unlimited broadband
(without Sky TV)


Sky Unlimited Broadband £5 for 12 months (usually £10/mth)
Sky Unlimited Broadband
(as a new or existing Sky TV customer)


Sky Fibre just £5 a month for 12 months (then £10/mth)
Sky Fibre (25GB usage)
(without Sky TV)


Search for more package prices and find out more about Sky TV in our full review here.
Virgin Media
What's on offer?
When you join online for:
Money off TV, broadband and phone for 12 months + free set up worth £49.95 + 6 months free Netflix
One of Virgin Media's Big Bundles
Save over £180 on broadband and phone + free set up
Virgin Media broadband
(with a Virgin phone line)
Exclusive offer: 50Mb broadband + phone £5 a month for the first 6 months (then £17.50)
This exclusive 50Mb broadband and weekend calls deal only
Save money on Virgin TV in 6 months
Virgin Media TV
(with a Virgin phone line)
Search for more package prices and find out more about Virgin Media in our full review here.
BT
What's on offer?
When you join online for:
Online Exclusive: Unlimited broadband just £5.99 for 12 months (usually £18/mth)
Hurry! Offer ends today!
21 July 2016
BT Unlimited broadband up to 17Mb
Online Exclusive: Infinity 1 up to 52Mb (25GB usage) + TV Starter just £10 for 12 months (usually £25/mth)
BT Infinity 1 up to 52Mb fibre broadband (25GB usage) + TV Starter
Online Exclusive: Unlimited Infinity 1 + Entertainment Plus TV just £22.50 for 12 months (usually £35/mth)
BT Unlimited Infinity 1 up to 52Mb fibre broadband (25GB usage) + TV Entertainment Plus
Free phone line installation or reconnection worth £130
With any BT Broadband package
Search for more package prices and find out more about BT TV in our full review here.
Availability
The UK's three biggest pay TV providers offer their channels in three different ways: Sky TV comes via satellite, BT use broadband and what is essentially a snazzy Freeview box, and Virgin Media use their fibre optic network.
The first step to comparing them, then, is checking availability.
Sky's satellite covers 98% of the UK. It's previously been tricky to sort out for those who live in flats, though communal or mini dishes are often available and there's now a smoother ordering process in place.
The vast majority should also have access to BT TV, which uses Youview through Freeview: take a look at the Freeview coverage checker to check.
Some BT TV services are only available to customers who also take BT Infinity broadband, such as:
The Entertainment and HD TV packs
BT Sport Ultra HD
Sky Sports 1 and 2
The live Sky Cinema channels
Infinity is available to more than three quarters of homes in the UK, with about 40,000 more being added every week - check that availability using the postcode tool below.
Virgin TV is more limited: just over 50% of households can access it, mostly in and around the bigger cities. There are some small holes in this network though, so it's worth using the postcode checker below.
It is coming to more homes over the next few years- including an increasing number of smaller communities - but it remains the case that generally, those outside urban areas will be out of luck.
Enter your phone number and / or postcode above to check availability in your area.
Broadband
Anyone who wants to access any of BT's TV services must take one of their broadband packages.
It's not necessary to take broadband or home phone from Virgin Media or Sky to get their TV services, but both offer discounts to customers who are willing to bundle services - Sky even offer basic, data-limited, broadband free of charge to customers taking both their TV and phone - so it's worth thinking about.
We won't go into broadband in this guide: please see our full broadband reviews for more detail: BT, Sky and Virgin.
We've also compared the providers head to head on broadband, as well as further comparison on price and packages in our reviews on:
- How to choose between Virgin and Sky
- Who does fibre best? BT Infinity or Virgin Media
Channels
Finally, the pay TV providers like to throw around a lot of conflicting channel counts.
In fact, they compare something like this.
Package
Basic channels
Price
TV Starter (BT broadband customers only)
Up to 80
(12 in HD)
£0
for 12 months, then £4
TV Entertainment Plus (BT Infinity customers only)
Up to 108
(12 in HD, +13 more for £5 a month)
£10
TV Total Entertainment (BT Infinity customers only)
Up to 130
(28 in HD, 1 in UHD)
£16
for 12 months, then £21
Original bundle
275 (240 free to air; 11 in HD)
£10
for 6 mths,
then £20
Variety bundle
320 (240 free to air; 11 in HD)
£16
for 6 mths,
then £32
Family bundle*
320 (240 free to air; 50 in HD)
£19
for 6 mths,
then £38
More TV + Tivo box
70
(10 in HD)
£20
TV M+ + Tivo box
130
(11 in HD)
£22.50
TV L + Tivo box
170
(11 in HD)
£29.50
TV XL + Tivo box
230
(49 in HD)
£39.50
* Sky's Family Bundle forms the basis of both Sky Q (£44 per month) and Sky Q Silver (£56 per month), reviewed here.
The number of Freeview channels available will depend on the area we live in, and having a good signal from the nearest transmitter - which a good aerial can help boost - but more than 70 is now standard.
With BT's TV Starter and Virgin Media's More TV, the monthly subscription is really to get access to the hardware and on demand services.
People who aren't interested in either will find paying for a straight Freeview box much better value. There's more on choosing between pay TV and Freeview here.
Note that the basic channel counts above don't include HD or the premium channels such as Sky Sports, team channels, and movie channels.
As mentioned above, to get Sky Sports or the live Sky Cinema channels from BT, customers must take Infinity broadband.
Getting the best value for money
So it's not really as easy as ABC. Once we get into the details the providers are tricky to compare like for like.
We think a better strategy is to home in on which services are most important, then aim for the best value for money. Here's how.
Have TV already? It's negotiation time
Few businesses put as much time and effort into retaining their existing customers as the pay TV providers.
For customers with an existing TV deal looking to cut costs, it's definitely negotiation time.
It's worth knowing roughly how much the services we want cost, and a total ideal amount we'd like to pay, as well as which services are non-negotiable, before calling (see the next section), but remember there's a limit to how much the cancellation teams can offer, and that calling isn't committing to anything.
Getting a new price usually means starting a new minimum contract period of at least 12 months, so don't be afraid to say "I'll think about it and call you back".
See our full guide for more on negotiating price cuts and special offers from Virgin Media, Sky and BT.
Pay for what you use
Because of the way the providers package everything into deals and bundles, it's highly unlikely any subscriber will use everything they pay for.
Minimise the extra costs and wasted services by thinking about these factors:
Unmissable channels: scroll through the TV guide or look online, and note down any must haves.
On demand: using services like Netflix, Amazon Prime Video, or Now TV could be more cost effective than paying for a premium movie channel or to access provider specific on-demand content.
Hardware space: set top boxes that can store hundreds of hours of content are great, but they're not necessary for everyone.
Compare using 'extras'
Finally, we think it's worth comparing the providers by the must have "extras".
The three pay TV providers diverge in this respect: only Virgin have the Tivo service, for example, while Sky retain the rights to most HD channels.
We look at who's got the best deals on these and other extras in the last section below.
The best hardware, HD and other options
Hardware for TV
All the big three offer free standard boxes which can record TV and access catch up and on demand services.
| | Capacity | Recordable TV | Price |
| --- | --- | --- | --- |
| Virgin TiVo 500GB | 500GB | 250 hours SD | Free with new any contract, then £5/mth for Tivo service (or free with a Big* pack) |
| Virgin Tivo 1TB | 1TB | 500 hours SD | Free with VIP bundle, or £49.95 one off, then £5/mth for Tivo service (or free with a Big* pack) |
| Sky+ box | ~300GB | 185 hours SD | Free |
| Sky+ HD 2TB | 2TB | 1180 hours SD | £249, or £149 for new Family Pack or HD subscribers |
| BT Youview box | N/a | N/a | Free with TV |
| BT YouView+ box | 500GB | 300 hours SD | Free with TV |
| BT YouView+ 1TB box | 1TB | Up to 600 SD / up to 60 UHD | Free with TV |
*Big deals are the pre made Virgin Media deals: Big Easy; Big Kahuna etc.
Virgin's £5 a month Tivo subscription includes apps for Facebook, Twitter, eBay and iPlayer. Another great feature is that Tivo will suggest shows to watch or rate, then make better suggestions in the future based on those ratings.
Sky offer on demand 3D content - mostly movies - with compatible TVs and have a useful multi-room option - although BT and Virgin also offer extra box services. See our guide here.
In February this year, Sky launched Sky Q - reviewed here. Customers not only get all the channels in the Family Bundle, but one of the broadcaster's new set top boxes and broadband hub:
| | Capacity | Recordable TV | Setup cost |
| --- | --- | --- | --- |
| Sky Q | 1TB (700GB for customer use) | 150 hours HD | From £99 to £249 |
| Sky Q Silver | 2TB (1.7GB for customer use) | 350 hours HD | From £99 to £299 |
As well as having a lot more storage, they have many more tuners - the Sky Q box can record up to four different channels at once, and the Sky Q Silver records up to five at once, while also supporting streaming to other devices.
As with Virgin Media's Tivo boxes, we're basically renting them from the broadcaster, and as seen from the table above, the setup costs start at £99 - for those taking Sky Cinema (the new name for Sky Movies), Sky Sports or Sky Broadband as well.
High definition (HD) channels
There's no mistaking HD: it's around four times sharper than average TV and colours are brighter.
However, even people with HD-ready kit - an HD TV or set top box - aren't actually watching high definition unless they're watching a channel labelled "HD", whether free-to-air or included in one of the HD subscription packs from Sky, Virgin Media or BT.
We say this because, according to the British Video Association, in 2012 6.5 million people said they thought they were watching HD TV when, in fact, it was merely standard definition because they were missing vital equipment.
Freeview HD is available to roughly 70% of the UK. Like standard Freeview it's received through a normal aerial, and although it requires a more expensive set top box (about £100) and HD ready TV, there are no monthly payments to be made after that - so it'll save money over time.
More widely available is Freesat HD. This requires a bigger upfront cost, because of the need to buy a satellite dish as well as a set top box but, again, there will never be a monthly subscription to think about.
There's more on Freeview and Freesat here.
Channels
When it comes to pay TV, Sky are still the leaders in terms of HD channels, although customers have to take the most expensive package - and then, in the case of Sky Sports, pay more on top of that - to get them.
| Freeview | VM: More TV+ | VM: M+ | VM: L | Sky: Or/Var | BT: Starter | BT: Entertainment | VM: XL | Sky: Family |
| --- | --- | --- | --- | --- | --- | --- | --- | --- |
| 12 | 10 | 11 | 11 | 11 | 12 | Up to 28 | 49 | 50 |
Sky's Original and Variety Bundles include just the terrestrial channels in HD: seven BBC channels, ITV1 HD, Channel 4 HD, along with RT HD and NHK World HD.
To get all the non-premium Sky HD channels, customers need to take the Family pack. This gives them access to channels such as Sky 1, Sky Atlantic, and Living in HD, as well as Fox, Syfy, Discovery, E4 HD and Universal.
When Sky announced that they were renaming Sky Movies, they also confirmed a couple of other changes: Sky+ subscribers taking the newly titled Sky Cinema now get the HD versions without having to pay any more.
Sky Sports viewers watching via Sky+, however, will still have to pay for the HD pack, which now costs £6 a month.
BT also offer the normal Freeview HD channels to Youview customers, as well as films on demand in HD. Anyone who still has the old BT Vision+ box - being aggressively phased out now - will find it doesn't support Freeview HD. Upgrading to a Youview box will cost £35.
BT Infinity customers can get an HD pack for £5 a month, which includes an additional 13 HD entertainment channels, plus the four BT Sport and ESPN channels in HD; people with the Total Entertainment deal get all of those, plus BT Sport Ultra HD included in their subscription.
Virgin Media HD is included free with all packages, but customers need Virgin's TV XL pack - which costs £39.50 - to get more HD channels than come as standard with Freeview.
To find out more about HD TV, see our full guide here.
Ultra HD
For the past year, BT have had the first and only ultra high definition channel in the UK in the form of BT Sport Ultra HD.
It shows a range of fixtures from the Premier League - among those not shown by Sky Sports - FA Cup, and UEFA Champions League, as well as the odd bit of Aviva Premiership Rugby and Moto GP.
The Ultra HD channel comes at a cost, but the standard BT Sport line up is free to all BT TV customers who are within contract, whether they have Infinity or standard broadband - as long as it's available in their part of the country.
But from the middle of August, Sky Q Silver customers will be able to watch a range of sport, movies, and entertainment in ultra HD for no extra cost.
All 124 of Sky's Premier League football matches will be available to watch live in ultra HD, while around 70 movies - including premieres and older releases - and a range of shows will be available to watch at the higher resolution on demand.
Sports and movie channels
There's no denying that Sky Sports has been a huge driver in getting people to sign up to pay TV - which is why BT Sport have invested so much in trying to wrestle broadcast rights for various events from them.
Getting the best deal on the sports channels is so important that we have a whole guide devoted to Sky Sports and another one on BT Sport over here.
The rise of streaming services may have dented the popularity of what used to be called Sky Movies and is now known as Sky Cinema, but it's still a hugely popular addition to all of the pay TV providers' packages. There's more on adding Sky Cinema, and how much it'll cost with each provider, here.