Has tethering replaced the dongle?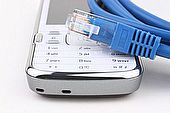 According to Kantar Worldpanel, more than half of UK mobile phone owners now have a smartphone, rather than a traditional 'feature phone'.
That popularity has meant a huge leap in the amount of time we spend online on the go.
In October 2011, for example, Three revealed that over the preceding 14 months the amount of 3G data their users had chomped through had increased by 427% for smartphone customers.
And, according to research commissioned by Vodafone, mobile data use will continue to increase significantly over the coming years: by an average of 84% a year from 2012 to 2015.
The way consumers access 3G is far from perfect, however. Most smartphone interfaces remain far too fiddly for doing much more than checking Google maps or checking emails.
Getting online on the go using a laptop or netbook is still a necessity for many and for that you need an external mobile broadband modem: more on these here.
Or do you?
Tethering turns a smartphone into a modem (learn how): is it killing USB dongles just as, for example, high-end smartphones with 5 megapixel cameras are killing cheap digital cameras?
The end of the dongle?
In 2008, the UK and the rest of Europe seemed to be really latching on to the idea of accessing mobile broadband through a portable modem.
Sales of dongles started to boom and that year the DongleTrack poll by YouGov found that one in five consumers were planning to buy a USB stick to get online.
By February 2011, however, interest had dipped significantly: in the same survey that year just 7% said they expected to purchase a dongle in the future.
It would be disingenuous to suggest that smartphone tethering alone has led to the decline in dongles' popularity.
In the same period, for example, 3G-enabled tablets have become significantly more popular - offering the usability of a computer and remaining portable - and dongle pricing has remained stubbornly uncompetitive, barely falling over the past few years.
Nevertheless, it's not insignificant: if you're able to tether your smartphone and achieve similar speeds to using a dongle, why pay for both?
Especially if your mobile network makes tethering easier.
Networks catch on to tethering
Mobile broadband data plans suffered a setback a couple of years ago when the majority of network operators stopped offering unlimited data plans.
Most moved to fairly small caps and those that continued to tell the public that they were "unlimited" simply capped using a fair usage policy instead.
The providers also very quickly caught on to tethering and blocked it in many cases in order to curb the amount of data their customers were using.
In the second half of 2011 and the beginning of 2012, though, some UK providers had begun even encouraging tethering by unblocking the service and/or offering truly unlimited data within their plans or for an extra charge.
For example, when we last updated this article in March 2012, Three mobile contract customers could upgrade to completely unlimited mobile data for just £3 a month, far cheaper than taking out another contract for mobile broadband.
"All-you-can-eat data means that they [mobile users] don't have to worry, they can have that peace of mind for the long term on a contract of their choice" said Three's marketing director, Thomas Malleschitz.
Unfortunately, unlimited data for tethering hasn't lasted, with both Three and T-Mobile withdrawing their "all you can eat" plans in 2012.
That said, all the main networks now allow tethering in some form, either within the data allowance of the standard tariff, or as an add-on customers can buy.
Even with those extra charges, the cost compares favourably to dongle plans which typically charge £10 for just a few GBs of usage a month.
See our full guide here for more current specific information on pricing.
The dongle lives... for now
All in all, tethering remains a luxury: not all smartphones allow users to turn their devices into a wi-fi hotspot and, of those that do, many are only offering small amounts of data incompatible with serious online use.
For now mobile broadband dongles are still a feasible option for many consumers but within the near future we will more than likely be using our smartphones for all mobile internet connections.