Which ISP has the best customer service?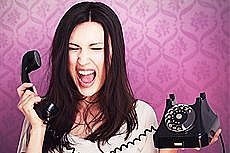 When we decide to look for a new broadband provider, it's likely we've experienced less than stellar customer service from the old one.
But how can we ensure that we're not about to jump from the frying pan into the fire?
We've looked at survey results from Ofcom and Which? on customer satisfaction, and the results of PC Pro's Excellence Awards 2015, to work out which providers will go the extra mile to fix that broken broadband - and which will struggle to put one foot in front of the other.
The best customer service...
Says who?
Ofcom release various sets of data throughout the year, looking at the numbers of complaints, and general customer satisfaction levels, for broadband providers serving more than a particular proportion of the UK market.
The most recently published figures have shown the return of EE to the results - but given those results, they might wish they hadn't made the grade after all.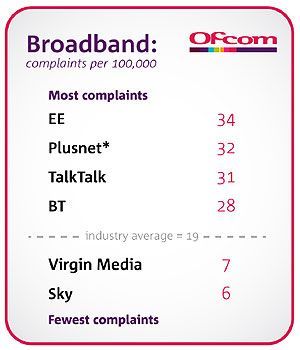 Virgin Media and Sky are in a constant competition to get the fewest complaints and the highest customer satisfaction scores, and both have kept up their good reputation from the past few years.
Both, however, have seen a slight uptick in complaints: Ofcom received six complaints per 100,000 customers about Virgin, and about seven per 100,000 of Sky's customers.
We've included the graphic to the right to put those figures into context compared with the other big providers; there's more on complaints below.
Furthermore, they should be balanced against Ofcom's surveys on customer satisfaction, in which both rate much more highly than their main rivals.
Satisfaction with customer service from provider: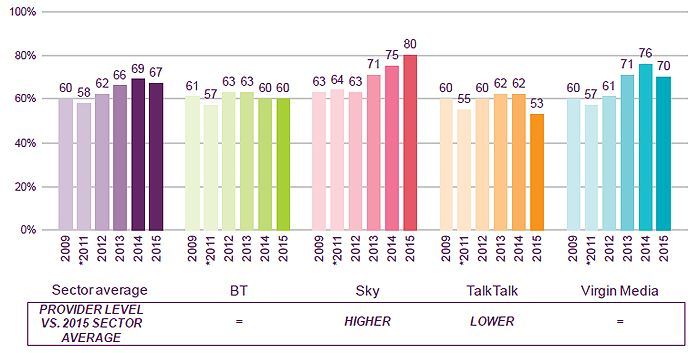 SOURCE: Ofcom, January 2016.
Notice, however, how much higher Sky have ranked in this set of figures - with Ofcom recording a customer satisfaction score of 80% for them compared to Virgin's 70%.
Both Sky and Virgin also score highly in terms of "adviser ability to understand the issue and identify the problem" - but Sky are far more willing to offer some kind of compensation or goodwill gesture when there is an issue.
Which? take a more comprehensive view of providers.
In their December 2015 / January 2016 assessment of the broadband market, one ISP came out smelling of roses with 5/5 scores for customer service, technical support, and being easy to contact:
In second and third place were the following two ISPs:
Utility Warehouse
Plusnet
With a total score of 83%, Zen are once again one of Which?'s recommended providers, after a short period in which they lost out because of their higher prices.
But their loyal - and seemingly very happy - customers have made it clear that the customer service is worth every penny, as they scored 4/5 for value.
There's quite a gap between Utility Warehouse and Plusnet in terms of overall customer score - Utility Warehouse get 80% while Plusnet only manage 65%.
That's reflected in Utility Warehouse getting 4/5 for customer service, technical support, and ease of contact, while Plusnet only muster 3/5 in each of those areas - following a spate of issues for the ISP last year.
What does seem odd, given that they get 4/5 across the board, is that John Lewis Broadband have dropped out of Which?'s favoured providers. When they first appeared, they got top marks all round, and user reviews like this:
"Although I had a drop-out for a couple of days, John Lewis went to extraordinary lengths to fix it - it was finally located at the BT exchange."
In 2015, PC Pro's Excellence Awards collated the ratings and opinions of more than 10,000 readers. They were asked for their opinions on customer support rather than service, which covers the issue of technical support as well.
Their 2015 top three remains unchanged from 2014:
Zen Internet
Plusnet
Virgin Media
Zen Internet scooped Best ISP for the 12th year in a row, scoring 97% for both customer support and reliability. In fact, as far as PC Pro readers are concerned, the ISP can do no wrong - they also scored 90% for speed of connection and 85% in terms of being value for money.
Plusnet again fare well, with 81% of people rating them best for customer support and 83% for both reliability and value for money.
There's a bit of a dip in the amount of love for the providers after that, with third place Virgin Media scoring 71% in terms of customer support - but they did score 80% for reliability.
Sneaking in close behind them with a customer service rating of 68% were their old rivals Sky.
...and the worst
The Choose bottom three
Says who?
Since June 2015, according to Ofcom's complaints figures, BT and TalkTalk have no longer had the shame of being the most complained about broadband providers in the UK: EE have taken over the bottom spot.
Broadband complaints per 100,000 customers/connections, monthly: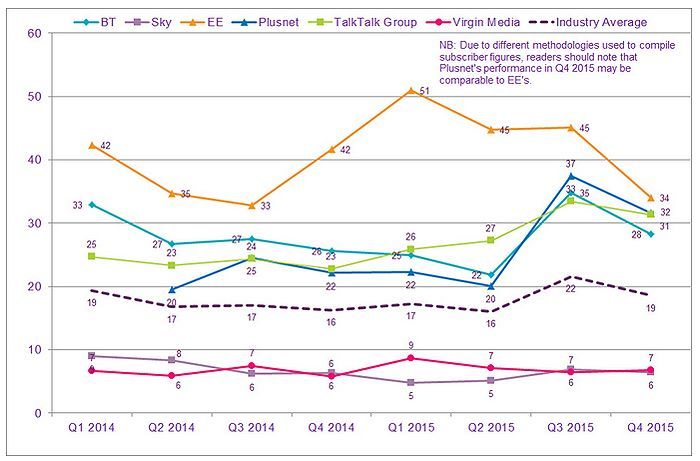 SOURCE: Ofcom, March 2016.
When EE aren't included, BT and TalkTalk frequently appear to be in a constant fight for the bottom spot - but look at who's swept in to claim second most complained about in the most recent surveys: Plusnet.
Note also that they've improved a little since the last set of figures were released in December 2015 - which looked at the complaints received during the third quarter of 2015.
This coincides with a number of changes at the Yorkshire ISP that didn't go down all that well with customers, including cutting their customer service hours, changing some of their broadband products, and a couple of badly handled service outages.
The latest results include the last quarter of 2015 - which is when TalkTalk suffered their big data breach - and some of the ensuing fallout.
They've never fared particularly well when it comes to the number of complaints they generate; even after they overcame problems integrating Tiscali customers it was fair to describe them as "not as bad as before" - but not "good".
So we turn to Which?. Their latest survey did cover the TalkTalk breach - which may explain why the ISP got bottom ranking and an overall score of just 38% - down from their previous rating of 48%.
They managed a rating of just 2/5 in every area they were judged on, with the exception of value - where they got 3/5.
According to Which?, however, BT have improved (very slightly) from this time last year - 47%, up from 45% - and EE limped in just ahead of them with 49%.
Sky, meanwhile, were ranked as decidedly average, getting 3/5 in each section, and an average customer score of 50%.
The bashing of EE continued - sort of - over at PC Pro, where of the ISPs ranked, they were lowest with just 55% for customer support.
Taking the plunge
While the surveys above and broadband provider reputations can provide a good general guide to customer service, there are some other points to consider before taking the plunge.
Key indicators
The top and bottom four above are based on the independent data that's available to us.
However, over the years we've noted some key indicators, aside from reputation, which usually suggest that customer service will be good or exceptional.
Small ISPs over large brands: there are exceptions either way but this is a good rule of thumb
Free support numbers are a good sign: see below for more on this
Service starts at sales: broadband mis-selling is still all too common and leads to larger complaints, if sales are suspicious the chance of poor service increases
Note too that taking an unsuitable broadband contract - for example, one that's restrictive on home moves when we know we'll have to move house - is one of the major causes of broadband customer service woe.
Make sure to clue up before we sign up with our guide to broadband contracts.
Finally, a small minority of people may need to think about which ISPs actively support those who may be at risk of online harassment: find out what they can do here.
Technical support numbers and forums
Another way to tell which broadband providers take customer service and technical support seriously is to have a look at the methods they use to communicate with their customers.
While it's now illegal for businesses to use revenue-generating numbers (like 0845 and 0870) for dedicated complaints lines, they can still use them for technical services.
Look for 0800 and 0300 numbers, which will count as free or inclusive under most call plans - and our guide to free broadband technical support has more information on the support different ISPs offer.
A caveat
At Choose, we use all of the sources listed above, as well as the feedback we receive from site users, when we evaluate broadband provider performance.
However, just like everyone else looking for a new ISP, we are, to some extent, shooting in the dark.
There are plenty of very happy TalkTalk customers and we're sure, with a bit of digging (maybe a lot of digging), we're sure there's someone out there with some unkind things to say about customer service kings Zen.
Moreover, generally well regarded ISPs like AAISP don't even get counted.
There are no guarantees and, what's more, provider reputations often become self-fulfilling prophecies. Calling with the expectation of poor service can lead people to subsequently view their encounter more negatively than they would have otherwise done.
In other words, past performance is a guide only.