Is Sky broadband any good?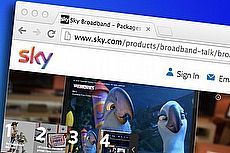 Think Sky and you probably think satellite TV deals.
Does that make Sky broadband just a bolted on service for their pay TV customers? Is Sky broadband any good?
We'll aim to find out - focusing on connection quality and value for money - in this full review.
Sky broadband in brief
Sky have six broadband options: Lite, Unlimited, Fibre, Fibre Unlimited, Fibre Unlimited Pro, and Connect.
2GB usage/month
25GB usage/month
40GB usage/month
Unlimited usage
Lite: up to 16Mb
(only with TV)
Fibre: up to 38Mb
Connect: up to 6Mb
(for customers outside Sky's network)
Unlimited: up to 16Mb
Fibre: up to 38Mb
Fibre Pro: up to 76Mb
Connect is the broadband option for those people who don't live within Sky's phone network area. We talk about it in more detail further down.
Broadband Unlimited is by far the most popular option, although more and more homes are taking fibre; Lite is Sky's "free broadband" package, but it comes with the UK's smallest monthly download limit for home broadband, so it's only suitable for those that just browse and email.
Looking for more
on Sky TV?
Now that we've got the basics let's take a closer look: we'll start off with prices then take a look at speeds and usage limits (skip ahead) as well as extras like the free router and wi-fi (skip ahead).
Crunching the numbers: prices
Sky are generally competitive on price, especially compared to their main rivals, BT and Virgin Media.
Here are some of Sky's current special offers:
25% off TV for 12 months + £75 bill credit
ends 26 Mar 2015
Sign up online to a Sky TV bundle for this offer here
12 months half price Sky broadband + £50 M&S voucher
Sign up online to Sky unlimited broadband without Sky TV for this offer here
12 months half price Sky broadband or Sky Fibre
Sign up online as a existing Sky TV customer for this offer here
Introduce a Friend: £100 reward of your choice each, plus £300 bonus for joining 3 friends.
Introduce a friend to Sky TV for this offer via this link here
And here are the prices for some of the most popular packages, including Sky line rental - which all Sky broadband customers have to take:
Package
Price
Line Rental
Total cost
Broadband Unlimited + Talk Weekends
£3.75
for 12 mths,
then £7.50
£16.40
£20.15
for 12 mths,
then £23.90
Visit Sky
Fibre Unlimited + Talk Weekends
£10
for 12 mths,
then £20
£16.40
£26.40
for 12 mths,
then £36.40
Visit Sky
TV Original + Broadband Lite + Talk Weekends
£16.12
for 12 mths,
then £21.50
£16.40
£32.52
for 12 mths,
then £37.90
Visit Sky
TV Original + Broadband Unlimited + Talk Weekends
£19.88
for 12 mths,
then £29
£16.40
£36.28
for 12 mths,
then £45.40
Visit Sky
TV Original + Fibre Unlimited + Talk Weekends
£26.12
for 12 mths,
then £41.50
£16.40
£42.52
for 12 mths,
then £57.90
Visit Sky
TV Original + Broadband Connect + Talk Weekends
£33.12
for 12 mths,
then £38.50
£16.40
£49.52
for 12 mths,
then £54.90
Visit Sky
Compare more package options and check availability here.
All Sky contracts are 12 months long.
There's no charge for set up or installation even if you need a totally new phone line - it comes included when you sign up for broadband or TV. The only time you may have to pay a connection charge is if you don't have a BT-compatible line - you can find out more here.
Availability
Not all of the packages above will be available to all households, especially the Sky fibre broadband deals.
Check availability by postcode and home phone number here:
Enter your phone number and / or postcode above to check availability in your area.
Cheapest broadband?
Sky aren't offering the UK's cheapest standalone broadband and line rental (see who is here), particularly since broadband Lite is only available for new and existing Sky TV customers.
However, they may well be the cheapest option for those who want or already have Sky TV.
Adding in calls
As we've noted above, Sky broadband is only available to customers who are also willing to switch their home phone line to Sky's line rental, a rule that almost all broadband providers have now.
As we update this article at the end of 2014, Sky line rental is above £16 - about the same as all the other big providers.
Unlike BT, Virgin Media and TalkTalk, however, Sky no longer offer a pay upfront option for line rental. Paying in a lump sum knocks £50 to £60 a year off the bill so it's often worth considering.
Sky call plans break down as follows:
| Talk Weekends | Talk Anytime UK | Talk Anytime International |
| --- | --- | --- |
| Free with line rental | £5 extra a month | £10 extra a month |
| Inclusive weekend calls to UK landlines | Inclusive anytime calls to UK landlines | Inclusive anytime calls to UK landlines, landlines in 50 more countries and mobiles in Canada, Hong Kong and the US |
As with most other home phone providers, the length of inclusive calls with Sky is 60 minutes. Call rates outside of inclusive hours are fairly standard: 9.5p a minute to UK landlines; 12.7p a minute to mobiles in the day.
Households that need a new phone line installed - see this guide if you're not sure - will need to pay a £39 set up fee.
Up to speed?
Speeds dictate Sky broadband prices to a large degree, as follows:
Up to 16Mb
Average 8.8 - 10.7Mb*
Up to 38Mb
Average 33.3 - 36.0Mb*
Up to 78Mb
Average 57.3 - 63.5Mb*
Lite: £0
Unlimited: £7.50
Fibre: £10
Fibre Unlimited: £20
Fibre Unlimited Pro: £30
* Average over 24 hours from the latest Ofcom data available as of this update.
Fibre really does result in faster speeds, on average and, as always, the average users will get considerably slower speeds than the up to 16Mb Sky have advertised from August 2013.
Sky ADSL and fibre broadband run on the BT network, although there are some differences between the providers. Read more on the differences between the providers here.
Ofcom's October 2014 figures don't include Sky's Fibre Pro (up to 78Mb) offering. But the report does note that Sky's 38Mb fibre showed the least speed degradation during peak times.
We haven't included the Connect package, which is the only option available for non-LLU (read: rural) areas, above.
Connect is substantially slower than Sky's other broadband options. It offers speeds of up to 6Mb - which Ofcom suggests is below the minimum required for the average home - and it's subject to constant traffic management.
It's also much more expensive, because it costs more for Sky to pay BT to use these exchanges, and people in these areas are likely to have few other options.
Usage limits
Unusually for a big provider, Sky don't impose any form of restriction on downloads on their unlimited deals: no fair use policy, no traffic management and definitely no download cap.
Sky were the first to bring in this "truly unlimited" policy, though from Feb 2013 BT also offered it, as do TalkTalk.
Read our network management article for more on how this actually affects broadband; most Sky unlimited users seem to just enjoy the peace of mind.
Get by on 2GB:
As we said above, Sky broadband Lite's 2GB a month limit is only suitable for households that will only use their internet for browsing web pages and reading emails.
Watching iPlayer, downloading large files or even listening to the radio online often is highly likely to result in going over the limit.
Need more guidance about whether you're likely to be able to stay in the limits? Read our guide to what usage limits really mean.
Extras: free router, wi-fi and parental controls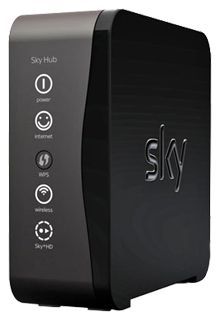 All Sky broadband packages include a decent wireless router, which Sky claims has much better wireless reach than other ISPs' free routers.
Read our review of the router over here.
Customers taking Unlimited, Connect or Sky fibre broadband also get free access to wi-fi hotspots from The Cloud.
There are thousands of hotspots across the UK, some in branches of big chains including Pret, Caffe Nero and Eat.
Like all the big five broadband providers, Sky now offer all their broadband customers good, router level parental controls which we've reviewed in full here.
Support check: how's Sky customer service?
In years past Sky broadband's customer service wasn't always held in high esteem.
More recently, however, the provider has really outdone itself: in June 2014, Ofcom revealed that among the big providers, only Virgin Media had fewer complaints - and independent surveys continue to rate them highly.
In a Think Broadband survey, for example, 23% of Sky customers gave them five out of five for service, the top score of the big providers.
However, although Sky do offer 24/7 technical support (numbers here) - and they've recently switched from using an 0844 number to an 03 number. It's free for Sky Talk customers, and should be included in most UK calls packages. Outside of inclusive calls, it'll cost 9p per minute with a 15p connection from a BT line, and potentially much more from a mobile.
Existing Sky customers: Sky TV and O2/Be broadband migrants
We're aware that some people reading this article will be Sky TV customers wondering whether to add broadband to their existing deal.
It's worth noting that Sky often have special offers for existing customers who upgrade. Currently those are as follows:
| | Offer | You get | Additional price | |
| --- | --- | --- | --- | --- |
| | £50 M&S voucher and 12 months free | Broadband Unlimited | Free for 12 months, then £7.50 a month | Visit Sky |
| | Six months free | Broadband Fibre Unlimited | Free for 6 months, then £20 a month | Visit Sky |
When Sky bought O2 and Be broadband and migrated their customers on to the Sky network, many of them were unhappy with the change - even though Sky soon brought in very similar deals and offered low prices.
But as we've seen, Sky are very focused on their pay TV business, so TV customers probably get the best value for money. That means it's worthwhile for standalone customers to look elsewhere, particularly for cheaper deals.
Summing up Sky
All in all, Sky deliver much more than a basic add-on to their satellite TV: in fact, completely unlimited downloads and ever improving technical support have made Sky's offerings some of the best liked and best value broadband deals around.
On the other hand, broadband Lite and Connect do fit the add-on description pretty well. Aside from Broadband Lite being "free", they can be easily beaten elsewhere.