Is Sky broadband any good?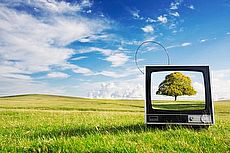 Sky are best known for their satellite TV deals, but how does their broadband service fare? We investigate.
When they're not busy hanging out with the Murdochs, Sky find time to run the UK's most successful satellite TV service.
Does that mean that their broadband is just an add-on for their sofa-captive pay TV customers? Is Sky broadband any good?
We'll aim to find out - focusing on connection quality and value for money - in this full review.
For more on Sky TV please see our digital TV and Sky versus Virgin guides.
Sky broadband in brief
Sky have four broadband options: Lite, Unlimited, Fibre and Connect.
Broadband Lite is Sky's 'free broadband' package and is only available when customers also take TV.
Unlimited broadband - and Connect (more on this below) on the other hand, are available both as completely standalone broadband packages or bundled with Sky TV.
Sky also offer Fibre Unlimited, an up to 38Mb broadband package available with or without Sky TV.
Here's a quick run down of the main prices:
Package
Usage
Package Price
Line Rental
Broadband Unlimited + Talk Weekends
Unlimited
£5
for 12 mths,
then £10
£15.40
Visit Sky
Fibre Unlimited + Talk Weekends
Unlimited
£10
for 6 mths,
then £20
£15.40
Visit Sky
TV + Broadband Lite + Talk Weekends
2GB
£16.12
for 12 mths,
then £21.50
£15.40
Visit Sky
TV + Broadband Unlimited + Talk Weekends
Unlimited
£19.87
for 12 mths,
then £29
£15.40
Visit Sky
TV + Fibre Unlimited + Talk Weekends
Unlimited
£31.12
for 12 mths,
then £41.50
£15.40
Visit Sky
TV + Broadband Connect + Talk Weekends
40GB
£33.12
for 12 mths,
then £38.50
£15.40
Visit Sky
You can compare more package options and check availability above.
First though, let's look at all three in a little more detail.
Broadband Lite
This is Sky's cheapest broadband deal: in fact, it's free.
There are two catches, though. First, the service offers a download allowance of just 2GB a month: that's the UK's smallest home broadband usage allowance.
It means that Sky Broadband Lite will only be suitable for those who need an internet connection only for browsing and emails: streaming video or audio and downloading large files are out.
Second, Broadband Lite is only available for new and existing Sky TV customers and only when subscribers take Sky line rental too.
In fact, then, the cheapest monthly price with Broadband Lite is £36: that's £21.50 for basic Sky TV and £14.50 for line rental with inclusive weekend calls to UK landlines.
£0 in addition to satellite TV is still a good price, though, but for those that want their broadband without TV, Unlimited, Fibre and Connect (for those outside of Sky's network area) are the only options.
Unlimited
Sky's big broadband draw is this (truly) unlimited package.
Unusually for a big provider, Sky don't impose any form of restriction on downloads on their Unlimited deal: no fair use policy, no traffic management and definitely no download cap.
Only Virgin Media's top packages (reviewed here) and packages from Be broadband are similarly unencumbered.
Read our network management article for more on how this actually affects broadband; most Sky unlimited users seem to just enjoy the peace of mind.
Unlimited offers speeds of up to 14Mb.
According to Ofcom's last large-scale report into broadband speeds, Sky customers were actually getting, on average, speeds of 6.6Mb to 8Mb.
That's about average for an ADSL provider although it's interesting to note that if it's unlimited you're looking for the two providers we mentioned above are also faster.
Interestingly, however, the same Ofcom report did find that Sky had lower packet loss rates than competitors including O2/Be, Plusnet, TalkTalk and Virgin Media.
Packet loss rate simply means the number of data units which go astray through a network. The less loss the better, high rates can cause the connection jitter that causes lag, for example, when a streaming video sits buffering for ages in the middle of Eastenders.
Consistent with that finding, Sky Unlimited users generally report decent, consistent service.
Unlike Broadband Lite, Sky broadband Unlimited is available without Sky TV, although subscribers must still take Sky line rental.
The deals without TV are some of the UK's cheapest unlimited broadband deals. They break down like this.
Package
Price
Line Rental
Total Monthly
Broadband Unlimited + Talk Weekends
£5
for 12 mths,
then £10
£15.40
£20.40
for 12 mths,
then £25.40
Visit Sky
Many customers prefer to take Unlimited broadband in conjunction with Sky TV services, however.
In this case, the cheapest option is £43.50 that's: £21.50 basic Sky TV; £14.50 line rental with inclusive weekend calls and £7.50 for the Sky unlimited broadband.
Package
Price
Line Rental
Total Monthly
TV + Broadband Unlimited + Talk Weekends
£19.87
for 12 mths,
then £29
£15.40
£35.27
for 12 mths,
then £44.40
Visit Sky
Further price options are available on our Sky package selector above.
Fibre Unlimited
Sky also offer their own version of BT's FTTC product - Fibre Unlimited.
Sky's version is truly unlimited and comes in cheaper than BT Infinity, currently by about £6 a month.
Sky were previously charging £50 for fibre installation, but this has recently been removed.
Package
Price
Line Rental
Total Monthly
Fibre Unlimited + Talk Weekends
£10
for 6 mths,
then £20
£15.40
£25.40
for 6 mths,
then £35.40
Visit Sky
TV + Fibre Unlimited + Talk Weekends
£31.12
for 12 mths,
then £41.50
£15.40
£46.52
for 12 mths,
then £56.90
Visit Sky
Connect
Finally, the slower Connect package is the only option available for non-LLU (read: rural) areas.
Unfortunately, it's also much more expensive than Sky's two other broadband options - because it costs more for Sky to pay BT to use these exchanges - and features a monthly download allowance of 40GB.
That should be more than enough for moderate downloaders - plenty for everyday streaming, everyday browsing and more than occasional downloads - but it's certainly a poor cousin to Unlimited.
Note also that Sky don't really seem to offer Connect without TV in their product builder but it is available if you select Unlimited with calls and enter your phone number and postcode at the checkout.
All in all
All Sky broadband packages include a decent wireless router and customers taking Unlimited or Connect also get free access to wi-fi hotspots from The Cloud.
There's no charge for set up or installation, except a £15 setup fee when taking Sky line rental, (or when you need a new phone line, which costs from £39 with TV, more on this in general) on online orders.
Sky line rental
As we've noted above, Sky broadband is now only available to customers who are also willing to switch their home phone line to Sky's line rental.
Let's take a closer look.
Prices
Sky line rental is currently almost a pound less than BT's £15.45, at £14.50 a month, a fair saving of £11.40 over a year.
It's also currently just on the cheaper side of other mid market prices, although it's certainly not the lowest, as prices currently go as low as £10 for basic line rental with no inclusive calls from Be for example.
Talk Weekends
Sky Talk Weekends comes, as the name suggests, with inclusive weekend calls to UK landlines and adds no extra cost to basic line rental.
Out of inclusive hours call rates are fairly standard: 8.41p/min to UK landlines and 12.77p/min to mobiles in the day and 7.66p to mobiles in the evenings.
However, note that Sky's evenings start a little later than some other providers': at 7pm.
Talk Anytime
As it's name also suggests, Talk Anytime offers inclusive calls to UK landlines and 20 international destinations at any time.
Inclusive international calls are to landlines except within the US and Canada where calls to mobiles are included.
Talk Anytime costs an extra £5 per month. That's priced competitively, and while anytime calls can be found cheaper elsewhere, it's hard to beat when you consider taking broadband and/or digital TV as well.
Sky service
Finally, it's important to note that Sky broadband's customer service, in common with most of the biggest broadband providers, is not always held in high esteem.
You do start to worry when there's an independent website for problems.
However, Sky do offer 24/7 technical support (numbers here), they're currently using a 0844 number. It's free for Sky Talk customers, and currently 5.1p/min, plus 13.1p connection, from a BT line.
It's also worth noting that, in general, customer service has improved considerably since the service first started so take complaints from a few years ago with a pinch of salt.
For example, Ofcom's annual complaints data released in December 2012, showed that 24% of Sky customers said that they would use the service again purely on the basis of the quality of customer service they had received, that's 5% more than any other ISP.
Summing up Sky
All in all, with their Unlimited service, Sky are delivering much more than a basic add-on to their satellite TV: completely unlimited downloads makes the package one of the best liked and best value broadband deals around.
However, Broadband Lite and Connect continue to fit the add-on description pretty well. Aside from Broadband Lite's price, they can be easily beaten elsewhere.