Beginner's broadband: the basics explained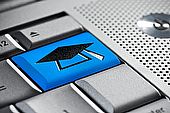 Whether you're getting online for the first time or just want to get the facts straight before jumping in to a new deal read on to get your facts straight.
We'll start with by dealing with some really practical issues.
How to get a broadband connection
There are three questions we always get asked about fixed line connections.
Here we've tried to answer them as fully as possible.
1. Do I need a phone line?
If you want to get an ADSL connection, the UK's most common type of broadband, then, yes, you'll need to pay for line rental.
When you sign up for broadband you will have one of the following options regarding home phone:
Keep your current line rental and call plan.
Keep your current line rental but move your call plan to the broadband provider.
Move both your line rental and call plan to the broadband provider.
Broadband providers are generally keen for you to move your phone services over to them so you can usually get cheaper broadband with options 2 or 3.
In both cases, you're moving your phone service over whilst using exactly the same physical phone line. There usually aren't any reconnection fees if you want to go back to BT, either, so there's no real disadvantage to switching your service other than convenience.
Option 3 also has the advantage of putting your services together so that you receive just one monthly bill. In addition, as we update this article no broadband providers charge more for line rental than BT (paying each month) so, again, there are savings to be made.
The exceptions
If you don't have a phone line at your property or your current phone line is badly damaged you'll need to have a new phone line installed in order to get ADSL broadband.
Many providers will do this for free, see our guide to new phone line installation for more.
It's also worth noting that it's possible to take a Virgin Media broadband package without a phone service or go for satellite or mobile broadband.
In these cases you won't need to pay line rental, although all three services are often more expensive than ADSL.
In the vast majority of cases, taking Virgin Media broadband without a phone line won't affect your ability to get home phone services in the future. However, depending on how they install their line Virgin Media may sometimes need to physically disconnect the BT line from the master socket which would incur a reconnection fee if you were ever to go back to BT for home phone services.
2. Why can't I get provider X?
You can find out which providers will be able to supply you by putting your postcode and even better your home phone number into any of our searches.
The providers available will depend on availability at your local exchange and, in the case of fibre, the cables running to your household.
If your search turns up relatively few broadband options than the chances are that you're being served by a bundled or non-LLU telephone exchange, in that case it will be worth checking our guide to rural broadband to see what the options are.
Since providers at non-LLU exchanges tend to be reselling BT Wholesale services they will typically be more expensive than those at LLU exchanges.
Another way that location can change broadband price is when providers charge based on the BT market area. Basically, BT now charge less for wholesale access bought from a market area 3 (which are exchanges where four or more ISPs are operating - so the busiest ones) and Plusnet (currently the only provider to do so) now passes on those savings and offers cheaper prices if you live in one of these areas.
3. How much usage do I need?
Providers have a number of different ways of charging for broadband but one of the most popular is based on your estimated monthly usage.
For tips on estimating how much you'll need have a look at our guide to usage allowances.
Alternatively, you could bypass the issue and go for a ISP that charges based on the speed of your broadband. Virgin Media's broadband is a good example of this type of pricing.
The downside is that you might miss out on some of cheapest deals.
Some broadband providers charge based on a combination of speed and estimated usage.
This makes sense because light users are likely to be using services which don't need such high speeds and heavy users are also likely to need high speeds. Sky broadband uses this kind of pricing.
Broadband glossary
Confused by some of the terms above? Never fear, we have definitions here.
ADSL
Back in the days of dial-up, Internet connections were delivered through copper cables on the same frequency that carries voices (which is why you used to get those irritating beeping noises on your phone line).
Broadband as we know it was born with DSL technology, which moved the broadband connection to a different frequency. DSL stands for Digital Subscriber Line; it uses the high frequency bands on your telephone line allowing it to run simultaneously with the low frequency voice data as opposed to dial-up, which runs on the same frequency as voice.
ADSL is the most common form of DSL and stands for Asymmetrical DSL. It's asymmetrical because the upload and download speeds are not the same. To reach the same speeds uploading as downloading the DSL has to use up all of the available frequency bandwidth on the line, stopping it from being able to support both data and voice.
ADSL broadband is now available in almost all properties in the UK. It's far faster than dial-up, most ISPs now have deals that allow you to download information at rates of up to 20 megabits per second (written as Mb, Mbps or Meg), that's 280 times faster than dial-up.
The extra speed means that broadband users can stream music and video, download high-quality pictures and generally find any information they need faster.
BT Wholesale owns the telephone network so many ISPs are selling a re-branded version of the BT service.
However, this isn't true of providers that sell services from unbundled or LLU exchanges. Where you see references to ADSL2+ technology this refers to technology used by some broadband ISPs at LLU telephone exchanges to boost speeds.
At first, LLU providers such as Be Broadband were installing their own ADSL2+ equipment at exchanges but BT eventually got in on the act too.
With ADSL2+ broadband providers can provide much higher speeds.
Broadband
Most analysts define broadband as any internet connection faster than the notional top dial-up speed, which is 56Kb.
A broadband connection is generally delivered in one of three ways: as home broadband through a copper phone line, fibre optic cables or some mixture of the two; as mobile broadband through a high-speed wireless connection such as WiMAX, 3G or 4G or satellite broadband.
This guide will focus on the UK's most common and most reliable method of connection, fixed line. For more on mobile broadband see our best buy guide here.
Cable/fibre
Broadband can also be delivered through fibre optic cables. In theory, this service is the fastest broadband available in the UK.
Virgin Media own a large fibre optic network and ten million households should be able to access BT fibre by the end of 2012.
The UK's fastest widely available broadband connections both use the fibre optic cable network: Virgin Media's up to 100Mb XXL broadband and BT's up to 38Mb and 76Mb Infinity broadband.
Fibre optic services aren't as prone to disruption as ADSL and speeds aren't affected by factors such as your distance from the exchange or the quality of copper cables.
However, to manage congestion over the network (that's the number of customers using it at the same time) Virgin Media and BT, like other non-cable providers, use 'traffic management' also known as speed throttling, which will affect the speed you receive - especially if you're a heavy user during peak hours (that's in the evening for broadband).
You can see the fastest broadband packages and check availability to your home on our dedicated 'fastest' page here.
ISP
The acronym ISP stands for Internet Service Provider and is generally used to refer to any brand offering internet connections.
However, the UK broadband world is an incestuous one with most small outfits now owned by larger companies and often using the larger companies' equipment.
So here's a quick primer:
BT owns Plusnet and Madasafish while the Post Office, Zen Internet, Orange and Primus rely on BT Wholesale services.
THUS, a Cable and Wireless company, operates Demon Internet and Tesco's broadband services.
Sky Digital owns Easynet which operates Sky broadband.
Telefonica (previously BT Cellnet) own O2 broadband and Be Broadband (the network they use was originally developed by Be).
The Carphone Warehouse own TalkTalk and AOL broadband.
Kingston Communications (the only provider operating in Hull) owns Eclipse Internet.
For a more in depth look which are the biggest and the most influential providers take a look at our market overview.
In that guide we keep an eye on which ISPs are gaining customers, which are losing them and why that might be.