Tesco Clubcard credit cards: what's on offer?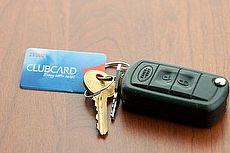 Tesco credit cards are best known as yet another way to earn points with the UK's biggest retail rewards scheme, Clubcard.
But they also offer some of the UK's longest interest free introductory periods.
Can Tesco really compete directly with deals from the top credit card providers? We'll try to answer that question in this review.
Earning Clubcard points by credit card
But before that let's take a look at the really big draw and Tesco's focus here: rewarding Tesco supermarket shoppers with Clubcard points.
All Tesco credit cards earn Clubcard points at a rate of:
1 point for every £4 spend (everywhere).
5 points for every £4 spend (at Tesco).
5 points for every £4 spend (on Tesco fuel, excluding Esso).
The only exception to this is the Tesco Premium Clubcard Credit Card, which grants customers an extra 1 point for every £1 spent at Tesco (but not elsewhere). Combined with the normal Clubcard points, customers would therefore receive 8 points in total for every £4 spent at Tesco.
However, the Premium card requires an annual fee of £150, which can wipe out the value of any additional points it gives you.
But as this explanation suggests, when shopping with Tesco, the credit card doubles up as a normal Clubcard and then gives extra points on top.
Clubcard points have a reasonable redemption value although it does differ considerably depending on the reward chosen.
For example, 150 Clubcard points is worth a £1.50 voucher to spend at Tesco but the same voucher could also be exchanged for partner rewards worth four times more than that.
Additionally, Clubcard points can be exchanged onto the Avios travel reward scheme. We have covered this in more detail in our guide to converting Clubcard points to Avios. Currently 250 Clubcard points can be exchanged for 600 Avios.
For air miles alone, however, Clubcard is beaten by other air miles credit cards, see this table for better deals.
Purchases: 0% and low rates
Reward points are one way to get people to spend big on your credit cards but Tesco hedge their bets by offering market leading deals on the other way, low rates on borrowing, too.
The most eye-catching deal is a long 0% period on purchases made on the card, as follows.
Tesco Bank Purchases credit card (Go to provider

»

)

0% on purchases for up to 28 months
0% balance transfers for the first 3 months (2.9% fee applies for the first 3 months, 3% thereafter)
Earn Clubcard points on all purchases

Representative example: When you spend £1,200 at a purchase rate of 18.94% p.a. (variable), your representative APR will be 18.9% APR (variable).

As you can see, Tesco's deal is currently one of the longest on the market (see all the longest 0% purchases deals here).
Limited time interest free offers are popular and advantageous, particularly for those that want to make a large purchase or purchases and spread the cost over a long period.
Their disadvantage is that after the 0% period is over the interest rate will increase and a card which was originally meant for borrowing will suddenly become a very expensive way to borrow (see more information in this FAQ).
If it weren't for the Clubcard points, in other words, a 0% deal would be a short term gain, albeit a pretty good one for those looking to avoid interest.
Perhaps in recognition of this problem, Tesco also offer a Clubcard Credit Card with a low APR (cost of credit) which would allow cardholders to borrow fairly cheaply - though not for free - throughout the time that they hold the card.
Note, however, that Tesco always rate for risk, which means that the interest rates they actually offer will depend on the applicant's credit history (see a guide on this). As a result, depending on credit history, the low APR advertised could be slightly higher.
Again this is a contrast to the 0% offer, in that case the applicant is either accepted or rejected, there's no middle option.
Debt beating: 0% balance transfers
Less logically, Tesco have recently started offering credit cards that can take on expensive credit card debt and allow cardholders to pay it off at 0% for an introductory period.
You may know them as 0% balance transfer credit cards.
Again, Tesco's deal is at the top of the market, one of the UK's longest introductory offers (again, see an up to date list of the longest here).
And, again, Tesco have also made an effort to cater to those looking for something other than the most eye catching deal by bringing out a low balance transfer fee option
As you can see, with the decreased fee the 0% period is much shorter so this will suit those with smaller card debts or those able to repay in a short period.
Research shows the millions of people do end up paying interest on these interest free deals and pay more to borrow as a result so it's well worth carefully and conservatively considering monthly repayments before making any applications.
Tesco as a credit card provider
are they any good?
Standard credit card account terms apply to all the deals above - 0% offers can be withdrawn if a cardholder fails to meet minimum monthly repayments (definition) or exceeds the credit limit, for example.
However, there aren't many additional cardholder services to write about here. They are, perhaps, just not Tesco's forte.
That said, cardholders receive protection on purchases and against fraud under law.
Section 75 offers protection for faulty, damaged or undelivered goods as well as if the supplier goes bust.
Additionally cardholders are protected against fraud up to a maximum of £50 where reasonable precaution was taken as set out under The Lending Code (more here).
Tesco Bank do also offer an Internet fraud guarantee however, as well as an active fraud monitoring service and access to the 3D secure password service for safer online shopping with participating retailers.
If a Tesco credit card is ever lost or stolen when the cardholder is travelling abroad Tesco will aim to replace it as soon as possible and can arrange an emergency cash advance if necessary.
All in all
The Tesco Clubcard credit cards stands out in a crowded market and all manage to give cardholders two market leading offers: on reward points and either purchases or balance transfers.