Can Santander's 123 current account beat an ISA?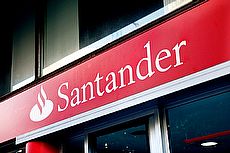 ©iStock.com/Alija
SINCE the current account Switch Guarantee was launched in 2013, Santander and Halifax have been winning the most customers, according to figures from the Payments Council.
One of Santander's biggest pulls seems to be their 123 current account; nine out of 10 people who have switched have signed up to it.
With the official tax-free saving products offering rates that continue to look rather flat, high interest current accounts have become a surprisingly viable saving option.
A 123 current account earns from 1% on balances of at least £1,000, up to 3% on savings of more than £3,000 - almost twice as much as the current crop of easy access ISAs.
Like the Santander 123 Cashback credit card, the current account offers cash back; while the credit card rewards everyday spending, the current account offers cash back on household bills.
More interest than an ISA?
As mentioned, interest earned on the account depends on the balance. Savings of more than £1,000 earn 1% interest; balances between £2,000 and £3,000 earn 2%; accounts containing more than £3000 earn 3%.
Interest is payable up to a maximum balance of £20,000 - almost £5,000 more than the current yearly cash ISA limit of £15,240 - meaning that over a year, the most that can be earned in interest will be £600 - 3% of £20,000.
But the cap on an ISA resets each tax year: every year the ISA is open, holders can invest up to the maximum allowance again all over again, and interest will be earned tax free on the total amount.
Not so with the 123 current account; the cap applies to the total balance. The table below shows interest earned with different levels of credit balance.
| Average credit balance | £500 | £1,000 | £2,000 | £3,000 | £20,000 | £40,000 |
| --- | --- | --- | --- | --- | --- | --- |
| Interest rate | 0% AER | 1% AER | 2% AER | 3% AER | 3% AER | 3% AER on £20k |
| Interest earned | None | £10 a year (£1 monthly) | £40 a year (£3 monthly) | £90 a year (£7.50 monthly) | £600 a year (£50 monthly) | £600 a year (£50 monthly) |
Prior to April 2016, we didn't see the full benefit of all the interest we were earning, however, as it was taxed before we received it.
Now, however, basic rate tax payers can earn up to £1,000 interest per year before having to pay tax on that money - and as it's only possible to earn £600 in interest with the 123 account, that means many savers will pocket the lot.
Higher rate taxpayers (those earning more than £42,700 in the 2016 tax year) may still be affected, as they can only earn £500 in interest before having to pay tax.
By comparison, the highest earning ISAs for 2016/2017 offer just 1.16% for an easy access account, and 1.4% fixed for two years, or 1.9% fixed for five years - and the latter two require minimum balances of £5,000.
Depending on the level of savings therefore, the 123 current account has the potential to earn significantly more interest over the year, and for many it won't be liable for tax.
Spend money, get some back
Continuing with the 123 theme, Santander offer 1%, 2% or 3% cash back on household bills - but there a few, fairly straightforward, caveats.
Firstly there's a monthly £5 fee for holding the account, which is automatically deducted each month whether or not the account qualifies for cash back.
Secondly at least £500 must be deposited into the account each month - excluding internal transfers.
Account holders must also set up at least two direct debits; the cash back is applied only to payments made through direct debits.
Household bills that may qualify include electricity, gas, council tax, water, mobile and landline phones, broadband, paid for TV packages and Santander mortgage payments.
Cash back from whom?
Santander have this handy tool to check if a company is included in the cash back deal.
Different levels of reward apply depending on how Santander categorise a company.
Broadly, water and council tax qualify for 1% cash back; payments to gas and electricity companies will net 2%, and there's 3% for paying telecoms companies by direct debit.
People with mortgages from Santander and the old Alliance & Leicester building society also qualify for cash back at a rate of 1%, but only on the first £1,000 of each monthly payment - equivalent to up to £10 per month.
A selection of the companies involved is shown below. If a supplier isn't on the list yet, Santander say they're open to suggestion and recommend popping into a branch or contacting them online to request the addition.
| Water | Gas and electricity | Telecoms | Mortgages | Council Tax |
| --- | --- | --- | --- | --- |
| 1% cashback | 2% cashback | 3% cashback | 1% cashback | 1% cashback |
| Anglian | British Gas | BT | Santander | All UK councils |
| Severn Trent | EDF Energy | EE | Alliance & Leicester | All Northern Ireland rate payments |
| Southern | E.On | O2 | | |
| Thames | Npower | Sky | | |
| United Utilities | Southern Electric Gas | Three | | |
| Wessex | SSE | Virgin Media | | |
| Yorkshire | SWALEC Gas | Vodafone | | |
Encouraged to save and spend
The monthly fee for holding the account should be covered as long as customers do set up direct debits to pay a couple of household bills each month.
But while there are plenty of benefits for savers and those using it to run their household, people who need an overdraft more than very occasionally should be wary.
An arranged overdraft will cost £1 every day it's used; using an unauthorised overdraft or going over the agreed limit will incur a charge of £6 per day, up to a maximum of £95 per month.
Like several other banks, Santander offer a buffer before charging overdraft fees of either sort - theirs is set at £12. They also give people up to 4pm on the day they go overdrawn to get money into the account before applying any charges.
Unlike some banks, Santander don't charge transaction fees for payments attempted when an account is in unauthorised overdraft, regardless of whether the payment is successful or not.
However, they will charge an overdraft fee if going into the red is the result of them taking the monthly account fee.
As with most UK current accounts, there are additional charges when using a card abroad. Cash withdrawals will be subject to a charge of at least 1.5%; spending on the card will incur a charge of £1.25 per transaction, and currency conversions are subject to a 2.75% fee.
But reflecting where the bank's headquarters are, people with the 123 account (and any others who deposit at least £500 in their accounts each month) will be able to withdraw cash from ATMs in Spain fee-free.