Can £100 persuade you to move bank account?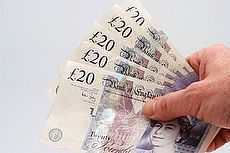 ©iStock.com/calion
Very few people move their main current accounts.
Seriously: the Competition and Markets Authority have found that 37% of us have had the same current account for more than 20 years - which means there's a kernel of truth in earlier surveys suggesting we're more likely to switch our football team than our bank.
The launch of the "seven day move" guarantee in 2013 did seem to increase switching for a while - but actual numbers remain low.
Figures released after the service's first year showed that 1.1 million people had used it to move; in the 12 months to June 2016, just over one million people took advantage of it.
In fact, so few people switch that the banks seem quite comfortable to offer cash bonuses to those willing to move.
What can you get?
Right now, the most eye catching offer is £150 in cash.
Other benefits on offer for those willing to open a new account include free travel insurance, gift cards and cash back for everyday spending and bill payments.
The offers available to would-be new customers depend on the answers to the following questions:
1. Do you use an overdraft?
Paying for an overdraft, even if it's only for a few days a month every few months, can cost more than would be covered by the bonus the bank throws at new joiners.
Those who only go slightly overdrawn every now and then should look at each bank's free overdraft facilities or buffer zones, which allow holders to dip slightly into the red without penalty or fee.
The most generous overdrafts available from fee-free accounts give their customers up to £50 leeway before applying fees or interest charges.
Anyone who uses an overdraft on a semi-regular basis, however - like those who know they're likely to need a planned overdraft, for example - will usually save much more than they'd make with a bonus by seeking out a 0% overdraft deal.
For more on nabbing a cheaper overdraft see this guide.
Always in credit? Then it's on to the next question.
2. What's your salary?
Most bonuses are only available to consumers who pay a minimum amount into the account each month.
The more someone earns, the more options they have.
To be clearer, £750 a month after tax is equivalent to a £9,200 annual salary before tax.
£1,000 a month after basic rate tax is equivalent to a £14,000 annual salary.
These accounts don't specify that the money going in has to be in the form of a salary, just that at least that much goes in monthly.
Some accounts have more specific eligibility requirements, and all of their terms are worth looking at closely.
Click through above to find out more about each deal or read on for an overview of the things to watch out for with these offers.
Is it worth switching for offers?
Cash for moving accounts is a great bonus, but there are some things anyone thinking about switching should look out for.
Previous customers
The brands and products may differ, but if two banks are owned by the same group, people wanting to move between them may not be eligible for any switching offers available.
Similarly, anyone who's received a switching bonus from a particular bank before should assume they won't qualify for one again unless a good few years have passed.
At least one bank doesn't offer any kind of cash back to anyone who's had an account with them at any time previously; one asks only that customers haven't held an account with them in the previous six months. Most are somewhere in between.
Check the terms and conditions for switching as well as for the account in general.
Small print
Whether we count as a new customer, and how much we earn aren't the only factors that determine whether we can get these deals, as we try to make clear in the notes on these offers below.
Please note that while we try to keep this information as up to date as possible, deals can and do change. Always check the small print before moving account, particularly regarding overdraft fees and charges, which we don't list here.
Our current account tool carries some of these details, but they're also listed in much greater detail on provider's sites.
Small print shouldn't be a reason not to switch, however - it's just worth being aware of.
Better account switching
Those concerned about the account switching process may be relieved to learn that moving accounts should be much simpler than it used to be, thanks to a switching scheme that came into force in September 2013.
The Current Account Switch Service promised to make moving accounts a lot less painful than it used to be; as well as making the process much faster and smoother for customers, it allows them to choose the best date for the process to begin.
The Payments Council say there have been more than one million switches per year since the scheme was introduced.
The full version of the switching service is covered by a guarantee, under which there's a good amount of overlap between the old and new accounts: redirections to the new account are maintained for three years after the switch is made.
Payments into the old account will be automatically forwarded to the new one, and a message containing those new account details will be sent to the organisation making the payment.
People switching may therefore get a few calls to confirm they've moved account, but it beats trying to remember every possible payee we have, and updating them ourselves.
Those who don't want to close their old account completely can still use the switching service, but they aren't covered by the guarantee. In switches like these, most banks will still provide a catch up service for at least a year.
Packaged accounts
Perhaps the biggest problem with current account switching is that there are a lot of packaged and paid for accounts to watch out for.
Paid for accounts are becoming more common, offering basic rewards such as interest or cash back.
Packaged accounts, however, are less popular. While some offer simple rewards such as cash back, most include perks in the form of some kind of insurance - against breakdown, mobile phone (more here), ID theft (more), and many other things - and/or preferential rates on other products in return for a monthly fee.
We've written in more detail about packaged accounts here, but they tend to offer benefits that can be extremely difficult to quantify.
Many of the insurance products, for example, offer cover most people already have as part of their home insurance policies.
And how worthwhile is the possibility of a lower rate on a loan?
These are popular products, but we think individuals need to consider carefully whether they're worth it.
Where a packaged account is included below, the fees are clearly indicated.
Bonuses for signing up
These are the most popular switching offers, with good reason. Unless we state otherwise, they're only available when both the old and new banks participate in the Current Account Switching Scheme, and to people who haven't been declared bankrupt or who have registered for an Individual Voluntary Agreement (IVA) within the past six years.
First Direct: £100 for signing up
Complete newcomers to the First Direct 1st Account (more details) who:
Use the Current Account Switching Service to move all debits and credits to the new account, and close the old account
Pay in at least £1,000 within three months of opening the account
- will receive £100 from First Direct within 28 days of these conditions being met.
Under the normal terms of the account, holders will be charged £10 a month unless they maintain an average balance of £1,000, pay in at least £1,000 a month, or have insurance, a mortgage, a credit card, or a savings account (other than Regular Saver) with First Direct.
However, new customers won't be charged the £10 fee for the first six months.
In addition, First Direct have an excellent reputation for customer service - see our guide to good banks for customer service here.
In fact, if the account is funded with at least £1,000 a month, but customers choose to close it after six months of moving but before their first year is up, First Direct will pay out another £100 as part of their satisfaction guarantee.
That generosity is tempered by First Direct's strict definition of "new customer" - anyone who's had any kind of account with First Direct before is ineligible for the switching bonus; those who have or have had accounts with HSBC or M&S Bank will be fine.
Applicants must be:
UK resident, aged at least 18, and willing to use the full Current Account Switching Service to completely move their banking; completely new to First Direct.
Halifax: £100 for signing up
Like First Direct, Halifax want people to move their main account to them, and therefore make their sign-up incentive, of £100, available on their three main current accounts:
As suggested above, applicants must also be willing to:
Use the Current Account Switch Service to switch all banking from a current account with another bank, and close that account entirely
People applying for either of the Reward accounts must also be able to:
Pay £750 a month into the account
Halifax are so keen to get people to make them their main, everyday, account provider that they also offer the £100 incentive to people who already have one of these accounts, as long as they haven't received a bonus for switching to that account since 2012.
Again it's a matter of using the Switching Service to transfer the debits and credits from that other bank to their chosen Halifax account, then closing the other account.
In the longer term, the Reward and Ultimate Reward current accounts are attractive because, as long as £750 a month is paid into the account and it remains in credit, account holders get £5 a month. There's more on both accounts in our review here.
There's also a 0% AER overdraft available for the first six months, though there's no guarantee that applicants will get that.
Applicants must be:
Moving from a bank other than Bank of Scotland.
Current Account: UK resident, aged at least 16, willing to use the Current Account Switch Service.
Reward Current Account: UK resident, aged at least 16, able to pay in at least £750/month and set up at least two different direct debits, willing to use the Current Account Switch Service.
Ultimate Reward Current Account: UK resident, aged at least 16, willing to use the Current Account Switch Service, able to pay in at least £750/month and set up at least two different direct debits, and willing to pay a £15/month fee.
All applications are subject to status. Some account features (e.g. overdrafts) may also require the account holders to be over 18.
Co-operative Bank: £150 for signing up
The Co-op used to offer a switching bonus with a difference: new customers would get £125, with a further £25 being donated to one of a handful of charities on their behalf. Now, however, new customers moving to their Current Account (more details) will get the full £150 bonus to themselves when they:
Use the Current Account Switching Service to move all debits and credits to the new account, and close the old account
Set up and pay at least four direct debits from the account each month
Once these requirements have been met, the money should be credited to the account within 45 days of completion of the switch.
There's no need to make a minimum deposit, but using the Current Account Switching Service and needing to have four direct debits active is likely to mean that most switchers will be servicing the account with a salary or other regular income.
Those who can deposit at least £800 a month, however, can register for the Co-op's Everyday Rewards programme, which can earn them cash back of up to £5.50 a month.
Existing customers can also benefit from the bonus - as long as they meet certain conditions.
They mustn't have received a bonus from either The Co-operative or Smile since January 2014 - or have been crediting either a Co-operative Bank or Smile current account with £800 or more per month since February 2016.
The latter can at least re-qualify by opening a new current account with the Co-op and using the Current Account Switching Service to close their previous account as above.
Applicants must be:
UK resident, aged at least 16 (or 18 if requesting an overdraft), willing to use the full Current Account Switching Service to completely move their banking, and to set up at least four direct debits.
Other freebies
Beyond the bonuses, there are plenty of other freebies.
M&S Bank: £100 gift card for signing up, plus £10 top-ups
People who move to M&S Bank (more details) using their complete switching service will receive a £100 gift card - and those who pay at least £1,000 a month into their new account will find their gift card is automatically topped up by another £10 each month for the first year.
They'll also earn M&S loyalty scheme points every time they use their M&S debit card in store; one point is earned for every pound spent, and these are converted into rewards vouchers every three months; do note that this is a different loyalty scheme from M&S Sparks.
All M&S Bank customers also get a fee and interest free overdraft of £100.
Applicants must be:
UK residents, aged at least 18.
Nationwide: European travel insurance
People with the Nationwide Flexaccount (more details) get free European travel insurance, with a pretty low £50 excess and given a five star rating by Defaqto.
To get the bonus, account holders must pay in at least £750 a month; those switching to Nationwide must move at least one direct debit and standing order as well.
But as this is insurance, small print abounds:
Customers must be permanent residents of the UK
They must be aged between 16 and 75
Customers must pay in at least £750 a month for three consecutive months
Those with existing conditions could be subject to extra charges
The insurance can be "topped up" to become worldwide, to cover longer trips or different extra requirements
Applicants must be:
UK residents.
Santander: 123 accounts
The Santander 123 Current Account (more details) is a pretty unusual current account: it pays cash back as well as tiered interest on balances up to £20,000; there's also the Santander 123 Lite Current Account (more details) which pays cash back but doesn't pay interest.
Both accounts offer the following cash back rates:
1% on water and council tax bills.
2% on gas and electricity.
3% on phone, internet and TV.
The full 123 Current Account then offers the following rates of interest:
1% AER on balances between £1,000 and £1,999
2% AER on balances between £2,000 and £2,999
3% AER on balances over £3,000, up to £20,000
Both charge account holders a monthly fee for having the accounts:
Potential switchers shoulder work out how much they can earn from their monthly bills before taking the plunge.
If it's more than £12 a year, the Lite account may well be worth it; those who are interested earning interest as well will need to be able to make at least £60 over the year and maintain an average balance high enough to trigger interest.
In both cases, to get cash back from Santander new customers will need to move at least two direct debits or standing orders through their transfer service, and to pay in at least £500 a month.
Applicants must be:
123 Lite Current Account: Permanent UK resident, aged 18, able to pay in at least £500/month and to move at least two direct debits or standing orders via the Santander transfer service, willing to use online or mobile banking and log on at least once every three months.
123 Current Account: Permanent UK resident, aged 18, able to pay in at least £500/month and to move at least two direct debits or standing orders via the Santander transfer service.
NatWest: Reward Account
Also offering cash back in return for a small(ish) monthly fee is the NatWest Reward Current Account (more details). For £3 a month, customers will earn 3% cash back on a range of household bills including:
council tax
mobiles and landlines, pay TV, broadband
water, gas, electricity
Customers will only see the benefit of the cash back if they can earn at least £36 back from their bills over the course of the year - equivalent to paying bills of at least £100 per month.
They can boost their earnings by signing up for MyRewards, then registering with various retailers to receive a further 1% cash back on spending with them.
Unlike other cash back schemes, however, the money we earn is kept separate from our current account; once customers have earned £5 they can request that it be transferred to their account, exchanged for a gift card, or donated to charity.
Applicants must be:
UK resident, aged over 18.
Use abroad
Two UK current accounts offer free use abroad. The Norwich & Peterborough Building Society Current Account offers use abroad worldwide while Metro Bank offer free use throughout Europe.
Holders of the Norwich & Peterborough Gold Classic Current Account holders must pay £500 into the account every month or hold a £5,000 balance to avoid a £5 monthly fee and applicants must be over 18.
However, the card is free to use for both purchases and cash withdrawals worldwide.
The Metro Bank current account (more details) is free to use around Europe, for both purchases and ATM withdrawals.
Applicants must be UK, EEA or Swiss nationals, or have at least six months left on a residency visa; they'll also need to visit a branch - concentrated around London and the Southeast of England - to open an account.