What does travel accident insurance cover?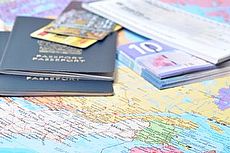 "I get travel accident insurance with my credit card, is it any good?"
Travel accident insurance is a common free 'extra' with credit cards and current accounts.
Unfortunately, in this case, debit and credit cardholders are getting what they pay for: travel accident insurance is far from a substitute for full comprehensive travel insurance.
Full travel insurance is available with some accounts but usually with packaged current accounts with a monthly fee or credit cards with an annual fee.
In this guide we look at where both full travel insurance and travel accident insurance are available and the potential benefits of, and problems with, both.
Who offers travel insurance?
Here are the products which currently include insurance.
Travel accident insurance
As we said above, when many financial providers say they offer travel insurance, and especially when they throw it in for free, they mean accident insurance.
In addition, when providers offer this cover they tend to offer it with nearly all their products so, to keep things simple, we've split the policies available up by provider.
American Express: six credit cards offer travel accident cover, three of them also offer travel inconvenience insurance. For example:
See more on the American Express site.
The Co-operative Bank: four credit cards offer travel accident cover, for example:
The Co-operative Bank think credit card (cost of credit) : up to £25,000 travel accident insurance cover
The Co-operative Bank Platinum Fixed Rate credit card (cost of credit) : up to £100,000 travel accident insurance cover
See more on the Co-operative Bank site.
Full travel insurance
Credit card and current account holders with full travel insurance will know they've got it: they'll be paying out for the policy in the form of an annual fee for holding the card.
Products currently offering travel insurance are:
American Express Platinum charge card (more details) : Worldwide travel insurance for cardholders and supplementary card holders and their families but this card has a £450 annual fee
Barclays Bank Basic Bank Account (more details) : the Travel Pack add on (£8.50 a month) gives European cover while Travel Pack Plus (£13.50 a month) offers worldwide cover
Halifax Ultimate Reward current account (more details) : Worldwide travel insurance for account holders, £15 fee for holding the account
HSBC Premier Bank Account (more details) : Worldwide travel insurance for account holders, only those with £50k+ in savings/investments with HSBC or annual income of £100k+ and a HSBC mortgage, investment, life insurance or protection product are eligible for this account
Nationwide FlexAccount current account (more details) : annual European multi trip travel insurance for account holders paying in at least £750 a month
Nationwide FlexPlus current account (more details) : Worldwide travel insurance including winter sports cover, £10 monthly fee for holding the account
TSB Platinum current account (more details) : Choose either family or winter sports UK and worldwide travel insurance, £17 monthly fee for holding the account
As you can see, these are far from free extras: account holders should consider carefully whether the cost of the account makes the insurance worthwhile as well as checking exclusions and policy terms to ensure that they're covered.
Existing credit card deals
It's worth noting that credit card offers change over time. For ease, we refer to offers available to customers applying now but those who have held a card for a while might be entitled to cover that's no longer available to new customers.
It's worth digging out terms and conditions to check.
Travel accident insurance: what's covered?
Travel accident insurance differs from normal travel insurance in that it usually only covers extremely serious bodily injuries and fatalities whilst travelling.
Every policy is different but, in general, the policies cover the cardholder and, sometimes, selected members of the party they're travelling with, in the event of:
death
loss of limbs or sight
accidents which lead to permanent disability
As with all insurance policies, exclusions abound although, in the case of travel accident insurance, exclusions seem even more frequent than with other insurance policies.
For example, most policies only cover transport accidents in the event that the ticket to travel was specifically paid for with the credit card.
Most importantly of all, unlike full travel insurance, much more common travel problems - loss of luggage, say, or transport delays - aren't covered.
Additionally, and somewhat more importantly, less 'serious' medical problems, such as getting ill abroad and needing hospital treatment for example, wouldn't be covered either.
So, if travel accident insurance doesn't cut it, what does?
Adequate cover
The 'right' policy will be dependent on individual circumstances - that is, the type of trip the policyholder is going to take as well as several other factors including age, how many trips will be taken throughout the year and where there are any pre-existing medical conditions.
For example, many travel insurance policies still take it as read that the policyholder has booked a package holiday: the flight and accommodation all with one provider.
That means that those who book flights and accommodation separately are often not covered for the indirect losses they will suffer if one part of the journey goes wrong.
Comprehensive ('full') travel insurance polices like those listed above are more likely to cover all of the things you'd expect an insurance policy to take care of but policyholders should never assume they're covered: exclusions are very common.
Section 75
Credit card holders looking into travel insurance should also note that no policy invalidates the protection offered to those paying by credit card under law.
Section 75 of the Consumer Credit Act states that credit card providers are equally liable - with retailers or service providers - for offering redress when an item or service is faulty, misrepresented or not delivered at all.
For travellers this has proved invaluable: many have got refunds on flights where the airline has gone bust.
However, even Section 75 is no substitute for a full travel insurance policy.
Denied Boarding Regulations
Insurance is also unaffected by EU rules which offer compensation for delayed or cancelled flights.
Under the Denied Boarding Regulations (DBR) - guide here - all air passengers who have been subjected to a delayed flight are entitled to compensation, unless the delay was due to 'extraordinary circumstances'.
Whether looking into travel accident insurance or full travel insurance, the core advice remains the same: check terms and conditions in full before relying on a policy.
Knowing exactly what is and isn't covered avoids a nasty surprise when policyholders really need to rely on their cover.