Is banking complaints data useful?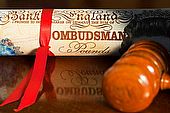 Should I be worried if I see that a lot of people have complained to the Financial Ombudsman Service about a particular bank or credit card provider?
We've all read - or, if you're me, written - news articles lambasting financial institutions for their poor complaints handling.
Usually, the data we have to go on comes from the Financial Ombudsman Service, the UK's independent adjudicator and, as we saw with the PPI mis-selling scandal, too often a bellwether for the personal finance sector's ailments.
The Financial Services Authority (FSA) also publishes some, very basic, statistics on banking complaints.
But how far can we trust those statistics? And, perhaps more importantly, how far should they put us off, or attract us, to particular institutions as consumers?
Why publish company specific data?
In September 2009, the FSA published data on the number of complaints made about financial firms in the previous two years.
Banking complaints had risen 32%, the FSA said, and credit card complaints had more than doubled from 73,500 at the start of August 2006 to an unhealthy 151,000 by the end of 2008.
As a direct result of that increase in complaints, banks were required to report to the FSA every six months on the number of complaints they'd received and how they'd handled them and the Financial Ombudsman Service (FOS) started publishing company specific complaint figures for the first time.
"Consumers need more information about which firms are being complained about and why, so they can make more informed choices when shopping around for financial products," Which? personal finance campaigner Phil Jones said at the time.
How useful is it?
Then as now, though, most complaints went to just five high street banks: Barclays, Lloyds TSB, Bank of Scotland, HSBC and Santander.
Together they accounted for more than half of all the UK's banking complaints.
However, this is hardly surprising considering their size, as the British Bankers Association pointed out: "The more customers a bank has, the more complaints it is statistically likely to get. And it does not necessarily follow that when customers complain the bank has been at fault."
It's not exactly a ringing endorsement either, though, and the impression that complaint numbers can be a good indicator of general performance is only underlined when, for example, in January 2011 the FSA fined NatWest and RBS £2.8 million for persistently failing to deal properly with customer complaints.
However, there's no denying that complaint numbers alone are a poor indicator of a banks overall performance and for a number of reasons.
Between 2004 to 2007, for example, around two thirds of the FOS's caseload related to mortgage endowments, a complaint that was only ever likely to be brought by middle-aged homeowners and a significant bias in complaint data.
Nevertheless, it's clear that provider specific data does have one significant advantage for regulators: it forces firms into action.
When Barclays was named most complained about bank in April 2011, for example, the bank was forced to defend their service and promise sweeping changes.
"We are working hard to identify the root causes of our complaints and put in place solutions to permanently fix the problems, reducing or removing the need for our customers to complain," chief executive of Barclays Global Retail Banking Antony Jenkins said at the time.
Perhaps, then, it's data worth including in the Government's proposed annual account statements?
A better measure: resolution ratios
When, in September 2009, the number of banking complaints was growing at a shocking rate, the banks' willingness to accept them was not.
Just under half (49%) of complaints were decided in the customer's favour by banks at the start of August 2006; by the end of 2008 that number had dropped to 38%.
Clearly, the resolution of complaints can be as important as the complaints themselves.
It's particularly useful for consumers when we look at the FOS, as opposed to the FSA, data.
At the point at which a consumer has gone to the FOS they've already failed to resolve their complaint with their own financial provider.
So, regardless of how many complaints were made, the percentage of complaints that the ombudsman decided to uphold in the consumer's favour is the telling indicator of how well the banks are dealing with complaints since, ideally, the bank should recognise where they're in the wrong immediately.
In September 2010, for example, the Financial Ombudsman Service found that Barclays was most likely to wrongly reject their customers' complaints against them, despite the fact that far fewer of their consumers complained than, say, Lloyds TSB.
Of the big credit card providers, Egg and Capital One fared poorly with a high percentage of complaints about both resolved by the ombudsman in favour of the consumer.
Egg had a massive 72% of FOS complaints against it resolved in favour of the consumer and for Capital One the figure was 64%.
Product specific data
On the other hand, complaints by financial product can be even more useful to consumers than complaints by financial provider.
However, these are hard to come by, the nearest thing we can get is a breakdown by broad category and indicators of specific endemic problems with some products.
The figures relating to the resolution of credit card complaints are bundled in with those relating to current accounts, deposits/savings, other loans, and cash deposit ISAs. This has led some to question their practical use.
The Association of British Insurers, for example, claim that the FSA's data will not help consumers "because it doesn't allow them to compare the performance of different companies for specific products".
More than 11% of complaints made by consumers to the financial watchdog were about credit cards between July and September, for example.
The nearest contenders - current accounts, mortgages and insurance - were only responsible for 8.5%, 5.5% and 4% of complaints respectively.
Complaints bias
Finally, as we've already noted, there are a number of factors which drive consumers to complain: it's not a simple case of complaints reflecting dissatisfaction.
A good example of that is the spike in ombudsman complaints we saw post 2008.
"Though many factors can drive complaints, it may be that in the current economic climate more consumers are experiencing financial difficulties and are more willing to pursue a complaint where previously they may not have done so," an ombudsman spokesperson said of the trend.
It's also the case that different financial sectors expect different qualities of service.
According to the Lending Code, card companies have a duty to be, "sympathetic and positive when considering a customer's financial difficulties."
They should, "offer the customer appropriate and timely options where possible to help reduce the risk of deterioration in the customer's financial well-being."
That's not an expectation many of us would expect to have met to the letter.