Instant decision credit cards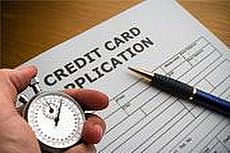 Instant decision credit cards offer an immediate response to online applications, but how do they work?
Most credit card applications are now available online and many even offer an instant decision - an immediate response to whether the applicant was successful.
Online applications can also offer access to many 'online only' deals too, either from dedicated card providers or exclusive offers from high street banks that aren't available in branch.
How to find instant decision credit cards on this site
Go to our comparison tool here.
Click 'instant online decisions only'.
Click 'update results'.
Applying online therefore can bring a number of benefits from a wider choice of deals, to a faster application process, and even an immediate decision.
But how much quicker are these instant response application systems? And is all this haste a good idea financially?
We've got the answers.
Online applications
First though, we'll have a look at how applying online works in general.
How do they work?
When an online credit card application is submitted the information is securely sent to the issuing bank or building society.
The issuing bank or building society then uses simple credit scoring information - usually using a credit reference company - against their criteria to determine whether they'll offer access to credit.
These credit reference agencies hold information that reflects personal finance history, such as current borrowing and their repayment on borrowing, as well as more general information on stability, such as whether they're on the electoral roll and previous linked addresses.
We've looked more closely at ways of improving the chance of being accepted in this feature here.
With standard online applications the bank or building society will usually get in touch in a few days to a week with the outcome of the application.
With instant decision applications on the other hand, once this credit check has been run, the issuing bank or building society will often be able to provide a decision on the application in seconds.
Is it safe to apply online?
Online application forms are run from secure servers on a bank or building society's website.
The information entered into the form is also securely encrypted, which means that when the data is sent it is scrambled and can only be read - or unscrambled - by the bank or building society that hosts the application form.
What is an instant decision?
An instant decision application (a.k.a. 'instant approval' or 'instant answer' application) is a fast-track online decision on the applicant's suitability for a particular credit card.
Many high street banks and major credit card issuers are using this technology to fast track online applications, with American Express, RBS, Natwest, Halifax, Tesco Bank, Barclaycard and Capital One being just some of the issuers able to offer an immediate response.
How does it work?
Once the applicant has filled out their information online and submitted the form, the credit card application is processed immediately and, in most cases, applicants will automatically receive a decision letting them know if they've been accepted.
In essence, this is an instance of a complex algorithm doing the job - weighing up the good indicators against those that are possibly worrisome - that a bank employee might once have managed.
This makes it especially important to look at the listed application criteria when comparing instant decision credit cards; there is little room to argue or explain.
How long will it take to get the credit card?
Just like guaranteed credit cards don't exist, instant decisions aren't exactly instant use.
After making an instant decision credit card application, applicants need to wait for confirmation by post, or for the actual card to be posted to them.
With some card providers, applicants will need to confirm the application by signing an agreement and sending it back to them.
However, many credit card companies now use a form of electronic signing when customers apply online, for example checking a box that a certain statement is agreed to. This means applicants no longer need to wait for the agreement to be sent out in the post to sign by hand.
Put simply, applicants often agree to the credit card terms and conditions when they apply online - so if they're accepted, the credit card company can send the new card out straight away, eliminating the need to first post out agreement forms.
While this is quicker, however, it does make it even more important to check the terms and conditions before applying.
The time it takes to either receive a confirmation or a credit card will vary, but a good rule of thumb is to allow around 10 working days. For more information on this see our FAQ on the subject - available here.
Are instant decisions only for those with good credit?
Very broadly, there are two main types of instant decision credit cards: good credit history deals and deals for those who are completely new to credit or, for whatever reason, have a poor credit record.
How important are instant decisions anyway?
Finally, note that, even though an instant decision on a credit card application is useful, it should never be the first criterion when making a credit card application.
It's still much more important to compare credit cards by looking at their different features, as well as the benefits they offer.
Some of these include the ability to rebuild a poor credit score (here), a balance transfer facility (here) or the ability to earn from purchases (here).
What do lenders consider?
Whether applications are made online or not, lenders use the credit report compiled by a credit reference agency (such as Equifax, Experian or CallCredit) to verify data such as previous addresses and financial history.
To be approved for either a standard or an instant decision credit card it is important that applicants check they fulfill all the application criteria.
All credit cards require that applicants are resident in the UK, are over 18 (some providers require over 21 or even 25), have some financial history in the UK including a current account (again, the type of history will vary with the card) and have a regular income.
Before making an online credit card application, then, it's usually best to have the following information to hand; and it's these details that will also often be taken into consideration by lenders:
Personal information: title, name and contact details.
Home address: accommodation status (own or rent), length of time at that address and the postcode.
Previous address: information will be needed if the current address has been changed in the past 3 years; how many times the applicant has moved and how stable is their location are also important factors.
Employment details: work status, job title, employer details and contact information. How long the applicant has worked for the same employer is also significant, with a more steady job being obviously better.
Finances: salary information and current bank account details are significant, as lenders must determine if the credit is affordable, and how much they will extend it. Having banked with the same bank for a longer time is also something that could work in applicant's favour.
Credit scoring: has the applicant had any credit before, and if so, how much and most importantly, did they pay it on time? This could also include non-credit borrowing, such as mobile phone contracts and bank overdrafts.
Credit to debt ratio (and available credit): as well as how much credit they've used, lenders may also look at how much available credit applicants have as well - that is, if someone already has a lot of credit available, even if they aren't in debt.
Past credit borrowing behaviour: Not just whether borrowers have repaid on time, but also the types of transactions they've carried out, if they've used a promotional offer, what their credit limit has been, whether they've made cash withdrawals, etc. For more details on what information lenders share, see this article.
It can sometimes be worth obtaining a copy of a credit report (find out how here) before applying for credit - it can give the opportunity to fix any mistakes and, potentially, improve the chance of acceptance before applying.
Should I make multiple applications?
The ease of making online applications has made multiple applications more attractive than ever.
However, this should be avoided as it can seriously damage a credit rating.
Credit card applicants have been known to hedge their bets by making several credit card applications online at once, or in a very short period of time.
This proves a problem because the credit search the vast majority of credit card providers perform on their online applicants shows up on credit records.
Multiple searches are a red flag for lenders and can lead to applications being rejected.
Ideally, those with a rejected application should try to work out why they have been refused and wait at least three months for the credit search to disappear from credit records before making another application.
Alternatively, some credit card providers now offer the option of online pre-application checks to help provide a quick decision on credit card applications.
Unlike actual credit card applications, these pre-applications checks perform what's called a 'soft footprint' check - that is, a 'no strings attached' credit verification, just to give applicants an idea of whether they'll be accepted before going ahead with a full search.
In other words, 'soft-footprint' checks do not affect one's credit record. Although it's worth bearing in mind however, that they aren't definitive, as the full credit search could provide a different outcome.
The other drawback however is that quotation searches aren't yet widely available. For more information on who offers them, read our article here.