Apple iPhone 6 deals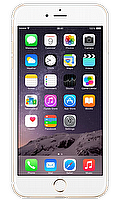 Available in:
Gold
Silver
Space Grey
Main features:

iOS

Quad Band

4G

Wifi

Push Email

HTML Browser

GPS

Music Player

Video Player

8MP Camera

Video Recorder
Compare deals on the Apple iPhone 6
Sorry, there are no deals that match your search criteria. Please try adjusting your options in the form above to find a suitable option.
About the Apple iPhone 6
The Apple iPhone 6
When they were released in 2014 the iPhone 6 and the iPhone 6 Plus (here) were very new and exciting - not least because they were bigger than previous iPhones. Some Apple enthusiasts may not have liked the change, but the company needed to appeal to new users as well - like those debating getting one of 2014's flagship Androids: the Samsung Galaxy S5, HTC One M8 or LG G3, for example.
It's important not to confuse the iPhone 6 with 2015's iPhone 6S (which we look at here), as while they look almost identical they're very different creatures.
Specs
With each new flagship iPhone comes with a new and improved chipset, and the iPhone 6 saw the debut of the A8 64-bit processor with dual-core 1.4GHz Typhoon CPU and M8 coprocessor. When launched, the phone came with iOS 8, but those buying one more recently will have found it has iOS 9 installed; there are plans to upgrade to iOS 10.
The A8 chipset was designed with iOS 8 in mind, however; it can cope with the newer OS, but it's worth remembering that while it'll be faster than earlier iPhones with older chips, it will be slower than the iPhone 6S and the SE. Indeed, Apple were proud of the fact that the A9 chips in those handsets are up to twice as fast as the A8.
The iPhone 6 features 1GB of RAM - which seems rather small, but it really didn't need any more when it was designed. As is normal with iPhones, there's no opportunity to add external memory - and the entry level 16GB version will fill up quite quickly. That makes the 64GB version a better option; the 128GB version was discontinued ahead of the launch of the 6S.
Look and feel
Even bearing in mind the overly bright, plastic coated, iPhone 5C, Apple's devices have a very particular look and feel. The iPhone 6 and its bigger sibling, the 6 Plus, aren't all that different - they're obviously, immediately, iPhones - but they're different enough, not least because they're bigger.
The iPhone 6 features a 4.7 inch display - up from four inches on the 5, 5S and 5C, and just 3.5 inches on iPhones predating them. The 1334x750 resolution display is surrounded by a body that measures 67.0 mm x 138.1 mm x 6.9 mm and weighs 129 grams - still compact when compared to Samsung's 2014 flagship Galaxy S5, which had a 5.1" display and measured 72.5 mm x 142 mm x 8.1 mm.
There's a return to the rounded edges seen on the earlier iPhones - here they allow the bigger handset to sit more comfortably in the hand. The curved edges allow for a seamless transition between the metal back and the glass screen, and the iPhone 6 looks and feels like a typically solid piece of Apple kit - despite a handful of accusations that the phone was prone to bending.
In Use
By the time the iPhone 6 was launched, 4G was starting to gain traction. The 5S supported more than enough 4G LTE bands for UK use, and the iPhone 6 added support for even more. Basically, iPhone owners have always been able to be fairly confident that they'll get 4G service wherever it's available when travelling.
The phone supports dual band wi-fi across all the main protocols, and while it supports a slightly older version of Bluetooth, v4.0, it's one that comes with the improved privacy protocols of v4.2. More importantly for many however, the iPhone 6 and 6S were the first of Apple's handsets to feature a functional NFC chip - allowing for the introduction of Apple Pay.
A common complaint about iPhones is that their battery life can be unpredictable. Compared to other smartphones of a similar size and age, the 1810mAh battery in the iPhone 6 does seem quite small - but it offers up to 14 hours of talktime on 3G, or up to 11 hours of HD video playback or surfing via wi-fi (which drops to 10 hours of use over a 3G or 4G data connection). Most users should find they'll have at least 30% battery life left at the end of the working day.
Camera
For many people, one of the biggest differences between the iPhone 6 and the iPhone 6S is the camera. The iPhone 6 offered the best version yet of the 8MP rear camera found on the handsets since 2011 - but it's not as good as the camera on 2015's iPhone 6S, or that on the Samsung Galaxy S6 (here), which was released six months after this phone. For those trying to decide between the iPhone 6 and 6S, or even the SE (here) - this one lacks the Live Photo feature.
And yes, the iPhone 6 has only a 1.2MP front facing camera, as opposed to its successor's 5MP selfie cam. But despite the lower megapixel count, the camera was still a bit improvement on that found on the 5S, giving brighter HD (1080p) shots and 720p video, and introducing the ability to send short video messages through iMessage.
Apple iPhone 6 Specifications
Model
Apple iPhone 6

Form Factor
Bar
Dimensions
(w x h x d)
67.0mm x 138.1mm x 6.9mm
Weight
129g
Screen Size
4.7"
Screen Resolution
750 x 1334
Pixel Density
326 ppi
Screen Detail
LED-backlit IPS LCD, capacitive touchscreen, Ion-strengthened glass, oleophobic coating
Touchscreen
Qwerty Keyboard
Sensors
Accelerometer, Ambient Light, Barometer, Compass, Fingerprint, Gyro, Proximity
Operating System
iOS (Version 8)
Chipset
Apple A8
Processor (CPU)
Dual-core 1.4 GHz Typhoon (ARM v8-based)
Graphics (GPU)
PowerVR GX6450 (quad-core graphics)
Internal Memory
16 GB
Memory Card
Talk Time
840 mins
Standby Time
15000 mins
2G GSM
Quad
GSM850, 900, DCS1800, PCS1900
GPRS
Edge
3G (HSDPA)
4G (LTE)
WLAN (Wifi)
802.11 a/b/g/n/ac
Wifi Hotspot
Bluetooth
Bluetooth v4.0
USB
2.0
GPS (Location Services)
MMS
Email
Push Email
Web Browser
HTML5 browser
Camera
8 MP
Camera Flash
Dual LED
Video Camera
Video Calling
1.2MP
Music Player
AAC, Protected AAC, HE‑AAC, MP3, MP3 VBR, Audible, AAX, Apple Lossless, AIFF, WAV
Video Player
MP4, H.264
FM Radio
Headphone Jack
Apple iPhone 6 user reviews
Have your say: Add your review
Send us your comments below and we'll add them to this page. (Please read our comments disclaimer first though).
Read more related to Apple mobile phones

There are various factors that contribute to poor sound from our mobiles, but some can be fixed.
Read more »

The iPhone 7 and iPhone 7 Plus are now available to pre-order from all the main networks.
Read more »

Apple reveal the headline features we can expect in iOS 10 - but older devices will miss out.
Read more »