Apple iPhone 6 Plus mobile phone deals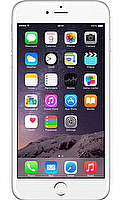 iOS

Quad Band

4G

Wifi

Push Email

HTML Browser

GPS

Music Player

Video Player

8MP Camera

Video Recorder
ABOUT
COMPARE DEALS
COMPARE HANDSETS
USER REVIEWS
About the Apple iPhone 6 Plus
The iPhone 6 Plus
Released in 2014, the iPhone 6 Plus was Apple's first foray into the world of the phablet. Compared to the traditional iPhone it's a monster of a device - which is why Apple launched it alongside the smaller - but still bigger than usual - iPhone 6.
The handset's most obvious rival was the Samsung Galaxy Edge S6, released just a few months later - but it's also worth comparing the iPhone with Samsung's other flagship phablet, the Galaxy Note 5.
Specs
As the 2014 flagship models, the iPhone 6 and the 6 Plus feature the best technology Apple had available at the time: a 64-bit A8 processor with a dual-core 1.4GHz Typhoon CPU and an M8 coprocessor, with 1GB of RAM. That sounds a little on the light side when compared with the quad- and octa-core CPUs being paired with 3 to 4GB of RAM in some of its Android rivals, but we need to remember that this is an Apple device - everything's designed to work together with maximum efficiency.
Any iPhone 6 Plus that comes with iOS 8 pre-installed will easily cope with being upgraded to iOS 9 - and should be fine with iOS 10 as well. Those thinking of upgrading from an iPhone 4 or 5 are likely to be in shock for a while because of the difference in size - but when they recover they'll also notice that whichever of the newer operating systems is in the 6 Plus, it runs more quickly and smoothly than on the device they were using previously.
On launch it was possible to get the 6 Plus with a choice of 16GB, 64GB, or 128GB of internal memory, with about 4GB taken up by the OS. The 128GB version disappeared in autumn 2015, while the other two dropped in price, coinciding with the launch of the newer iPhone 6S Plus.
Look and feel
One of the problems for the iPhone 6 Plus - and the 6S Plus (here) - is that they look big in use, because Apple have simply scaled up the design. While the top and bottom bezels look good on smaller iPhones, they lose some of their elegance when seen in real life on the phablet sized version - as well as making the phone much taller than it needs to be. At 77.8mm x 158.1mm x 7.1mm, it's noticeably taller and wider than the Galaxy S7 Edge - which has a bigger screen.
The 6 Plus is remarkably slim though, and the 5.5 inch display is the first on an iPhone to be full HD, with the 1,980 x 1,080 resolution giving 401 pixels per inch. That's sharper than the display on the smaller iPhone 6, and combined with the extra size, well suited for watching videos or gaming.
Furthermore, those pixels are also what Apple call "dual domain" - which means the display looks good from a range of viewing angles - and the 6 Plus supports screen rotation, so users can keep it in landscape mode of they want. For those who'd rather do as much as possible in portrait mode and with one hand free, the iPhone 6 and 6 Plus saw the debut of Reachability. Once the feature is activated, we simply double tap the Home button to bring the content in the top half of the screen to the bottom.
In Use
The bigger body of the iPhone 6 Plus means a bigger battery - and with a capacity of 2915mAh it's more than a third bigger than that found in the iPhone 6. Even though it has more phone to power, the extra capacity makes a huge difference to how long we can expect the phone to last between charges - Apple say it'll cope in standby for up to 16 days, or give as much as 24 hours of 3G talk time, or 14 hours of HD video playback, or 80 hours of audio playback.
In real terms, with average use, the phone will comfortably last a full day, and some users may even find themselves getting well into a second before needing to find a charger.
For all its size, the 6 Plus is still a phone, and as well supported for 2G, 3G and 4G calls as we might expect - and this is the first generation of iPhone to support voice calls over 4G (LTE) where available. Like its smaller sibling, it features a functional NFC chip, although only for use with Apple Pay - and those who are so inclined can pair it with the Apple Watch via Bluetooth v4.2.
Camera
At launch, the iPhone 6 offered the best images yet for an Apple handset - and the 6 Plus should offer better shots in lower light thanks to the introduction of optical image stabilisation (OIS). The smaller version of the phone relies on electronic image stabilisation, which works on the image after it's been taken, rather than keeping the camera steadier in the first place. OIS is more expensive and needs more room inside the phone - hence Apple including it only on their larger, more expensive handsets.
That said, the rear camera on some iPhone 6 Plus handsets had a fault that meant it could only take blurry images. The problem was mainly limited to phones sold between September 2014 and January 2015, and Apple offered to replace the camera on any phones that were affected. More recent handsets should be fine - but if the images aren't up to the usual iPhone standard, it's worth checking here.
Apple iPhone 6 Plus Specifications
Apple iPhone 6 Plus Specifications
Model
Apple iPhone 6 Plus

Form Factor
Bar
Dimensions
(w x h x d)
77.8mm x 158.1mm x 7.1mm
Weight
172g
Screen Size
5.5"
Screen Resolution
1080 x 1920
Pixel Density
401 ppi
Screen Detail
LED-backlit IPS LCD, capacitive touchscreen, Ion-strengthened glass, oleophobic coating
Touchscreen
Qwerty Keyboard
Sensors
Accelerometer, Ambient Light, Barometer, Compass, Fingerprint, Gyro, Proximity
Operating System
iOS (Version 8)
Chipset
Apple A8
Processor (CPU)
Dual-core 1.4 GHz Typhoon (ARM v8-based)
Graphics (GPU)
PowerVR GX6450 (quad-core graphics)
Internal Memory
16 GB
Memory Card
Talk Time
1440 mins
Standby Time
23040 mins
2G GSM
Quad
GSM850, 900, DCS1800, PCS1900
GPRS
Edge
3G (HSDPA)
4G (LTE)
WLAN (Wifi)
802.11 a/b/g/n/ac
Wifi Hotspot
Bluetooth
Bluetooth v4.0
USB
2.0
GPS (Location Services)
MMS
Email
Push Email
Web Browser
HTML5 browser
Camera
8 MP
Camera Flash
Dual LED
Video Camera
Video Calling
1.2MP
Music Player
AAC, Protected AAC, HE‑AAC, MP3, MP3 VBR, Audible, AAX, Apple Lossless, AIFF, WAV
Video Player
MP4, H.264
FM Radio
Headphone Jack
Apple iPhone 6 Plus user reviews
Have your say: Add your review
Send us your comments below and we'll add them to this page. (Please read our comments disclaimer first though).
Compare the Apple iPhone 6 Plus
Detail
Model
Apple iPhone 6 Plus

Form Factor
Bar
Dimensions
(w x h x d)
77.8mm x 158.1mm x 7.1mm
Weight
172g
Screen Size
5.5"
Screen Resolution
1080 x 1920
Pixel Density
401 ppi
Screen Detail
LED-backlit IPS LCD, capacitive touchscreen, Ion-strengthened glass, oleophobic coating
Touchscreen
Qwerty Keyboard
Sensors
Accelerometer, Ambient Light, Barometer, Compass, Fingerprint, Gyro, Proximity
Operating System
iOS (Version 8)
Chipset
Apple A8
Processor (CPU)
Dual-core 1.4 GHz Typhoon (ARM v8-based)
Graphics (GPU)
PowerVR GX6450 (quad-core graphics)
Internal Memory
16 GB
Memory Card
Talk Time
1440 mins
Standby Time
23040 mins
2G GSM
Quad
GSM850, 900, DCS1800, PCS1900
GPRS
Edge
3G (HSDPA)
4G (LTE)
WLAN (Wifi)
802.11 a/b/g/n/ac
Wifi Hotspot
Bluetooth
Bluetooth v4.0
USB
2.0
GPS (Location Services)
MMS
Email
Push Email
Web Browser
HTML5 browser
Camera
8 MP
Camera Flash
Dual LED
Video Camera
Video Calling
1.2MP
Music Player
AAC, Protected AAC, HE‑AAC, MP3, MP3 VBR, Audible, AAX, Apple Lossless, AIFF, WAV
Video Player
MP4, H.264
FM Radio
Headphone Jack
SORT DEALS BY:
Minutes

Texts

Data

Upfront
Price
Monthly
Price
Deal Value

Apple iPhone 6 Plus

(in Silver)

(Refurbished)

on O2 SIM Only, 24 months




SIM Only

Unlimited


minutes

Unlimited


texts

5GB


data

£331.99


upfront

£26.00


per month

BUY NOW
Apple iPhone 6 Plus

(in Space Grey)

(Refurbished)

on O2 SIM Only, 24 months




SIM Only

Unlimited


minutes

Unlimited


texts

5GB


data

£331.99


upfront

£26.00


per month

BUY NOW
Apple iPhone 6 Plus

(in Space Grey)

(Refurbished)

on O2 SIM Only, 24 months




SIM Only

Unlimited


minutes

Unlimited


texts

5GB


data

£139.99


upfront

£34.00


per month

BUY NOW
Apple iPhone 6 Plus

(in Silver)

(Refurbished)

on O2 SIM Only, 24 months




SIM Only

Unlimited


minutes

Unlimited


texts

5GB


data

£139.99


upfront

£34.00


per month

BUY NOW
Apple iPhone 6 Plus

(in Silver)

(Refurbished)

on O2 SIM Only, 24 months




SIM Only

Unlimited


minutes

Unlimited


texts

5GB


data

£19.99


upfront

£39.00


per month

BUY NOW
Apple iPhone 6 Plus

(in Space Grey)

(Refurbished)

on O2 SIM Only, 24 months




SIM Only

Unlimited


minutes

Unlimited


texts

5GB


data

£19.99


upfront

£39.00


per month

BUY NOW
Apple iPhone 6 Plus

(in Silver)

(Refurbished)

on O2 SIM Only, 24 months




SIM Only

Unlimited


minutes

Unlimited


texts

5GB


data

£336.00


upfront

£26.00


per month

BUY NOW
Apple iPhone 6 Plus

(in Space Grey)

(Refurbished)

on O2 SIM Only, 24 months




SIM Only

Unlimited


minutes

Unlimited


texts

5GB


data

£336.00


upfront

£26.00


per month

BUY NOW
Apple iPhone 6 Plus

(in Space Grey)

(Refurbished)

on O2 SIM Only, 24 months




SIM Only

Unlimited


minutes

Unlimited


texts

5GB


data

£119.99


upfront

£35.00


per month

BUY NOW
Apple iPhone 6 Plus

(in Silver)

(Refurbished)

on O2 SIM Only, 24 months




SIM Only

Unlimited


minutes

Unlimited


texts

5GB


data

£119.99


upfront

£35.00


per month

BUY NOW
Apple iPhone 6 Plus

(in Silver)

(Refurbished)

on O2 SIM Only, 24 months




SIM Only

Unlimited


minutes

Unlimited


texts

5GB


data

Free
handset
£40.00


per month

BUY NOW
Apple iPhone 6 Plus

(in Space Grey)

(Refurbished)

on O2 SIM Only, 24 months




SIM Only

Unlimited


minutes

Unlimited


texts

5GB


data

Free
handset
£40.00


per month

BUY NOW
Apple iPhone 6 Plus

(in Space Grey)

(Refurbished)

on O2 SIM Only, 24 months




SIM Only

Unlimited


minutes

Unlimited


texts

5GB


data

£345.99


upfront

£26.00


per month

BUY NOW
Apple iPhone 6 Plus

(in Space Grey)

(Refurbished)

on O2 SIM Only, 24 months




SIM Only

Unlimited


minutes

Unlimited


texts

5GB


data

£129.99


upfront

£35.00


per month

BUY NOW
Apple iPhone 6 Plus

(in Space Grey)

(Refurbished)

on O2 SIM Only, 24 months




SIM Only

Unlimited


minutes

Unlimited


texts

5GB


data

£9.99


upfront

£40.00


per month

BUY NOW
Apple iPhone 6 Plus

(in Silver)

(Refurbished)

on O2 SIM Only, 24 months




SIM Only

Unlimited


minutes

Unlimited


texts

5GB


data

£384.00


upfront

£26.00


per month

BUY NOW
Apple iPhone 6 Plus

(in Space Grey)

(Refurbished)

on O2 SIM Only, 24 months




SIM Only

Unlimited


minutes

Unlimited


texts

5GB


data

£384.00


upfront

£26.00


per month

BUY NOW
Apple iPhone 6 Plus

(in Space Grey)

(Refurbished)

on O2 SIM Only, 24 months




SIM Only

Unlimited


minutes

Unlimited


texts

5GB


data

£384.00


upfront

£26.00


per month

BUY NOW
Apple iPhone 6 Plus

(in Silver)

(Refurbished)

on O2 SIM Only, 24 months




SIM Only

Unlimited


minutes

Unlimited


texts

5GB


data

£384.00


upfront

£26.00


per month

BUY NOW
Apple iPhone 6 Plus

(in Silver)

(Refurbished)

on O2 SIM Only, 24 months




SIM Only

Unlimited


minutes

Unlimited


texts

5GB


data

£119.99


upfront

£37.00


per month

BUY NOW