Ultrafast fibre to the home: how to get it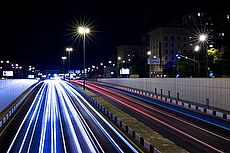 FIBRE to the home, or FTTH - also known as fibre to the premises or FTTP - promises truly fast connectivity.
Because the fibre cable comes right into the building, there's no drop off in speed caused by sharing the connection with the neighbours, or being a little way from the on street cabinet.
That means the speeds advertised are pretty much the speeds you'll get.
But such convenience and connectivity isn't widely available, and where it is it doesn't come cheap.
We look at three broad categories of FTTP provision in this guide:
and how BT and their resellers tackle it
Local projects
The easiest thing to do is move to an area where FTTP is already installed - we'll explain why later.
But that doesn't mean relocating to a swanky apartment building in the centre of a major city, however: Gigaclear, who we'll begin with, only service rural communities.
Gigaclear
It was September 2011 when Gigaclear started building their first FTTP network, in association with Rutland Telecom, in Hambleton, Rutland - and within a month they were already providing services to customers.
Since then, they've gone on to build 19 FTTP networks covering villages in Rutland, Oxfordshire, Kent, and Cambridgeshire. They've also got more than 20 projects covering another 50 or so villages under way, or slated to begin.
As well as those counties already mentioned, Gigaclear are connecting villages in parts of Northamptonshire and Essex.
Getting connected to the Gigaclear network relies on being part of a committed and reasonably enthusiastic community: at least 30% of households must be willing to sign up for the ISP to consider them.
They also won't install in areas that already have some kind of ultrafast service available - even if a large proportion of the community aren't connected to it.
Once built, a typical Gigaclear network tends to cover at least 1,000 properties across a couple of villages, or smaller numbers in villages neighbouring an existing Gigaclear network.
But for those who qualify, Gigaclear's packages start from £39.90 a month for an unlimited symmetrical up to 50Mb connection - that's the same speed for both downloads and uploads - up to £74 a month for their 1Gb connection:
| | Package | Connection | Price | |
| --- | --- | --- | --- | --- |
| | Home 50 Unlimited | Up to 50Mb download, up to 50Mb upload; unlimited data | £39.90 | |
| | Home 100 Unlimited | Up to 100Mb download, up to 100Mb upload; unlimited data | £45.25 | |
| | Home 200 Unlimited | Up to 200Mb download, up to 200Mb upload; unlimited data | £52.45 | |
| | Home 1000 Unlimited | Up to 1Gb download, up to 1Gb upload; unlimited data | £74 | |
All their packages come with a £100 connection fee.
Because it's fibre to the premises, households don't have to take a phone line - but there's no line rental whether they do or not. Those who do want a phone line can pay an extra £8 a month for anytime calls.
Gigaclear says this means their entry level package compares very favourably with BT's Infinity 1 service, as shown here:
Package
Speed
Price
Line Rental
Anytime Calls
Total Cost
Home 50 Unlimited
Up to 50Mb
£39.90
N/A
£8
£39.90 to £47.90
Unlimited Infinity 1 + Weekend calls
Up to 52Mb
£12
for 12 mths,
then £20
£18.99
£7.95*
£40.99* to £48.94*
*BT prices vary depending on offers available; total cost based on standard prices charged from September 20 2015; more detail here.
Other rural communities
Other rural areas have managed to get superfast or ultrafast broadband installed some other way. The odd daring community has chosen to go it alone and install FTTP by themselves, but the majority of the contracts being awarded by Broadband Development UK (BDUK) are to BT.
Superfast Cornwall, for example, have managed to connect more than 95% of the region to either superfast or ultrafast broadband, and in June 2015 they announced that the number of properties now on BT's up to 330Mb Infinity had passed 85,000.
For those of us in slightly more populous areas, it's largely a matter of being in the right place.
UFO over York
In York, for example, Sky and TalkTalk have been making much of the roll out of the Ultra Fibre Optic (UFO) network being built by City Fibre.
An estimated 20,000 homes will be able to take advantage of the up to 1Gb connections on offer.
Sky are offering a variety of packages, ranging from up to 50Mb for £10 a month plus line rental to £30 a month plus line rental for the fastest connection, being advertised as up to 940Mb:
| | Package | Connection | Price | Line Rental | Total monthly | |
| --- | --- | --- | --- | --- | --- | --- |
| | Ultra Fibre Optic | Up to 50Mb; unlimited data | £10 | £17.40 | £27.40 | |
| | Ultra Fibre Optic Plus | Up to 100Mb; unlimited data | £20 | £17.40 | £37.40 | |
| | Ultra Fibre Optic Pro | Up to 940Mb; unlimited data | £30 | £17.40 | £47.40 | |
TalkTalk are keeping things simple by offering everyone the fastest connection possible - and for less than they'd pay for the equivalent package plus line rental over ADSL.
That's because when they announced their UFO deals, they priced them to match what they were charging for their existing deals - but since then they've put up their standard prices.
When UFO was launched, for example, TalkTalk's Simply Broadband deal cost £5 a month, plus £16.70 for line rental - so the UFO version cost £21.70 all in.
Now, however, while UFO Simply Broadband still costs £21.70 a month, the ADSL version costs £25.20. As incentives to switch to the new service go, it's pretty good.
By the same token, Essentials and Plus TV customers will continue to get exactly the same other services as they do now - but over an ultrafast, up to 900Mb, connection, and at a cheaper price.
| | Package | Connection | Extras | Price | |
| --- | --- | --- | --- | --- | --- |
| | Simply Broadband UFO | Up to 900Mb; unlimited data | No calls, no TV | £21.70 | |
| | Essentials UFO | Up to 900Mb; unlimited data | Evening and weekend calls, Youview box | £26.70 | |
| | Plus TV UFO | Up to 900Mb; unlimited data | Anytime calls, Youview+ box including Sky channels, SIM card | £36.70 | |
The budget broadband providers have spoken about their ambitions to expand UFO to other cities, although they're being somewhat coy about where they're planning to unveil it next.
Gigler, Bournemouth
The ultrafast broadband in Bournemouth is again the result of a CityFibre network, sold through the Gigabit ISP Gigler.
They don't cover the whole of the city yet, but where they are available users get a connection with a 1Gb/500Mb profile - that is, downloads of up to 1Gb, and uploads of up to 500Mb.
To make sure that kind of service is available to everyone, regardless of their budget, Gigler offer packages based on different data allowances.
The entry level Essential package offers 80GB of data a month, which Gigler say is enough for:
20,000 mp3s (at 4MB per track) or
35 hours of video streaming (600MB per hour) or 13 HD Movies (6GB per film) or
80,000 photos (1MB per photo) or
4,000 20MB documents
It's worth bearing in mind that even with ADSL and "standard" fibre connections, Ofcom say that in 2015 the average household got through 82GB of data per month; there's evidence to suggest that the better the connection, the more data we tend to use.
So for those who are concerned they might not stay within that limit, there are two more generous packages: Family, which offers 250GB per month, and Ultimate, which comes with 1TB of data.
Here's how they compare:
| | Package | Connection | Price | |
| --- | --- | --- | --- | --- |
| Gigler | Essential | Up to 1Gb downloads, up to 500Mb uploads; 80GB data | £25 | Visit Gigler |
| Gigler | Family | Up to 1Gb downloads, up to 500Mb uploads; 250GB data | £35 | Visit Gigler |
| Gigler | Ultimate | Up to 1Gb downloads, up to 500Mb uploads; 1TB data | £50 | Visit Gigler |
The main drawback with Gigler is that unlike other FTTP providers, they don't offer phone services through their fibre connections.
That means that anyone who isn't happy to rely on their mobile or a VoIP service will need to find and pay for a separate home phone line. There's more on how to get a good home phone deal in our guide here.
(Kind of) nationwide providers
CityFibre are the force behind the ultrafast networks in about 60 towns and cities around the UK - but they concentrate on building business rather than residential services.
There are a couple of ISPs who do operate nationwide providing ultrafast residential networks - although they tend to be limited to individual buildings or developments.
Hyperoptic, various cities
Since connecting their first apartment block in London's Battersea in 2011, Hyperoptic have been working on bringing their ultrafast fibre to more than 100,000 premises, across more than 1,000 buildings, in 12 cities:
| | | | |
| --- | --- | --- | --- |
| London | Birmingham | Bristol | Cardiff |
| Glasgow | Leeds | Liverpool | Manchester |
| Newcastle | Nottingham | Reading | Sheffield |
Because of the cost of installing fibre to the premises, they only provide connections to multiple occupancy buildings like blocks of flats and offices - although they do say they're looking at "ways to service individual residential properties in the future".
In the meantime, they're rather like Gigaclear - and Virgin Media's cable my street programme - in that they respond well to community demand.
People in multiple occupancy buildings who club together to present their case will do far better than one or two voices asking to be connected.
For those who live in a Hyperoptic capable building, there are three connection speeds available: 20Mb, 100Mb, and 1Gb, all with unlimited data.
Uploads on the 20Mb package are limited to a maximum of 1Mb, but customers with the faster packages will get the same speeds up and down the line.
Like Virgin Media, they don't force people to take a phone service from them - but like Virgin Media, they also charge more for broadband alone. With the phone, a 12-month contract works out like this:
Package
Price*
Line Rental
Total Price*
20Mb Fibre Broadband+ Evening and Weekend calls
£0 for 12 mths, then £9
£16
£16 for 12 mths, then £25
Visit Hyperoptic
100Mb Fibre Broadband
+ Evening and Weekend calls
£15 for 12 mths, then £22
£16
£31 for 12 mths, then £38
Visit Hyperoptic
1Gb Fibre Broadband + Evening and Weekend calls
£30 for 12 mths, then £47
£16
£46 for 12 mths, then £53
Visit Hyperoptic
*Prices correct at the time of this update.
Without a phone service, customers will pay these prices:
*Prices correct at the time of this update.
Interestingly, Hyperoptic also offer flexible 30-day contracts - presumably aimed at those unsure about committing to a full year, or just how fast they need or want their connection to be.
There's more detail on that here.
Meanwhile there's more on Hyperoptic's other packages in our main review of them, here.
Direct Save, various locations
As well as offering a range of budget broadband and home phone packages, Direct Save started to offer FTTP services in September 2014.
At the time of writing, their up to 300Mb connections are only available in about 40 residential developments, all in England - few enough that they're named individually on the ISP's site.
The interesting thing about Direct Save is that their 25Mb and 40Mb packages are remarkably cheap - check the table below - and their 100Mb connection is about the same price as Virgin's.
| | Package | Price | Line rental | Total price | |
| --- | --- | --- | --- | --- | --- |
| | 25Mb Broadband + weekend calls | Free for 3 months, then £4.95 | £14.45 | £14.45 for 3 months, then £19.40 | Visit Direct Save |
| | 40Mb Broadband + evening and weekend calls | Free for 3 months, then £8.95 | £14.45 | £14.45 for 3 months, then £23.40 | Visit Direct Save |
| | 100Mb Broadband + evening and weekend calls | Free for 3 months, then £25.00 | £14.45 | £14.45 for 3 months, then £39.45 | Visit Direct Save |
| | 300Mb Broadband + evening and weekend calls | Free for 3 months, then £48.50 | £14.45 | £14.45 for 3 months, then £62.95 | Visit Direct Save |
But compared to the other FTTP providers we've looked at here, their 300Mb package is nowhere near as competitive: Hyperoptic offer connections three times faster for about £10 a month less.
Of course, that's a little bit unfair, because it's unusual for there to be more than one FTTP provider in any one place.
As we point out in our main review - available here - they do shape up quite well against Virgin, who represent their closest widely available rival.
BT and their resellers
Outside the areas outlined above, whether or not we can get ultrafast services depends on BT Openreach.
The availability of "standard" fibre of up to 38Mb or up to 76Mb relies on Openreach having installed the right equipment in their exchanges and cabinets - and frustratingly, the same also applies to the vast majority of their ultrafast services.
Back in 2013, Mike Galvin of BT Openreach declared that, "two thirds of the country will have access to ultrafast fibre if they want it" by December 2014.
Perhaps Mr Galvin got superfast and ultrafast confused, because that figure is more akin to the proportion of us who had access to standard fibre by that date.
BT's most widely available version of ultrafast broadband - known as fibre to the premises on demand, or FTTPoD - is only available in certain areas with both compatible exchanges and street cabinets.
The quickest way to find out if Infinity 3 or 4 are available is to use BT's broadband availability checker, here.
Most of us will be told we can get up to 38Mb or up to 76Mb, but people in the areas covered by just over 300 exchanges (bearing in mind there are nearly 5,600 exchanges across the UK) may be told they can get up to 330Mb.
If this is the case, it also means that their nearby cabinet is also up to scratch - but that's not the end of it.
Getting FTTPoD then requires that fibre be installed between the cabinet and the property - which the customer is expected to pay for.
When Infinity 4 started out, the one-off connection cost was £500 plus VAT, plus the cost of cable from the cabinet to the building at £2 per metre. BT themselves reckoned this would mean more than half of UK premises would face a bill somewhere between £700 and £1,500.
Customers would then pay £38 a month for the up to 330Mb service, plus line rental.
But in early 2014 BT admitted it was costing far more than expected to deploy the service - and put installation and service charges up significantly.
The basic connection fee was hiked to £750 plus VAT, cable increased to £3.50 per metre, and the monthly rental for the first three years rocketed to £99. That took installation costs to anything from £1,100 to £2,500.
Then, in February 2015, BT suspended the sale of new FTTPoD services - and it's pretty much impossible to find reference to the service on their site in anything but historical forum and help posts and price lists for existing customers.
In the wake of no further news on the sale or availability of FTTPoD, it may well be the case that wider ultrafast services may have to wait for newer technologies like G.fast to make it through trials successfully.