Budget broadband battle: TalkTalk vs Plusnet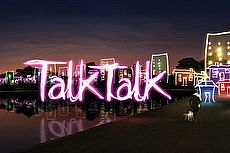 PLUSNET promise "to do you proud", while TalkTalk say they're "for everyone".
With pledges like that, it would be easy to mistake them for politicians rather than providers of cheap broadband.
But while they may not be absolutely the cheapest any more, they're certainly the most widely available and best known.
So in the battle of the budget broadband providers, who comes out on top? In this guide, we look at some of the factors that could well sway the vote.
Introductory deals
Given the competition for customers, especially among the budget ISPs, providers will often throw in sweeteners to tempt us to join them. TalkTalk and Plusnet are no exception.
Here are the current offers from Plusnet:
What's on offer?
When you join online for:
Need to know:
Unlimited broadband from £20/mth for 12 months + £50 cashback
Sorry, this offer ended 28 February 2017
Plusnet Unlimited broadband up to 17Mb and phone
£10 activation fee. 12 month minimum term. Costs may vary depending on location.
Unlimited Fibre up to 38Mb from £25/mth for 12 months
Sorry, this offer ended 28 February 2017
Plusnet Unlimited Fibre up to 38Mb and phone
£25 activation fee. 12 month minimum term.
Unlimited Fibre Extra up to 76Mb from £30/mth for 12 months
Sorry, this offer ended 28 February 2017
Plusnet Unlimited Fibre Extra up to 76Mb and phone
£25 activation fee. 12 month minimum term.
Meanwhile, at the time of this update, TalkTalk have just rebranded and relaunched their whole line, offering special prices for the length of the contract to new customers, or those willing to re-sign with them. There's more on their new deals in our review here.
But what exactly are they tempting us to sign up for?
What they sell
TalkTalk offer mobile phone services for existing customers, and TV through Youview, on top of their broadband and home phone; Plusnet launched their own Youview TV service in May last year, but it's only available to existing fibre customers.
We look more deeply into what each offers in terms of TV here, but we'll compare them side by side below. And as we're comparing like for like in this article we'll ignore TalkTalk's mobile service.
Basic broadband and calls
Let's start with the providers' most basic broadband and phone line packages. Both offer unlimited broadband of up to 17Mb.
Package
Broadband
Contract term
Upfront price
Monthly price
Unlimited + Line Only
Up to 17Mb
Unlimited
12 months
£10
£20
for 12 mths,
then £27.98
Fast Broadband
Up to 17Mb
Unlimited
24 months
Free
£32
for 18 mths,
then £37
Note that Plusnet's basic broadband generally comes with a minimum 12-month contract - but that sometimes they require a minimum 18-month commitment.
TalkTalk, however, have long been unusual in that even their standard broadband contracts are at least 18 months long.
Neither ISP includes any calls with their line rental.
To get any inclusive UK calls with TalkTalk, there's only one option, and that's to pay another £7.50 a month for anytime calls to UK landlines and mobiles.
Previously customers could sign up for what was until recently known as the Essentials package, which came with evening and weekend calls as well as TalkTalk's basic Youview box.
However, even those taking TalkTalk's TV service now have to pay to add calls to their bundles. There's more on the options TalkTalk offer for both their TV and phone bolt-ons in our full review of their broadband service.
Plusnet offer customers the chance to add evening and weekend calls to UK landlines and mobiles for £4 a month, or anytime calls for £8 a month.
But, unusually for an ISP these days, Plusnet also sell broadband without requiring customers to sign up to their home phone service.
There are a few good incentives to take the phone line though, starting with a decided lack of introductory deals and offers for non-phone customers, and continuing with a discount of at least £2.50 a month for those who take both phone and broadband.
There's more on taking Plusnet's phone service - or not - in our full review of their broadband, here.
Fibre
People looking for faster connections or the ability to have multiple devices online at once without their connection suffering might want to consider fibre instead.
After a while in which there was a bit of a seesaw in favour of one then the other regarding general prices, we're now back to the situation where there's practically no difference in cost between the two.
Depending on the introductory offers, new customers may find that Plusnet edge it, but beyond that TalkTalk are the more competitive.
Here's how they break down:
Package
Broadband
Contract term
Upfront price
Monthly price
Unlimited Fibre + Line Only
Up to 38Mb
Unlimited
12 months
£25
£25
for 12 mths,
then £32.98
Unlimited Fibre Extra + Line Only
Up to 76Mb
Unlimited
12 months
£25
£30
for 12 mths,
then £37.98
Faster Fibre
Up to 38Mb
Unlimited
18 months
Free
£27
for 18 mths,
then £32
Faster Fibre (up to 76Mb)
Up to 76Mb
Unlimited
18 months
Free
£32
for 18 mths,
then £37
As is the way with almost all providers, both offer fibre on a minimum 18-month contract.
Cutting costs further
At the time of writing, neither Plusnet nor TalkTalk can lay claim to the "cheapest broadband" crown - and as a result of TalkTalk's move to all-in pricing, they're more reliant than ever on their offers to bring prices down, as they no longer offer upfront line rental.
They've previously come in for serious criticism over the shrinking discount on offer for those who did choose to pay a year in advance.
In spring 2014 it cost £142 a year, equivalent to £11.84 a month - making it one of the best value upfront options around. By December 2014,paying upfront cost £180.36, and for those who are looking to renew now, it costs £191.36.
That's a saving of just under 10%, and the equivalent of paying £15.95 a month.
New customers don't have that option at all, and while the total monthly price is now cheaper than it was, it's not enough to give the kind of savings upfront payment offered.
This is one area where Plusnet win, then, despite the price of their Line Rental Saver option having shot up in the past few years. Until 2014, Plusnet's upfront option was £155.88 a year, costing the equivalent of £12.99 a month and offering a 20% saving over the year.
In 2015 however, they increased the price to £185.88 - the equivalent of £15.49 a month. The good news is that it's stayed at this level for 2016-17.
But not everyone can get Plusnet's cheapest prices. The "from" quoted in all their standard deals refers to the prices for customers on Market B exchanges - covering about 90% of the country and correlating with the most competitive areas.
People served by Market A exchanges - roughly 10% of the country, and the less competitive, more rural areas - will find they have to pay £7.50 more a month for the same services.
TV
Both TalkTalk and Plusnet offer more than what's available on standard Freeview via the Youview service - the differences are subtle, but they boil down to more catch up and on demand content.
However, Youview tends to be the base platform for other paid for TV services, which differ depending on the provider.
There's one immediate difference between Plusnet and TalkTalk when it comes to TV: Plusnet's is only available to customers who have fibre broadband, and everyone who takes it will pay at least £5 a month.
TalkTalk offer their TV service to all their customers - and for those getting their "TV" deal, it costs no more per month than getting just broadband and phone.
However, that glosses over the other, more subtle, differences between the two. It's easiest to explain those by starting here:
| | Package | Record and store programmes? | Premium channels | Upfront price | Additional cost per month |
| --- | --- | --- | --- | --- | --- |
| | TV | | | £25 | £0 |
| | TV Plus | Up to 200 hours SD | 30 | £25 | £12 |
| | Youview | | 20 | £6.99 | £5 |
| | Youview+ | Up to 300 hours SD | 20 | £57.99 | £5 |
Everyone who gets Plusnet's Youview service pays £5 a month, but they also all get at least 20 premium channels (including BT Sport 1) as standard. Customers can get the rest of the BT Sport pack for as little as £5 a month, and add a further seven premium channels for another £3 per month.
TalkTalk charge £12 a month for "TV Plus" with its 30 premium channels - and while they may lack BT Sport they do include Sky's six basic entertainment channels. TalkTalk customers who do want BT Sport will have to pay £21.99 a month on top of their other charges.
Both offer Netflix, but TalkTalk win in terms of additional extras - here's a quick list of the add-ons each offers:
Extras available
Additional costs
Entertainment Plus, Kids, BT Sport, HD Pack
From £3 to £5 each per month
Asian TV, TV Starter (six Sky channels), Kids,
Picturebox (on demand films and box sets),
Boxnation, Sky Sports, Sky Cinema
From £5 to £42 each per month
TalkTalk also have their own on demand store, offering movies to rent or buy as a download.
In terms of simplicity and price, Plusnet win - but those who want to be able to add lots of different services, or get Sky Sports, TalkTalk are the better option. Just be aware that the cost of all their add-ons can soon mount up.
How fast really?
Both advertise speeds of up to 17Mb, but it's frequently the case that users won't get anywhere near that figure.
When it comes to fibre, both providers resell BT's up to 38Mb and 76Mb services, but Plusnet have enough customers of their own taking the services for Ofcom to get reliable results in its speed tests.
The latest results were published in March 2016, and look like this:
| | Advertised speed | Average speeds over 24 hours | Average speeds at peak time (8-10pm weekdays) |
| --- | --- | --- | --- |
| | Up to 17Mb | 7.5Mb to 9.3Mb | 7.4Mb to 9.2Mb |
| | Up to 17Mb | 9.3Mb to 10.8Mb | 9.2Mb to 10.7Mb |
| | Up to 38Mb | 31.7Mb to 35.1Mb | 31.3Mb to 34.7Mb |
| | Up to 38Mb | 32.3Mb to 34.2Mb | 32.1Mb to 34.0Mb |
| | Up to 76Mb* | 57.4Mb to 61.1Mb | 56.9Mb to 60.5Mb |
| | Up to 76Mb | 54.8Mb to 58.1Mb | 53.8Mb to 57.1Mb |
*TalkTalk data unavailable; BT Infinity figures used instead.
Plusnet look to have the edge for standard broadband at least - and from our highly scientific, one-household test of both services, we'd be tempted to say that edge isn't imagined.
We were fortunate to have access to a household in the process of switching from TalkTalk to Plusnet, in March 2015.
We ran speed tests in the final week of the TalkTalk service, and again just under a month later, when the Plusnet service had been given the chance to settle down.
Each ISP was tested three times a day - morning, afternoon and during peak time - and over the weekend as well as during the week.
We did indeed find that Plusnet offer a faster service - but the speeds vary considerably with no apparent pattern to the variation.
For example, we recorded the fastest speeds of the whole run one Monday evening at peak time. We tested the connection speed three times in a row to check - and this was the slowest download speed we got: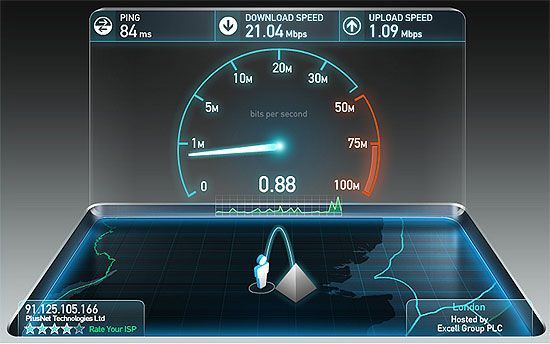 SOURCE: Choose, speed test results carried out April 2015, speed test by Ookla.com.
But during weekdays - never mind at weekends when we could expect there to be more traffic - speeds regularly dropped to around 13Mb, and sometimes lower.
TalkTalk, on the other hand, were generally slower - but speeds were fairly consistent, from 13Mb to 14Mb across the day, regardless of whether it was peak time or not.
There was a little more variation at the weekend, but the download speed only dropped below 10Mb once, on Sunday afternoon: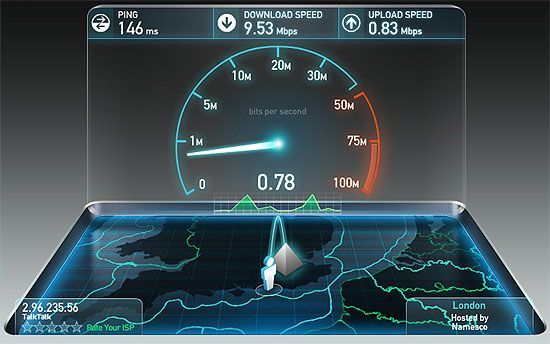 SOURCE: Choose, speed test results carried out April 2015, speed test by Ookla.com.
To show just how big the difference in variability was, here's a screenshot from Ookla.com, showing the results of all those speed tests: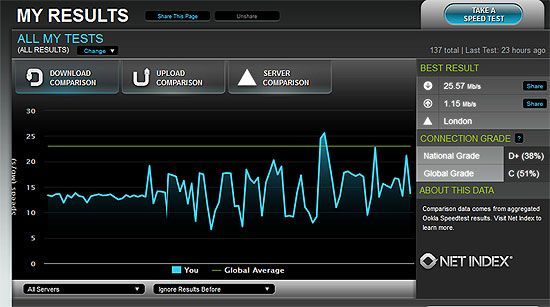 Where the line starts to leap up and down, about a third of the way along, is where the Plusnet results begin.
Customer service
No one likes it when things go wrong, and even if the service is flawless we all have to get in touch with our ISP from time to time.
And despite the budget tag, Plusnet seem to rate consistently highly when it comes to customer service.
They're usually in the top three or four when surveys are carried out, ranking well against small "high quality" ISPs like Zen, and easily beating the big four.
TalkTalk, on the other hand, are still suffering somewhat from the impact of one of the worst years they've ever had.
After three data breaches in the space of less than 12 months, they saw more than 100,000 customers desert them - and many of those who didn't leave complained about how they were treated, or about the measures TalkTalk took to apologise.
Ofcom figures from March 2016 show that only EE generated more complaints to the regulator, while Which? gave them 2/5 for customer service, 2/5 for technical support, and an overall customer service score of just 38%.
There's more on the best customer service among ISPs here.
In conclusion
TalkTalk used to have the edge when it came to headline prices and special offers - and from our tests, they offer a slightly more consistent service. However, we can't completely discount those data breaches just yet: TalkTalk have a lot to prove again.
For those in the most competitive areas, Plusnet's almost constant introductory offers, and the added flexibility regarding paying for the landline and calls now make them look much more competitive - and they have that impressive customer service record backing them up.
And as we mentioned above, neither is actually the cheapest provider any more - so if price is the biggest factor, have a look at our comparison tables - here - to see who's beating them right now.