Sky TV: should you believe in better?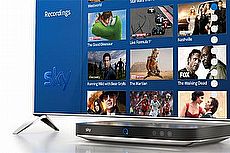 © Sky
FOR years Sky have been synonymous with wide-ranging and exclusive TV content, from movies to sport to popular series bought out from the terrestrial channels.
More recently they've been the place to find HD versions of more familiar channels, and more 3D content than is available with any other provider.
At the time of this update they've not long upgraded their standard set top box, with all new customers now getting a Sky Q box rather than one of the older but still impressive Sky+ boxes.
But they've also got a reputation for being expensive and offering lots of channels that people don't want or need.
In this guide we take a look at the basics of Sky TV - the packages available, the extras they can add, and how much they cost.
We'll also look at what adding Sky Talk (jump down) and Broadband (jump down) will cost. Now their mobile service is about to launch, we've got basic details of that too.
Because Sky Q is still very new - having only launched in February 2016 - we don't look what the boxes themselves can do here. We've a full guide to them and their features here.
First though, this is the main deal Sky are currently offering new customers who sign up to Sky TV online via Choose - just click the blue button below:
Sky TV: basic packages
Package
Channels
Contract term
Upfront price
Monthly price
Original bundle
275+ (240 free to air, 11 HD)
18 months
£15
£22
Variety bundle
315+ (240 free to air, 11 HD)
18 months
£15
£32
Box Sets bundle
(previously Family Bundle)
365+ (240 free to air, 50 HD)
18 months
£15
£38
New customers will have to pay set-up costs of at least £15, and up to £199 (more detail here. For that they'll get the loan of their Sky Q box(es), with their "smart features" activated.
This is something of a change for Sky: customers used to be given a Sky+ or Sky HD box to keep, free of charge. But as Sky Q customers are only "borrowing" the boxes, no matter how long they subscribe to Sky TV, they get free servicing and mechanical fault repairs.
Among the paid for channels on the Original Bundle are Sky One, Sky Living and Real Lives, Sky Arts, and perhaps most importantly for fans of HBO programmes, Sky Atlantic.
With the Variety Bundle, there's also a host of extra music channels such as VH1 and the MTV spin-offs, Discovery's extra channels, a greater range of kids' channels, and several sports channels - but not Sky's.
The Box Sets Bundle is the new name for the Family Bundle. It's basically the same as the Variety Bundle, but with far more HD channels, on demand 3D content, and - as the name suggests - access to Sky's collection of box sets and exclusive series.
With more than 350 titles to choose from, Sky boast that this collection contains more of the latest shows "than any other pay TV or online subscription service in the UK".
Sky TV on demand
Everyone taking a Sky TV bundle can get a certain amount of on demand content free of charge. For Original and Variety customers this is limited to catch up services such as BBC iPlayer, ITV Player, All 4, My 5, and Sky's own catch up options.
Accessing it is simply a matter of connecting their set top box to a broadband connection.
People with the Sky Q app on their mobile or tablet can also use that to prompt their set top box to download catch up content, wherever they are, so it's ready to watch when they get home.
Do note that while BT TV customers won't see their on demand usage cutting into any data allowance they may have, Sky's catch up services do count towards data limits.
All Sky TV customers get Sky Go at no extra cost. This gives them access to content via their laptop or compatible tablets and mobile phones, wherever they are, via 3G, 4G or wi-fi.
What we can get on our devices or computers should mirror our subscription - so people with the Original and Variety Bundles can watch those channels, while Box Sets Bundle customers will also be able to access, well, box sets.
People with extra channels like Sky Sports will be able to watch them too.
Sky Sports and Sky Cinema
Sky Sports and Sky Cinema - the new name for Sky Movies - come as extras on top of the basic bundles - here's how much more they cost, when not on special offer:
Package
Channels
Price
Original Bundle
+ Sky Sports
287
(7 Sky Sports,
240 free to air)
£20 + £27.50
= £47.50
Original Bundle
+ Sky Cinema
291
(11 Sky Cinema,
240 free to air)
£20 + £18
= £38
Original Bundle
+ Sky Sports
+ Sky Cinema
287
(7 Sky Sports,
11 Sky Cinema,
240 free to air)
£20 + £36
= £56
With the recently refreshed Sky Cinema package also comes access to more than 1,200 films on demand, and since June, both the SD and HD versions of each channel for no extra cost.
Those who want Sky Sports in high definition, however, still have to pay extra for the special HD pack, which is only available to customers with the Box Sets Bundle, and costs £6 a month on top of all the other subscriptions, which means a total monthly bill of £71.50.
Anyone who isn't too bothered about Sky Sports in HD can add both these premium packs to their basic channel pack for £36, a saving of £9.50 on getting them separately.
Alternatively, those who want the Box Sets Bundle as well, or who must have Sky Sports in HD, can always take the Complete Bundle:
| | Package | Channels | Monthly price | |
| --- | --- | --- | --- | --- |
| | The Complete Bundle | As Box Sets, PLUS Sky Cinema, PLUS Sky Sports in HD | £80 | |
While £80 a month may look steep, it's almost £10 a month less than buying each part of the package separately - which would cost £89.50.
That could cover at least part of the cost of the other extra channels available:
The Sky Asia pack offers seven channels, including Sony Max, Zee TV and Zee Cinema, ARY Digital, and B4U Movies.
These channels are available as bolt-ons whatever the basic package.
More screens, more freedom
For those who don't want to be limited to watching Sky TV on one decent sized screen or who don't have a good enough signal or connection to stream it to their devices, there are a couple of options: Sky Q Multiscreen and Sky Go Extra.
We look at Sky Q Multiscreen in more detail here, but in essence for £12 a month, customers will get one or more Sky Q Mini boxes for another room or rooms in the house.
People who take Sky Q Multiscreen get Sky Go Extra for no charge, rather than the usual £5 a month.
This is Sky Go without having to worry about data signals or costs. As well as being able to stream live content to two other devices at a time - in addition to watching on TV - users can also download programmes to as many as four devices to watch later.
Sky's other products
While Sky still focus primarily on their TV offering, their other media services are pretty competitive too - and they're often made even more so by the special offers the provider runs.
This is a selection of some of them:
What's on offer?
When you join online for:
Need to know:
Reward Choice: £75 Tesco, M&S voucher or Prepaid MasterCard
Sorry, this offer ended 19 January 2017
Any Sky TV bundle
12 month minimum term. From £15 setup.


Sky Unlimited Broadband + line rental £17.40/mth for 12 months (then £27.40/mth)
Sky Unlimited broadband
(without Sky TV)
12 month minimum term. £9.95 router delivery.


For anyone thinking of adding extra services, Sky Talk is the logical place to start.
Sky Talk
It's available to all homes with a BT-compatible phone line - although Sky will install a new line in houses that are lacking, for just £20.
Line rental costs £17.40 a month - not the most expensive out there, but certainly not challenging for bargain status.
Sky don't include any calls to UK landlines with their line rental; anyone who wants inclusive calls will need to add either evening and weekend calls for £4, or anytime UK calls for £8 a month.
They also offer unlimited anytime calls of up to 60 minutes at a time to 50 countries for £12 a month.
Plan
Contract term
Monthly price
Pay As You Talk
12 months
£17.40
Talk Evenings & Weekends Extra:
Unlimited evening and weekend calls to UK landlines, UK mobiles and 0845 and 0870 numbers
12 months
£21.40
Talk Anytime Extra:
Unlimited anytime calls to UK landlines, UK mobiles and 0845 and 0870 numbers
12 months
£25.40
Talk International Extra:
Unlimited anytime calls to UK landlines, UK mobiles and 0845 and 0870 numbers
PLUS Unlimited geographic landline calls to 50 international countries
12 months
£29.40
Once we've got Sky Talk, the next logical step is broadband.
Sky Broadband
It used to be the case that Sky TV customers who also have Sky Talk could get basic, limited, broadband free on top of their other services, in the form of Broadband Lite.
This had a monthly data limit of 2GB and only offered speeds of up to 17Mb, but very few of us use that little data any more - so in July 2016, Sky withdrew the package.
It was replaced by a package with a slightly more generous cap of 12GB per month - but introductory periods aside, the new deal costs £5 a month.
The other issue with Sky Broadband is availability. Not everywhere can get it - although customers outside Sky's network area can sign up for Sky Connect, which offers speeds of up to 8Mb for £17 a month.
These are the basic packages on offer:
Package
Broadband
Contract term
Upfront price
Monthly price
Broadband 12GB
Up to 17Mb
12GB usage
18 months
£15
£39.40
Broadband Unlimited + Talk
Up to 17Mb
Unlimited
12 months
£9.95
£17.40
for 12 mths,
then £27.40
Fibre + Talk
Up to 38Mb
25GB usage
18 months
£69.90
£27.40
Fibre Unlimited + Talk
Up to 38Mb
Unlimited
18 months
£69.90
£37.40
Fibre Max + Talk
Up to 76Mb
Unlimited
18 months
£69.90
£42.40
We look into them in more detail in our main guide here.
Sky Mobile
After announcing their mobile ambitions at the start of 2015, Sky are about ready to launch their O2-based mobile virtual network.
Existing Sky customers and those who pre-registered should soon be able to sign up for Sky Mobile, with sales opening to everyone else from early next year.
At present there are just three data plans to choose from, ranging from 1GB for £10 a month to 5GB for £20 a month.
There's a huge incentive for those interested in Sky Mobile to have Sky TV first: unlimited inclusive calls and texts to all standard UK landlines and mobiles.
Everyone else (including Sky Broadband and Talk customers) will need to pay for every call and text they make, or add a calls and texts bundle to their plan for £10 a month.
Data
Calls and texts
Contract term
Monthly price
1GB
Sky TV customer

Everyone else
Unlimited

Pay as you use
12 months
£10
3GB
12 months
£15
5GB
12 months
£20
The Competition
Depending on which media service is their priority, potential customers are likely to go for different providers.
Sky's broadband can't hold a candle to Virgin's, for example. BT Infinity - with a top speed of up to 76Mb available more widely than both, and reviewed here - is also hard to beat.
But when it comes to TV, the basic packages available from other providers pale in comparison with the sheer number of channels, and breadth of content available on Sky's Original Bundle.
If, however, it's just Sky's movie channels or sports content that appeal, both packages are available to customers on the other pay TV services at varying prices. Check out our guide to getting Sky Sports elsewhere here, and where to find Sky Cinema in this guide.
It's even possible to get Sky Atlantic elsewhere - although the options are seriously limited. See this guide for more.
For a more comprehensive look at each of the big multimedia providers versus one another, take a look at our guide here.
Customer service
It's worth noting that among the big four media providers, Sky and Virgin are frequently in a face-off for which can get fewer complaints, and which has the most satisfied customers.
At present Sky have the edge, with Ofcom reporting a customer satisfaction rating of 80% and an average of just one complaint for every 100,000 Sky customers - and independent surveys also tend to rate Sky's aftercare pretty well.
It doesn't hurt that they're the only place to find lots of TV that might once have been on terrestrial or free-to-view channels, or that they're willing to haggle to keep our custom.
But they've certainly raised their game from the days of being an expensive luxury to become a good all-round TV and media provider.