Staying safe online: parental control software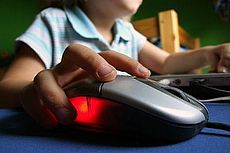 PARENTAL control software promises to keep kids safe online and it's now available free from all the major UK broadband providers.
Whatever their feelings on the Government's war on adult content (more here), families want to look after their youngest members when they access the internet.
In this article, we take a look at the best ways to do that.
How do ISPs' free parental controls work and can they really stop children from coming across harmful material or protect them from bullying?
Help for parents:
skip ahead to find more
We'd love to hear about what works best in your homes, too, so let us know in the comments at the end.
Parental controls from BT, TalkTalk, Sky and Virgin Media
All of the UK's big broadband providers have offered parental control software, usually with Norton or another big security firm, free for their customers for some years.
However, following an agreement with the Government, they've now agreed to offer:
Router-level controls: meaning that all devices connected to the home wi-fi network will be automatically subject to any blocks set up, as opposed to software which must be installed on each computer.
Simplified settings: categories of content that will be blocked. Sky have PG, 13 and 18 age ratings while BT have "light" to "strict" settings, for example.
More information: on how to use controls and other advice on keeping safe online through Internet Matters. They've also agreed to encourage customers, especially new customers, to use controls through 'active choice' which basically means a dialogue window asking users to set up filters.
We've reviewed all of these ISP controls to see what that actually means.
TalkTalk: HomeSafe
TalkTalk are very proud of their HomeSafe software, which, launched in May 2011, was the first to offer blocks at router level. Theirs is the model that other ISPs have since followed.
HomeSafe's parental controls fall into two categories: Kids Safe and Homework Time.
Kids Safe is what you want to block content: it allows parents to select broad categories which will then be restricted.
There are nine categories including Suicide and Self Harm (the most used category, according to TalkTalk), Violence and Weapons, Filesharing, Games, and Social Networking.
Homework Time lets parents set a time to block access to social networking and game websites, either seven days a week or Monday to Friday.
In early 2013, TalkTalk said 1.2 million customers (about 25%) used Homesafe and 410,000 used Kids Safe; by July 2014 around 36% of new customers were choosing to opt in to Kids Safe.
BT: Parental Controls
BT launched their free network-level parental controls in late 2013.
We first reviewed them in early 2014 (read the full review here) and, in brief, found the filters simple fairly effective and easy to use.
It is fairly easy to bypass controls, and we found some problems with the filters blocking too many sites, or not blocking sites that should have been categorised as unsafe.
However, in general, the filters worked well.
Since that review, BT have improved on the option to set times and days when the filters are active, and how strictly.
For example, there's now a homework setting, which as well as blocking sites as set by the standard filters, restricts access to social networking, games and school cheating sites.
Our review has more information about setting up BT Parental Controls but you can also check out the FAQs on MyBT or this video:
BT also offer Family Protection software, which they say is ideal for homes with just one computer. Customers set up different password-protected accounts for each person using the computer, allowing suitable levels of access for each.
BT Family Protection has more advanced settings including:
Social media monitoring: control the use of social networking sites such as Facebook, and set up alerts if personal information is posted.
Content filtering: such as YouTube videos and iTunes, as well as restricting access to media players.
Usage reports: keep track of what's being accessed and when.
Email alerts: to let you know if anyone has gone over their time limits, posted personal information such as phone numbers, addresses or used explicit words online.
How much?
BT Parental Controls: free
BT Family Protection software: free
BT NetProtect Plus (Unlimited Broadband Extra or Unlimited Infinity): free
BT NetProtect Plus (Broadband, Unlimited Broadband, 20GB Infinity): £3.70/month
As noted above, this is only really an option for households with one main computer, and these much more advanced settings require more monitoring.
BT also offer McAfee NetProtect Plus free to their unlimited Infinity customers and certain standard broadband customers.
This is a security suite that offers anti-virus protection, a firewall and, almost incidentally, some parental controls.
Sky: Shield parental controls
Sky released their network level controls - called Sky Shield - in late 2013.
We've reviewed them in depth in this article.

In brief, however, we found that Shield offers simple control categories (PG, 13 and 18, as shown left) and some basic advance settings (custom category blocks and blocks/unblocks for individual sites) which work well, if a little slowly.
However, there's no time limit option, which is a shame. We also found that, using any device other than the one used to set up the service, trying to access blocked sites gave us a time out error rather than showing a 'this site is blocked' message, which could be confusing.
Virgin Media: WebSafe
Virgin Media released their network level parental control option, WebSafe, in early 2014.
Watch this space for our full review.
What we can say about it briefly is that it seems trickier than the others to set up at first.
Powered by Trend Micro, it protects up to three computers, and it's customisable for each member of the family - so older children have more freedom than younger kids, and adults can set up a profile with no restrictions.
But to work effectively, every member of the family needs an identical user profile on each computer - and the controls must be installed and set up on each machine as a result.
Like BT, Virgin Media also offer a paid security and control software option called F-secure SAFE.
F-secure protects up to five devices, including smartphones and tablets. It allows users to:
Screen out offensive material by preset age categories and using individual site blocks.
Set up different controls for each profile on the computer (as long as everyone uses a password to log in to the shared computer).
Set time limits.
F-secure SAFE is free for all Virgin Media broadband customers for the first year.
After the first year, it's £25 per year.
As above, the basic parental controls are totally free.
Other parental controls
As well as ISP controls, there are a number of operating system and software options parents can use.
Operating system controls: Windows and Mac OSX
Windows Vista, Windows 7 and Windows 8 and above (Cnet article) all come with built in parental controls accessible via User Accounts in the Control Panel.
Mac first introduced parental controls in OS X 10.4 Tiger, and all OSX since have offered parental controls via System Preferences (here's how to do it in Mavericks and Yosemite).
The image below shows one way to use the Mac controls to set time limits on computer use, for example.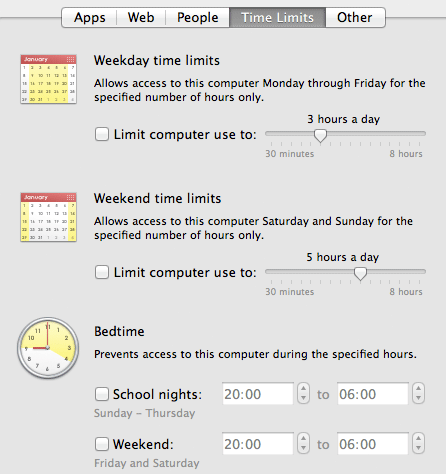 The main advantage of operating system parental controls is their robustness and simplicity: this is basically what multi-user operating systems were designed to do.
Simply set up a user account for each adult and child, adjust the settings for each user and there's less chance of older kids finding workarounds or discovering browser compatibility issues.
Operating systems also have more control than software applications - they can limit access to other applications like games, for example, as well as web content.
Control software: Norton
All the big security companies offer parental control software. They're all fairly similar but let's look at Norton's in a bit more depth.
With the free version of the Norton software, parents can block certain categories of sites (or give a warning about the site but allow access, which is a nice feature) and receive alerts if children give away information or go somewhere possibly dodgy.
With the paid, Premium, version of the software parents can, among other things:
Monitor the videos children are viewing.
Keep track of smartphone apps.
Remotely view text messages.
Parents can track usage in a simple online account manager - allowing for remote access - with an activity summary which shows, for example, the child's most visited web sites, most popular friends on instant messaging services and recent searches.
To set different limits for different children and give a restriction free option, each family member needs their own user account on the computer, and to track social networks parents need to enter the log-in information for the sites they want to view.
Norton aim to be transparent with children about what they can and can't access, and what information is being recorded about what they do online.
The company says this approach helps to teach children Internet safety by actively involving them in setting the rules.
Find more information on the Norton site here.
More information on controls
In a bid to help promote the use of parental control software, The UK Safer Internet Centre (UKSIC) has been working with BT, Sky, TalkTalk and Virgin Media to launch online video guides to help parents set up the controls software and offers information on other controls too.
The video guides are available on UKSIC's site here.
How useful are parental controls?
Government interest on the issue of online safety has put parental controls under the spotlight.
There are three main strands to the debate which we'll look at briefly here.
After that you can find more comment on cyberbullying and the Government's role in promoting internet safety at home.
Controls vs parenting
There's a very contentious debate on how useful this software actually is compared with "traditional parenting".
On a Slashdot thread about just this, we noticed the following particularly odious response to a user who asked which software was best:
"If you're looking for software to take care of your children for you, you've already failed as a parent."
The sentiment is uncommonly offensive but commonplace.
There are plenty of people out there waiting to tell parents that focus on software is wrong headed, instead suggesting educating children about online safety or standing at their shoulder every time they're at a computer.
We think that, while both approaches can be useful, software can also be a vital part of parenting: the online equivalent of the stair gate.
In addition, monitoring use of social networks and keywords could be particularly useful for children affected by bullying.
Let us know what you think in the comments or get another perspective in this article written for us by Will Gardner, the CEO of Childnet International.
Time and effort
If there's one thing parents, and all of us, are short on, it's extra time.
Most parental control software aims to work in the background requiring little maintenance, and the alerts they send can be useful but, even so, the programs do require some time to set up, particularly on multiple computers.
With Norton and Virgin Media's software, for example, you have to create different user accounts to log into the computer: one for each child or family member. If people start using accounts which aren't their own, the software will get confused. If you've got three computers you'll have to do it three times.
It's a bit of a slog.
This makes the software provided by the other three ISPs much more attractive and user-friendly: their settings are simple and clear and, because they apply to everyone using the network, they're far quicker to set up if you have multiple computers, or use other devices at home.
Blocking and tracking problems
Another problem is that the "category blocking" all this software offers is far from a blanket block on the internet's bad bits.
Companies have a black list of sites but some will inevitably go unblocked and some innocent sites will be blocked accidentally, as studies into the software show.
According to one study released in 2011, 14% of children aged 6 to 10 have encountered adult content online.
In 2013 Ofcom found that 90% of parents that have used controls felt that they were effective.
By the following year, possibly as a result of the increased visibility of parental control software at the ISP level, 93% of parents said they found network-level controls useful, and about three quarters felt they blocked the right amount of content.
But it can also be worth making sure that your connection is protected against malware and malicious viruses which can download or redirect links to unsuitable content.
Sky, TalkTalk and Virgin Media all offer some degree of protection against this sort of thing with their software, while BT's is an optional extra. But to really make sure you're protected, our step by step security guide has more information.
Another big concern is the control of personal information.
Although some of the software above offers alerts when information such as addresses or phone numbers are given out, catching other equally valuable information - a school or sports club name, or arrangements for meeting up with friends - is much harder to do.
Educating children is the best course of action here: what sort of information is considered personal and that, once it's published online, anyone can share it.
"Advise your children not to post any pictures, videos or information on their profiles, or in chat rooms, that they would not want a parent or carer to see," child safety body Think U Know advises.
Can controls help? Cyberbullying and illegal downloading
Protecting children from, or preventing them from participating in, cyberbullying is becoming a concern for many parents.
Some of the software can help flag up possible problems by monitoring key words you know to be problematic or seeing whether certain people have been in touch.
Again, however, monitoring and communication seem like the only real way to prevent it.
However, note that broadband providers can also help with online harassment - we've covered that in more detail here.
Finally, note that parents concerned that their children may be downloading content illegally can block peer-to-peer filesharing sites using the software above.
Additionally, the UK High Court has begun ordering the implementation of ISP level blocks, against sites such as The Pirate Bay and Newsbin2.
Some parents will be concerned with the effect such activities can have on their broadband deals, as much as their legality.
It's one of the things to think about when considering whether your broadband deal should be unlimited or come with a data limit, alongside factors such as:
The number of people in your house using the internet at once
How you use your internet - for browsing or downloading
The times when you use it - it's busier and slower in the evenings
Find out more about usage allowances on downloads in our article here.
Government involvement: what about 'opt out' and 'default on'?
Beginning in late 2011, many sources reported that the "big four" ISPs - BT, TalkTalk, Sky and Virgin Media - would be made to start asking new customers to "opt in" to be able to view adult content when they took out a new broadband contract.
While a little misleading, something of that sort has come to pass.
It's much more accurate to say that the ISPs have agreed - albeit under some pressure from Government - to improve parental controls, make it easier for their customers to set them up, and prompt people - particularly new users - to do so.
MPs had pressed for more, asking for automatically installed and on-by-default controls: in a 2013 speech, Prime Minister David Cameron said: "when someone sets up a new broadband account, the settings to install family friendly filters will be automatically selected; if you just click next or enter, then the filters are automatically on."
However, this hasn't come to pass. Instead a compromise of sorts has been brought in.
This issue is still being fiercely debated in the media and even among the ISPs. We cover it here in more detail.