Mobile network review: are O2 any good?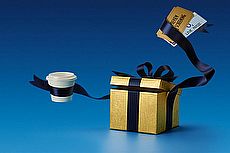 © O2
FOR much of 2015 and 2016, the biggest headlines concerning O2 were about how much their rival Three wanted to take them over.
O2 seem to be an attractive proposition in various ways: they consistently score highly for customer service, and as we'll explain further below, they cater for a potentially very wide audience with a broad range of devices and tariffs.
They also provide the backbone for several well regarded mobile virtual networks (MVNOs), including GiffGaff and the UK's biggest MVNO, Tesco Mobile. When Sky finally launch their mobile service, it'll be over O2's masts and frequencies.
In this review, we'll look at what they offer their own customers, the extent of their coverage - and, yes, we'll also touch on some of what's available with O2 Priority.
Mobile phones on O2
O2 sell a huge range of mobile phones, from budget names like Alcatel and Doro, through to a wide variety of mid-range models from the likes of Samsung, Sony and LG, right up to the latest flagship devices.
They also sell a reasonable range of older flagship models form the big manufacturers: the iPhone 5S, Samsung Galaxy S4, and Sony Xperia Z3 are still available, for example, although these tend to be reconditioned handsets rather than box fresh.
Whichever handset we're looking at, all of them are sold on split tariff principles, known as O2 Refresh: the total monthly bill is made up of a set amount for the usage allowance (known in O2 terms as the Airtime Plan), and a set amount going towards the cost of the handset.
The idea is that it gives people more flexibility regarding how they pay for the handset, and enables them to upgrade sooner if they want to.
O2 Refresh
If we're happy to keep our phone for the full 24 months of the standard contract, that's fine: at the end of that time, the cost of the phone will have been covered, and that part of the bill will drop to nothing. If we stay with the plan we're on, we'll only pay for the airtime.
If, however, we want to upgrade the handset before our contract is up, we have the option of trading it in.
Bear in mind that as we're buying the phones, not renting them, we still have to pay off whatever we owe for our old device; O2 very kindly allow customers to use the money they got from the trade-in to go towards paying off that balance.
Depending on how much they get for the old device, customers upgrading through O2 may well find that they're still paying for their old phone while also paying for their upgrade.
Upfront payment options
This is where O2's flexible approach to paying upfront can come in handy. When they're first buying their phone, customers have at least two choices available regarding how much they'd like to pay upfront - from settling the bill straight off, to paying only a proportion of the cost.
Particularly with the more expensive models, those going for the second option will often have a couple of upfront price points to choose from.
Those opting to pay more upfront obviously get much lower monthly bills, but the total cost of the handset and usage plan will be the same over the course of the two year contract, whichever option people choose.
At the time of writing, for example, the most expensive handset available is the iPhone 7 Plus, with O2 charging £789.99 for the 32GB version.
If we buy it outright, we then only need to pay for the airtime, which will cost between £18 a month for 1GB, 1,000 minutes and unlimited texts, and £55 a month for 50GB and unlimited calls and texts.
Alternatively we can pay either £69.99 or £189.99 upfront, then spread the rest of the cost over the two year contract, with our choice of data plan. Using the 1GB plan for comparison, here's how that works out over the two year contract:
Device
Upfront cost
Monthly cost
Total paid after 24 months
iPhone 7 Plus, 32GB
£789.99
£18/mth
(£18 airtime, £0 towards handset)
£1,221.99
iPhone 7 Plus, 32GB
£189.99
£43/mth
(£18 airtime, £25 towards handset)
£1,221.99
iPhone 7 Plus, 32GB
£69.99
£48/mth
(£18 airtime, £30 towards handset)
£1,221.99
Usage plans
O2 have nine basic tariffs available with their pay monthly phones, ranging from 100Mb and 100 minutes for £9 a month up to the 50GB deal we mentioned above.
Not all of them are available with every handset. Those looking at the cheapest handsets should expect to find they'll be able to get a maximum of 3GB or 5GB of data per month, unless they're willing to add one of O2's data bolt-ons on a regular basis.
The highest data allowance - the 50GB for £55 tariff - is only available with O2's top phones, but it's possible to get up to 30GB per month for £35, plus the cost of the device, with a good number of the handsets on offer.
All of O2's plans come with unlimited texts to UK mobile numbers; those with more than 1GB of data come with unlimited minutes as well as unlimited texts.
Out of allowance usage breaks down like this:
| Usage | Cost |
| --- | --- |
| UK calls | 45p/minute |
| Calls to 084, 087, 09, and 118 numbers | Access charge of 55p/minute |
| Voicemail | 35p/minute |
| UK texts | 15p each |
| Picture messages (MMS) | 45p each |
| Video calls | 50p/minute |
| UK data usage | Up to £1/day |
These prices apply to pay monthly SIM-only plans as well.
SIM-only plans
For those who are happy with their existing handset, or who want more flexibility than O2's Refresh scheme offers, O2 offer up to six different SIM-only plans, depending on whether we want a 12-month contract, or a rolling 30-day commitment.
Unusually there are more plans available with the 30 day SIMs - but anyone wanting an allowance of more than 8GB of data a month is out of luck, and as could be expected, prices are higher than they are for those willing to commit for longer:
| | Data | Data speed | Calls and texts | Price per month | |
| --- | --- | --- | --- | --- | --- |
| | 250MB | 4G ready | 250 minutes, unlimited texts | £12 | |
| | 500MB | 4G ready | 500 minutes, unlimited texts | £14.50 | |
| | 1GB | 4G ready | 1,000 minutes, unlimited texts | £17 | |
| | 2GB | 4G ready | Unlimited | £20 | |
| | 4GB | 4G ready | Unlimited | £24 | |
| | 8GB | 4G ready | Unlimited | £30 | |
Apart from the 8GB plan, the tariffs above are directly comparable with those available from O2's biggest rival, EE; at the time of this review, O2 are cheaper by at least 99p per plan.
With the smaller data allowances, the monthly difference for being willing to commit to a 12-month term rather than on a month by month basis is about £2 - a saving of £24 over the year:
| | Data | Data speed | Calls and texts | Price per month | |
| --- | --- | --- | --- | --- | --- |
| | 250MB | 4G ready | 250 minutes, unlimited texts | £12 | |
| | 500MB | 4G ready | 500 minutes, unlimited texts | £14.50 | |
| | 1GB | 4G ready | 1,000 minutes, unlimited texts | £17 | |
| | 10GB | 4G ready | Unlimited | £18* | |
| | 25GB | 4G ready | Unlimited | £25* | |
*Promotional prices. Offer ends October 26th 2016.
But as more of us spend more time streaming and Snapchatting and being live on Facebook, mobile operators are becoming more competitive regarding their bigger data deals. That translates to more special offers on the more expensive, higher allowance, plans.
At the time of writing, for example, O2 were offering a modest 1GB of data and 1,000 minutes of calls for £15 a month - but offering 10 times that data, plus an unlimited call allowance, for just £3 a month more, and 25GB for £25.
Coverage
It's a condition of O2's operator's licence that they be able to provide 98% of UK premises with indoor coverage by the end of 2017 - and as they provide 4G over the 800MHz frequency, it could play a large part in their meeting that obligation.
That's because the 800MHz frequency is particularly good at "covering wide areas and penetrating deep into buildings", as Ofcom put it.
In the meantime however, Ofcom say that at the end of 2015, O2's coverage looked like this:
Combined 2G and 3G
Combined 3G and 4G
Outdoors
Premises
98%
92%
Geographical
72%
47%
Indoor / in car
Premises
93%
86%
Motorways
97%
83%
A and B roads
67%
49%
The figures above require a little bit of context, and it's something of a mixed story for O2.
With regards to combined 2G and 3G coverage, only Three cover a lower percentage of the UK geographically speaking - but they don't use the 2G network at all, which gives O2 a slight advantage.
O2 share their masts with Vodafone, so they have equal coverage on motorways (83%), and about equal coverage on A and B roads (49% and 48% respectively).
But in both these cases they're beaten by both Three and EE - whose networks cover at least 98% of UK motorways and at least 73% of A and B roads.
Large swathes of O2's own coverage map are coloured blue, suggesting that users in those areas should have good coverage both indoors and outside - but away from clusters of towns and cities, the colouring on the map turns orange, suggesting that the coverage is best outside.
O2's map suggests that almost everywhere in Northern Ireland and the South West of England has good coverage of some sort - at least half of those areas should find they're covered indoors and out.
People in more rural parts of Wales, the Lake District and Yorkshire Dales, and those outside the Scottish cities appear to be less lucky. Potential customers can check for themselves here.
Customer service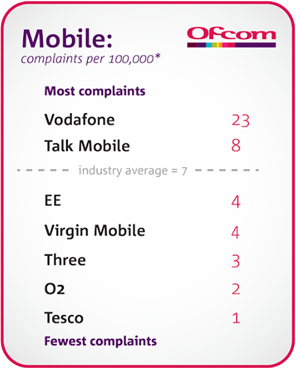 So now we've looked at the mobile service, what's the customer service like?
Only Tesco Mobile generate fewer complaints to Ofcom per 100,000 customers, and O2 have ranked first in Ofcom's surveys on customer satisfaction every year since 2012, and joint first in the three surveys before that.
It's possible that at least some of that customer satisfaction is down to O2's Priority and More For You schemes. O2 customers get perks like free or cheap lunch deals, early booking for events at O2 venues, and priority treatment when they turn up.
There's usually some kind of prize draw running, with prizes ranging from games consoles to exclusive experiences (like access to the England rugby team or VIP hospitality tickets for gigs).
While we've focused on pay monthly deals here, O2's pay as you go customers can benefit from everything included in O2's More For You and Priority Schemes - and get back up to 10% of their top ups every three months.
In conclusion
Their coverage may not be as widespread as that of some of their rivals', but where they are available, their customers appear to rate their mobile service very highly.
They also have a really good range of handsets - and tablets - available, from budget options up to the newest top of the range devices, with plenty of choice in between.
Their SIM-only plans aren't the cheapest available - we need to look at the MVNOs for those - but they do tend to be cheaper than their biggest rival, EE.
And, as mentioned above, the increasing competition for customers looking at larger data allowances means that there are some very good deals to be found, if we time the search right.