New phone line installation: get it for free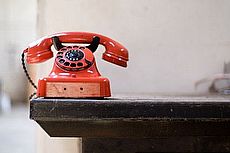 Getting a new phone line installed can cost £130... or nothing at all.
In this guide we look at how to get the 'nothing at all' option.
There are two ways: taking broadband and home phone from a provider with a free line installation special offer or circumventing getting a new line installed, by using the existing equipment.
Let's start with the first option, or skip ahead to find more on whether you'll actually need a new line.
Get a new phone line
Most providers offer a free or much cheaper connection to those willing to sign up for 12 or 18 months.
Since so many providers can now offer phone line installation, there's no need to compromise on the broadband package, either.
Getting a new line for free
Here are the details, from the cheapest installation to the most expensive.
Price
The deal
BT
Free
Free with any broadband or TV deal, otherwise £50 to £130.
Get the offer here.
Fuel Broadband
(Previously Primus)
Free
Free when you take broadband, otherwise £59.
Get the offer here.
TalkTalk
£20 - £50
£20 with Essentials or Plus TV & broadband. £50 with Simply broadband. Be aware that new line orders may not be eligible for some of TalkTalk's other special offers. Get the offer here.
Tesco
£35
£35 with all broadband deals, see the deal here.
Sky
£39
From £39. Get the offer here.
Virgin Media
£49.95
£49.95 for everyone, find out more about the offer here.
Plusnet
£49.99
Plusnet phone is only available with broadband. Get this here.
EE
£60
Applies to all new line installations, find out more here (pdf).
Post Office
£60*
*Currently running a free line installation promotion, however we don't yet know the end date of this offer - so approach with caution as it may expire. Get this here.
BT Basic
(cheap phone line)
£130
Those on BT's social tariff who need a new line must pay the full amount although, unlike everyone else, they can split it into five monthly payments. More info here.
These prices were correct at the byline date of this article.
We always keep an eye on them and update as soon as we see any changes but it's always worth clicking through and double checking with the provider before committing to a contract.
Do you need a new line?
As you can see above, new phone lines can be an expensive hassle.
But, as we noted in the introduction, they're also often a needless expensive hassle, because most people don't actually need a new phone line installed.
Follow the white socket
Most homes will have a BT socket somewhere: look for a small white socket, which may have a BT logo, either on a wall or by the front door.
In general, those that can plug a home phone into the wall and hear a dial tone shouldn't need to pay a fee.
Instead, any new phone and broadband provider will be able to transfer the line to their service free of charge.
If you can't see a socket but are aware that the previous residents did have a BT line, a new phone provider may be able to help you to find it.
Note also that phone sockets similar to BT's are installed in some instances so, depending on the supplier, BT may charge a reconnection fee even when the house does have a white socket.
That's only the case in a small minority of households but it's just worth being aware of.
New line checklist
Homes that are very new - for example, in a building newly converted into flats - where a line has never been installed may need a new phone line.
More commonly, engineers will need to reconnect an existing line because it has been seriously damaged at some point.
Damage can occur during renovations and is most likely to affect the socket.
Finally, households that have been disconnected for non payment in the past will be liable to pay a reconnection fee to get their phone line back.
For more technical information on moving back to BT see our article here.