Mobile phone insurance: are you already covered?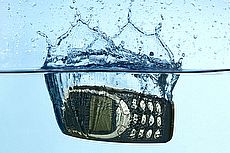 ©iStock.com/silverjohn
MOBILE phone insurance used to be a complete waste of time, often replacement handsets were cheaper to buy than the annual premium.
However, with mobile phones now costing as much as £500 outright, getting covered is starting to look a little more sensible.
Whether you end up victim to theft, accidentally smashing the screen or even dropping it down the loo (we've all been there!), having mobile phone insurance can be a financial lifeline to an expensive smartphone.
Insurers have a well earned reputation for making it as difficult as possible to actually be recompensed in a claim however, so it's important to make sure you're not paying out for unnecessary cover.
Especially if you're already covered elsewhere.
Are you covered already?
Do you already have mobile phone insurance?
No? Think again. Many existing policies and contracts provide cover for a mobile phone, so it's possible to be protected without even knowing it.
Before buying a new policy then, be sure to check that you're not already covered under an existing one.
Mobile phone insurance when you're in a contract
Pay monthly mobile phone customers may of already signed up for insurance from the network when they took out the contract.
Most networks should sell insurance as an opt-in, so it's not that easy to buy it without being asked first, however it is one of those things that could be easy to forget or overlook.
Cover provided by the network is often more expensive than standalone policies or when it's included into other insurance.
However, it does tend to be more comprehensive this way, as the networks usually provide cover for loss, theft and accidental damage, as well as offering worldwide cover as standard.
Mobile phone networks also offer the added incentive of speedy replacements - if a phone is lost, stolen or broken they'll often send out a working device in just 24 hours.
Provider
Premium
Excess
Details
O2
£6-£12.50 per month
£25 (£60 for premium phones)
You have 28 days from buying or upgrading to take out cover
Available on pay monthly and PAYG
Vodafone
£2.99-£12.99 per month
£15-£50
Three levels of cover available
30 days worldwide cover
Three month minimum term
Orange
£6-£15 per month
£25-£50
Phone replacement usually within 24 hours
Loss, theft, damage and extended warranty cover
T-Mobile
£6-£14 per month
£15-£50
An app to clone your phone's content
Lost, stolen or damaged cover
24 hour replacement
Mobile insurance included in home contents insurance
People with home contents insurance may already be insured for mobile phone theft under that policy.
However, this doesn't apply to all policies and cover is often reduced - for example excluding accidental damage, so it's important to double check policies and not to assume anything.
While mobile phone insurance under home contents cover can work out cheaper, most home insurance policies will only pay out or replace a handset if it was stolen during a break-in.
Some insurers may offer the option of adding accidental damage cover to the policy, but it's often not included as standard.
Airtime misuse, which can result in astronomical bills and cause a big problem for contract customers - will almost definitely not be covered by home insurance.
So, while getting a mobile phone covered this way can be initially cheap - it might also be lacking adequate protection.
Adding additional mobile phone cover tends to cost around £5 per month on the insurers we looked at, so it's similar in cost to standalone and network policies.
However, despite being around the same price, we noticed it may still have more exclusions, such as water damage.
Some of the biggest downfalls to using home contents insurance to cover a mobile are that the excess is likely to be quite high, whereas it might only be £15-£50 with a network insurance policy, and any claim could bump up renewal premiums.
Halifax
Covers loss, theft or accidental damage
Covers mobile phones, including misuse of airtime as a policy extra, except those bought by an employer
Excludes water damage
Aviva
Protects against loss or theft
Excludes accidental damage to mobile phones
Endsleigh
Add mobile phone insurance for £5 a month
24 hour mobile phone replacement
Music downloads are also covered
Minimum excess of £100
Sainsbury's
Includes downloaded music, movies on smartphones
Accidental damage can be added as a policy extra (mobile phones not excluded)
Cover for items outside the house
Bank account packaged insurance
Packaged bank accounts have come under fair controversy recently for the worthwhile factor of the benefits they offer, however the debating argument is often whether or not an account holder would be purchasing the benefit elsewhere in any case.
Of three, one of the most common 'freebies' included in a packaged current account is mobile phone insurance, alongside travel insurance and motor breakdown cover.
People who can make use of all the benefits of a packaged account will gain the most financially, but of course reconsider the cost, if for example, you don't drive or have family in Australia and the travel insurance is only for Europe.
Joint account holders can also benefit however, as cover often includes the handset of both account holders without an additional fee.
However, although there are financial benefits this way, it's still important to establish whether the cover offers enough protection. For example, how quickly will the handset be replaced? Are unauthorised calls covered?
Account
Monthly fee
Excess
Maximum claim
Features
Barclays
Tech Pack
£7.50
£50 (£100 iPhone)
£1,000.00
Worldwide cover for loss, theft and accidental damage
Also benefit from cover on any other tablets, laptops, camcorders, cameras, MP3 players too
Natwest/RBS
Select Silver
£10.00
£75.00
Unlimited
Worldwide (temporarily outside the UK) and UK cover for loss, theft, damage or breakdown
Includes airtime misuse
Also benefit from European travel insurance
Halifax Ultimate Reward
£10-£15
£30 (£100 iPhone)
£2,000.00
Home or abroad cover for loss, theft or damage
Also benefit from worldwide travel insurance, AA breakdown cover, home emergency cover, and card protection.
Lloyds TSB
Silver
From £9.95
£50 (£100 iPhone)
£2,000.00
Worldwide cover for loss, theft and accidental damage (inc. water)
Also includes European travel insurance, and AA breakdown cover with roadside assistance
Not covered already? Get covered
When every avenue has been exhausted for cover under an existing policy, it may be worth considering mobile phone insurance from a standalone provider.
Some of these insurers specialise in mobile phones, whilst others cover a wider variety of gadgets.
Types of cover
Most mobile phone insurers have different levels of cover, with the most basic policies just covering accidental damage and theft.
There is often a higher premium for cover against loss or breakdown (extended warranty).
When choosing the level of cover, make sure to check how much a replacement handset would cost, and look to see if your particular handset is covered as sometimes newer models aren't.
iPhone owners beware, you'll probably have to pay more to protect your phone, with many having completely separate policies.
Make sure to also compare policies like-for-like.
Exclusions
The long list of exclusions is the biggest reason many people decide against buying mobile phone insurance. While some exclusions are expected, others are simply ridiculous.
Here's a few examples of typical exclusions to be aware of:
Mobiles may have to be less than 12 months old when the policy is taken out
Handsets must have been bought new - this excludes refurbishments
Claims cannot be made for an initial period
Phone must not be left unattended
Claims for theft must be accompanied by the threat of violence
Water damage often not included
| Provider | Monthly fee | Excess | Maximum cover |
| --- | --- | --- | --- |
| Protect Your Bubble | From £1.49 (£5.99 for iPhone) | £50 | £1,000 |
| Budget Mobile Cover | From £1.49 (£5.99 for iPhone) | £25 (£50 for iPhone) | £1,700 |
| Gadget Cover | From £5.99 | £75 | £700 |
| I-digital Gadget Cover | From £4.21 | From £25 | £1,000-£2,500 |
Is it worthwhile?
For brand new smartphone owners, considering how you'd cope financially if the dog chewed it to pieces, or you dropped it and the screen smashed, would you have the cash to buy another? Probably not.
Mobile phone insurance can have its place then, with the possibility of next day replacements for just a few pounds a month, it seems reasonable.
However, with so many exclusions - such as failing to report a loss within 24 hours, there was no physical violence, or having the phone stolen from public transport - that make it difficult to make a successful claim, it can also seem like a waste of money.
If the cost of the phone doesn't outweigh the monthly premium and any excess when making a claim, it could be worth considering self-insuring.
Instead of paying an insurance provider a monthly premium, stash the cash to one side. If anything happens, simply dip into the savings to buy a new handset.
Mobile phone insurance can be suitable for some people in some instances, but for those looking to buy cover, it's worth also looking at where you might be covered already as well as carefully considering what cover will actually be provided.
Please note: This article presents an opinion based on general market research - if you're considering purchasing a mobile phone insurance policy you should speak with an Independent Financial Adviser to get specific help for your individual situation..