Who offers the best data for your mobile phone?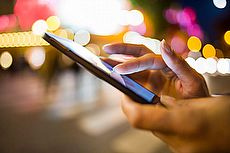 ©iStock.com/LDProd
TAKE a look at how mobile operators are advertising their tariffs and deals these days, and it's highly likely the data allowance is the headline feature.
And with all the main providers trumpeting about how they include 4G data as standard for fast browsing on the move, it's easy to forget that the technology is still quite new.
So just how good is the coverage, how fast are the connections we're being offered - and who's offering what kind of deals?
In this guide we look at the factors involved in getting the best mobile data deal for you - from speed to coverage, and allowances to cost.
Speed
As the technology has progressed, so has the speed of the connection available to mobile users.
We started off with 2G in 1992 - great for texting and making voice calls, but very limited in terms of the data services it can handle. Just over a decade later, the UK's first 3G operator - Three - launched - and in late 2012, the UK's first 4G network came into service.
Since then we've also seen some areas gain access to the even faster 4G+ network (also known as LTE-A or LTE Advanced).
Super speedy 4G
At the end of 2015, Ofcom tested the relative 4G speeds of the four main providers in five UK cities - Cardiff, Edinburgh, Liverpool, London and Norwich.
These cities were chosen because they have 4G coverage from all of the main providers - which certainly isn't the case in many other parts of the UK, as we look at below.
The regulator found that EE came out fastest for downloads and uploads, and was most successful when it came to connecting to webpages while browsing.
It's worth pointing out that the speed results are skewed in EE's favour by the fact that they're the only network to offer 4G+ - in some urban areas - which is up to twice as fast as normal 4G.
| | Download speed | Upload speed | Browsing success rate |
| --- | --- | --- | --- |
| | 20Mb | 20Mb | 98% |
| | 15Mb | 12Mb | 95% |
| | 12Mb | 10Mb | 91% |
| | 10Mb | 10Mb | 89% |
SOURCE: Ofcom Smartphone Cities report, March 2016. Available here.
Data released in April 2016 by independent coverage checker OpenSignal gives slightly different figures - and for the first time someone other than EE were found to be fastest over a "standard" 4G (LTE) connection.
| | Download speed |
| --- | --- |
| | 18.7Mb |
| | 17.8Mb |
| | 12.1Mb |
| | 11.8Mb |
SOURCE: Opensignal, April 2016. Available here.
The backup: 3G
Because 4G is so new, relatively speaking, not everyone can get it - whether because there's no signal in their area, they have a handset that doesn't support it, or they're with one of the many mobile virtual network operators (MVNO) that only offer 3G coverage.
Among them are the second biggest MVNO in the UK, Virgin Mobile, and a whole host of others including ASDA Mobile, FreedomPop, Lebara Mobile, Post Office Mobile, TalkTalk Mobile, and The People's Operator.
But while 3G is much slower than 4G, there's not as much variation between the main networks - and therefore between the speeds available on the virtual networks.
Ofcom found that the average 3G download speeds from EE, Three and Vodafone were all around 7Mb - but O2's, by contrast, have an average of 5Mb.
The networks were all equally fast (or slow) at loading webpages using 3G, with an average of seven seconds.
Data from OpenSignal - which takes into account the whole of the UK - suggests that Three win in terms of both downloads and latency - the delay in transferring data to and from the user's device.
| | Download speed | Latency |
| --- | --- | --- |
| | 4.9Mb | 98.19ms |
| | 4.0Mb | 98.89ms |
| | 4.4Mb | 103.22ms |
| | 3.0Mb | 123.92ms |
SOURCE: Opensignal, April 2016. Available here.
Coverage
Of course, almost more important is the matter of coverage - because it makes no odds how fast a network is if we can't get a signal.
Using the most recent data we can find about each network, plus Ofcom research, each provider's coverage looks something like this:
Population covered
Geographical coverage
3G
4G
Combined 3G/4G indoors
Combined 3G/4G outdoors
Combined 3G/4G
98%
95%
94%
98%
75%
98%
75%
86%
92%
47%
97%
75%
93%
98%
68%
98%
85%
83%
92%
49%
Note that most of this table refers to the percentage of the population who have coverage - which means that while the numbers look high, it's mostly as a result of the networks focusing on urban areas.
Geographically, the situation is much more dire - as anyone who's tried to use their phone while on a train will be able to attest.
While the operators are committed to providing 90% geographical coverage by the end of 2017, that only relates to their voice and text services, not data.
For those interested in the type and strength of data coverage available where they live and work, Ofcom have created a handy map showing the signal strength for mobile phones on 2G, 3G and 4G networks.
They say that because they've "tested actual coverage" themselves, their version is more accurate than the coverage maps provided on the networks' own websites.
Amount of data
Once we've worked out which networks are our best bet for reliable coverage, it's time to decide how much data we need.
The providers themselves try to help us gauge exactly what our appetites might be with various calculators on their sites, but the following table can be used as a rough guide.
| | Photos uploaded | Songs downloaded | Browse the web for... | Stream SD video for... |
| --- | --- | --- | --- | --- |
| 250MB | 125 | 50 | 10 hours | 20 minutes |
| 500MB | 250 | 100 | 21 hours | 45 minutes |
| 1GB | 500 | 200 | 44 hours | 90 minutes |
| 5GB | 2,500 | 900 | 222 hours | 7 hours |
Beyond the unlimited data SIM-only deals available from Three and one or two other, virtual, network providers, the tariffs with the most GBs per month are reserved for those that come with a new handset.
The EE Complete package offers up to 50GB per month along with inclusive picture messages - but it's only available with select phones. The usual largest data allowance EE offer is 20GB.
When also buying a handset, O2 will boost the data allowance to 30GB; Vodafone will give handset customers up to 25GB.
At the other end of the scale, those taking a SIM-only plan can opt for a modest 250MB data allowance.
Cost
So how much does that data cost?
As we've already mentioned, allowances can vary dramatically depending on whether we're buying just a SIM, or signing up for one of the latest handsets on a longer contract.
For the sake of simplicity, we'll look at what providers are offering on SIM-only 12-month contract terms.
We've tried to keep the details of the plans as similar as possible to allow for fairer comparison; where that's not possible we've listed them by size of data allowance, then alphabetically.
Those who wish to get their hands on a shiny new handset will obviously need to pay more - have a look at our comparison tables to see what kind of deals are available.
Extra small allowances
For those who don't need very much at all in the way of data, each network offers a small amount for £10 or less per month - and Three win by offering twice as much as the others for the lowest price.
| | Data | Calls / texts | Monthly price |
| --- | --- | --- | --- |
| | 250MB | 250 / unlimited | £9.99 |
| | 250MB | 250 / unlimited | £10 |
| | 250MB | 300 / unlimited | £9.50 |
| | 500MB | 200 / unlimited | £8 |
Small
Most of us, however, will need a little more data than that - although not as much as we might be led to believe.
Even Three, who tend to cater for the more data-hungry mobile users among us, say that their average user got through about 5GB per month last year.
On that basis, we're going to assign the "small" allowance label to tariffs offering 2GB a month.
| | Data | Calls / texts | Monthly price |
| --- | --- | --- | --- |
| | 2GB | Unlimited | £17.99 |
| | 2GB | Unlimited | £15.50 |
| | 2GB | Unlimited | £17 |
| | 2GB | 200 / unlimited | £11 |
Note that again Three offer a much cheaper tariff than anyone else - but users will also be expected to get by with limited minutes, while the higher prices charged by the other networks allow for unlimited calls.
Medium
For our "medium" sized data deal, we've gone for something a little more generous than the 5GB average suggested by Three, in order to find four deals that are as similar as possible.
With 8GB of data per month very few of us should need to worry about going over our allowance - although the prices do start to vary more widely.
| | Data | Calls / texts | Monthly price |
| --- | --- | --- | --- |
| | 8GB | Unlimited | £27.99 |
| | 8GB | Unlimited | £28 |
| | 8GB | Unlimited | £24 |
| | 10GB | Unlimited | £32 |
Large
For those of us who can't be dragged away from social media, who can't wait to stream the next episode of Game of Thrones as soon as it's available, or people who like making video calls rather than phone calls, a "large" allowance may well be called for.
This is where the differences between the networks become much clearer, both in terms of what the operators think of as a "large" allowance, and how much their data costs.
We've included the biggest capped data tariffs available - we've a guide devoted solely to unlimited data tariffs here.
| | Data | Calls / texts | Monthly price |
| --- | --- | --- | --- |
| | 16GB | Unlimited | £34.99 |
| | 16GB | Unlimited | £34 |
| | 20GB | Unlimited | £40 |
| | 30GB | Unlimited | £30 |
In conclusion
While there is no single "best" provider, there are better choices for those who know what they want.
It's also worth noting that there are far more tariff options than we've outlined here - what we've tried to show is what similar plans with particular allowances will cost as a rough guide.
If, having researched which provider offers the best coverage, and gained some idea of how much data will do, one of the packages we've listed above looks a little too generous (or stingy), click through to see if there's a better fitting option.