Home broadband: a market overview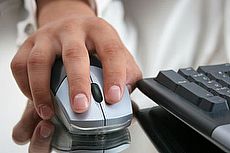 ONLINE activity made up 8.3% of the UK's GDP in 2010, more than 10% by May 2015, and will account for 12.4% of it during 2016, according to a report from Boston Consulting Group.
That's a higher proportion than in any other country; China's online activity accounts for only 5.5% of GDP, while in the US online activity makes up 4.7% of GDP.
To put it in cash terms, the internet is expected to contribute almost £193 billion to the UK's GDP in 2016.
According to the report, the UK has raced ahead of other nations to become "a nation of digital shopkeepers", with online retailing expected to account for 23% of total retail in the UK by 2016.
In comparison, our closest competition in this regard is Germany. Their online sector is expected to account for just 14% of total retail in 2016.
That makes the UK's broadband providers worth a little attention.
Subscriber numbers
Ofcom's December 2015 infrastructure report stated that 78% of the UK's households have an internet connection of some sort.
The vast majority - almost 90% - get online through one of the big four ISPs - BT, Virgin Media, TalkTalk and Sky.
Provider overview: The Big Four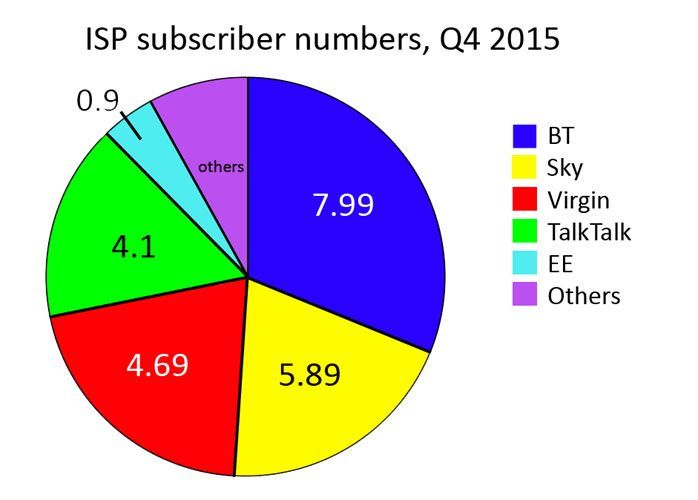 SOURCE: Choose.net from quarterly results, customer numbers in millions.
BT
Broadband subscribers Q4 2015: 7.99 million
After some years on the ISP naughty step - synonymous with iffy broadband and poor service in the minds of consumers - BT Group's retail arm has come back with a vengeance.
In the quarter ending December 2015 the ISP gained 130,000 new broadband customers - up on the same period the previous year; they've consistently added customers since 2011, when they saw the largest single increase in new customers for eight years.
In total, by the end of December 2015 BT had 7.99 million internet customers - and 46% of them, some 3.7 million, take fibre of some sort.
Work to expand their fibre and standard broadband networks won't have hurt; they've been responsible for all of the infrastructure built under phase one of the Broadband UK (BDUK) project, which has now brought superfast FTTC broadband access to some 3.5 million homes.
As well as getting a certain amount of government funding to help with that effort, BT have put in plenty themselves over time: they had to put up £2.5 billion a few years back, on top of an earlier £1.5 billion.
With the first of the BDUK superfast deadlines looming, both construction and take up seem to be accelerating. At the end of 2014 about 75% of households could access superfast fibre of some sort; by the end of 2015 that had risen to 82%.
Admittedly that's not just because of BT's efforts to expand the fibre network - they've had some help from niche ultrafast providers and one of their biggest rivals, Virgin Media.
Virgin Media
Broadband subscribers Q4 2015: 4.69 million
While the BT Group have the advantage of owning of the biggest broadband network in the UK - for the time being - they lose out in terms of speed to smaller providers with their own networks. The biggest and best known of these is Virgin Media.
In early 2014, the ISP doubled their standard broadband speeds to bring their top deal up to 152Mb; in October 2015 they started to roll out another speed boost taking that to 200Mb - leaving BT's up to 78Mb package even further behind.
In terms of broadband subscriber numbers, however, Virgin Media look like slightly less of a threat to BT's dominance. Almost 4.7 million customers now take internet from them, an increase of 158,000 over the year, with 69,000 coming on board in the last quarter of 2015 alone - their best quarterly growth since 2010.
Early last year they announced their £3 billion plan to fill the gaps in their network. Work began in June, and they expect to pass around half a million premises during 2016.
That's welcome news after 2014, which was something of a turbulent year.
Going beyond broadband is, however, a key area for Virgin. Customers who take more than one service - i.e. some combination of broadband, home phone, TV or mobile phone packages - have long been far more profitable.
In fact, only 16.1% of customers take just one service from the provider, with nearly 19% taking two. The vast majority - 65% - are triple-play subscribers, taking all bar their mobile service from the provider.
And as quad-play deals become more common across the media sector, 17% of Virgin customers already take all four services from the provider.
It's easy to forget now that just a few years ago the ISP was really struggling.
The network they inherited from NTL was shaky and badly in need of repair and, in October 2007, bowing under the weight of huge debts, the firm even began a strategic review of its business after receiving a £5.5 billion offer from a private equity firm.
It took until Q4 2011/12 for the company to post its first £48.2 million profit.
Now, owned by Liberty Global, they're in much better health.
Sky
Broadband subscribers Q4 2015: 5.89 million
The second biggest ISP in the UK is now Sky.
The provider broke the five million subscriber mark in late 2013, and they're now approaching the 5.9 million mark, having gained 144,000 new customers in the last three months of 2015 alone - putting even BT's growth in the shade.
Where BT may wish to take solace, however, is that since the end of 2014, Sky have combined their UK and Ireland customer bases in their results.
A couple of years ago, in summer 2013, Sky boosted their subscriber numbers by acquiring Telefonica's broadband business (O2 and Be).
Before that, in 2011, the ISP expanded their network to cover around 80% of UK homes - another move that undoubtedly helped to swell subscriber numbers.
This past year has seen a return to the sort of growth they last saw in 2013, when they added at least 100,000 customers per quarter.
The dip in 2014 was partly down to losing some former O2 and Be customers who were unhappy with the takeover, but also because of more competition from BT Sport.
Sky's focus was always TV, as the company's 2010 buy out of Virgin TV and reluctance to offer broadband as a standalone product has demonstrated.
The reticence was at least partially a result of the ISP's reliance on BT Openreach for development and repair - and in the past year an already strained relationship has become openly hostile at times, with Sky leading the calls for Openreach to be completely split from BT.
Last year they announced plans to launch a mobile phone service - seeming to accept that multimedia - and quad-play in particular - is the only way to stay competitive in future.
However, that old preference for TV is still very much in evidence, as it'll be the end of the year before we see Sky go quad-play - but they've moved much more quickly to introduce two premium packages featuring new TV and broadband equipment.
TalkTalk
Broadband subscribers Q4 2015: approx 4.1 million
TalkTalk seem to have a talent for doing quite well, then having a bit of a stinker - and their most recent results show just how bad their latest stinker has been.
During 2015 they had to tell their customers about three separate possible data breaches - including a massive cyber attack in October.
Although the number of customers whose information was accessed was much smaller than first feared at around 155,000, many more seem to have decided three breaches in the space of a year was too many.
But because TalkTalk said they would only waive their (rather high) exit fees for those customers who could prove they'd suffered financially as a direct result of the attack, the exodus was smaller than predicted.
Even so, they lost 101,000 customers in the last three months of 2015. That makes their previous stinker of a year, in 2010-2011, when they lost around 50,000 customers over about six months, seem like a walk in the park.
Some of that was continued fall-out from TalkTalk's acquisition of Tiscali in 2009. Integrating them into the TalkTalk brand proved to be a long-running headache: phone and broadband plans mis-sold, billing problems, email issues and even complaints that they'd been spying on their customers.
TalkTalk had to pay out £2.5 million to customers who had been incorrectly billed, in some cases for years, and another £3 million in fines to Ofcom for their mistakes.
But they seemed to learn their lesson, as in late 2013 they took over Post Office broadband, gaining 103,000 subscribers, with far less difficulty.
Even so they remain highly influential.
In April 2011, along with BT, the ISP took aspects of the Digital Economy Act to judicial review and, from 2011 to the present, TalkTalk have been setting the technology agenda with their router level internet controls, Homesafe and Worksafe.
Provider overview: smaller ISPs
As we noted above, the vast majority of UK broadband customers get their internet from one of the big four.
Even the largest smaller ISP - EE - has fewer than one million broadband customers.
EE
Broadband subscribers Q4 2015: 933,000
It's fair to say that EE's broadband journey has been a bit of a roller coaster - and even now their takeover by BT has been completed, it's unlikely to be over.
In November 2009, Orange found their broadband customer base flagging, as in the quarter leading up to then they lost 55,000 customers - 12.5% of their then user base.
The provider's decline was managed somewhat. Most notably, in 2010, Orange abandoned their LLU network in favour of reselling BT Wholesale broadband and then the company merged with T-mobile to become EE.
As EE, they added a few customers but managed to lose 29,000 in just one quarter at the end of 2012 - after withdrawing a free broadband offer.
However, since then - and despite continued reports of poor customer service during 2014 and 2015, they've shown steady growth.
During 2015 they added just shy of 100,000 broadband subscribers, a little down on 2014 when they gained 108,000 - with around 41,000 joining in Q4 2014 alone.
Under the BT takeover, EE will remain separate from their new owners to an extent - rather than being a standalone company they're now a division within the BT Group.
Their mobile, broadband and TV customers will therefore continue to be looked after by EE - but it's likely that in the near future those 933,000 subscribers could well be counted as among BT's customers rather than as a separate group.
Plusnet
That seems to be the case with Plusnet.
One of the biggest small ISPs in the UK, they're actually owned by the BT Group, although they continue to operate in the main as a separate business. In turn, they provide the network for John Lewis Broadband (reviewed here), and previously for the now dead in the water Madasafish (reviewed here).
Once famous for their use of geographic pricing, under which customers in the most competitive areas get cheaper deals than those served by less commercially attractive exchanges, Plusnet's cheapest deals are now available to a much wider audience.
In summer 2015 the ISP even started to refund some customers whose exchanges are now considered more competitive - and therefore eligible for cheaper deals.
As they've grown their reputation for excellent customer service has taken a few knocks, both in general terms and in regard to specific incidents - but they still rate highly in numerous surveys.
Zen Internet
Zen Internet are one of the UK's smallest big ISPs. They operate approximately 100,000 leased lines. Some of these are used by business customers - and Zen also have their own small group of resellers.
That business may take away from the number of home users they can claim to have - but it also reflects Zen's not insignificant reputation as one of the best providers when it comes to quality of service and customer care.
They consistently score highly in independent surveys, and as a result they wield far more clout than we might otherwise expect. See our Zen broadband review for more information.
Kingston Communications (KCOM), including KC in Hull and the East Riding of Yorkshire, and Eclipse Internet
KCOM were formerly known as Kingston Communications. They own KC, the sole fixed line internet provider in Hull and the surrounding area, and Eclipse Internet.
They don't have a complete monopoly in the Hull region any more, thanks to the arrival of Sure Broadband, who use wireless technology to provide broadband to homes in certain areas - but KC are still the only provider available to many.
That gives them a market power slightly greater than their position as one of the smallest national ISPs would suggest.
In autumn 2014 Eclipse, reviewed here, quietly removed mention of home broadband services from their website, cementing their shift towards business internet access. Those who already had the service were assured they could stay with the ISP.
KCOM are also coy about their exact customer numbers, but their corporate website says KC serves "more than 130,000 households in Hull and East Yorkshire".
As well as offering standard broadband, KC are rolling out what they modestly call superfast broadband - their Lightstream fibre service comes with guaranteed download speeds of 100Mb or 350Mb.
At present it's available to around 55,000 properties, with ambitious plans to expand the network to pass 105,000 by this time next year.
This, they say, is the result of high demand for the service; from around 10,000 subscribers in October 2014 to 12,000 in February 2015, they now provide superfast services to around 20,000 subscribers.