Is Fuel broadband any good?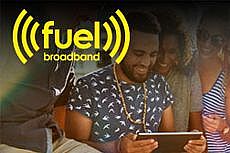 THEY still sound like relative newcomers to the broadband market, but Fuel are the reincarnation of budget phone providers Primus.
Under the new name, they've pinned their hopes on a few simple packages, including one cheap, one-size-fits-all, unlimited broadband deal.
Cheaper than chips (almost)
When they launched in October 2014, their broadband with home phone offer cost £4 a month - less than the price of a couple of decent coffees.
But since then they've raised prices a couple of times, and while the broadband's still cheap, they're not as stunningly inexpensive as they were.
Package
Broadband
Contract term
Upfront price
Monthly price
Unlimited Broadband
Up to 17Mb
Unlimited
12 months
£7.95
£23.60
Note the price for the first few months of the contract. That's the price of Fuel Broadband's line rental - up from just £15 when they launched.
Primus were famous for having a home phone deal that included line rental of about 70% less than most of the other providers.
But now the bargain line rental is gone. While they're still cheaper than most of the big players - see the table below - they're far from the cheapest out there. There's more on where to look for them here.
Package
Broadband
Contract term
Upfront price
Monthly price
Unlimited Broadband + Weekend calls
Up to 17Mb
Unlimited
12 months
£9.99
£23.99
for 12 mths,
then £40.99
Unlimited + Line Only
Up to 17Mb
Unlimited
12 months
£10
£20
for 12 mths,
then £27.98
Broadband Unlimited + Talk
Up to 17Mb
Unlimited
12 months
£9.95
£18.99
for 12 mths,
then £28.99
Fast Broadband
Up to 17Mb
Unlimited
24 months
Free
£22.95
for 24 mths,
then £25.50
Because of the still reasonably low cost of the broadband, and their penchant for offering it at a discount or free to new customers, Fuel are still pretty competitive - just not as competitive as they were when they launched.
They do, however, have an eye for the kind of deals that will appeal to their intended audience, on top of the almost obligatory free broadband for a certain period - previously they've given new customers Chromecast and Amazon Fire TV sticks.
Back when Fuel first appeared, the only company to beat them for phone plus broadband was Tesco Broadband.
At the start of 2015, however, Tesco were bought by TalkTalk, with customers being moved across and seeing their prices increased accordingly over the course of 2015.
Before that, the only real difference between them on paper was their approach to traffic management: Tesco's was not entirely clear, but the gist of it seemed to be ensuring that "our other customers also get the best service possible".
When Fuel, on the other hand, say their broadband is unlimited, they mean no traffic management or download limits apply. The only thing they say will limit a user's internet speed is their phone line.
That's something of a change: when they were Primus, they used to operate a "three strikes and you're out" policy with users who downloaded more than 100GB a month, starting with a warning email and ending with seriously throttled bandwidth during peak hours.
But while Fuel's terms and conditions include a clause to protect "use of or access to the internet of any other person (including substantial data transfers during peak times)", in August 2014 they told Choose their unlimited "truly was" unlimited.
After the rebrand was complete, they also began to automatically upgrade old Primus customers with 10GB, 20GB or 40GB broadband packages, to the new unlimited deal.
The appeal of those packages was that people didn't have to pay for allowance they didn't need - but at £6 a month, it's unlikely anyone will end up paying over the odds however much or little they download.
Home phone required
Once upon a time it was possible to mix and match phone and broadband providers to get a good deal on both, but over the past few years it's become increasingly common for ISPs to bundle services, only allowing customers to take broadband who also take their phone.
So in the past most service providers seriously subsidised their broadband to make it attractive in the face of the obligatory line rental charges - hence the new rules on advertising broadband prices from the ASA - and Fuel joined the party.
Following the lead of TalkTalk, Sky, and Plusnet, they no longer offer any kind of inclusive calls with their line rental - prior to the end of 2015 they used to bundle evening and weekend calls to UK landlines.
Now the only option for people who don't want to worry about call charges is the anytime bundle - although at £3 a month it's pretty cheap compared with their rivals, and the calls can be up to 90 minutes long.
Daytime calls are charged at 9p per minute, which is cheaper than BT - as is their call setup fee, which is 15.5p. They also have a lower access charge than most other providers for calls to 08, 09 and 118 numbers, at 7p per minute; 0800 and 0808 calls are free.
A hint of the complexity Primus were famous for comes in their mobile call prices: these cost 12p per minute at weekends, 14p on weekday evenings, and 16p during the day midweek.
Simplicity costs
While it's in keeping with the simple one-size-fits-all ethos, the fact that there's no upfront line rental payment offer to sweeten the deal might make it a bit less attractive.
For example, at the time of this update, the Post Office offer line rental for the equivalent of just £14.99 a month using the annual payment option, making it one of the cheapest options in the UK.
Even among the biggest providers there are cheaper deals available.
Plusnet charge £185.88 a year, equivalent to £15.49 a month; even with TalkTalk's habit of steadily increasing the cost of their annual payment deal, at £204.66 the Value Line Rental they offer their legacy customers still works out cheaper per month than Fuel.
Meanwhile many providers offer free or much reduced broadband for as long as, or longer than, Fuel - for example, Plusnet and EE both charge less than £3 during the introductory period, which usually lasts a year and sometimes 18 months.
Fibre broadband
Primus used to offer 38Mb and 76Mb fibre broadband, but withdrew both from their residential offerings in August 2014, in part because of low take up but also because they were holding off for new regulations on how BT charges resellers for fibre.
As Fuel, they say fibre broadband will be made available to customers again at some point in the future, although two years on from relaunch it's still not clear when this will be.
Any good?
It's a shame that the almost unbeatable prices Fuel Broadband offered at launch disappeared so quickly, to be replaced with total monthly costs that seem pretty standard.
Let's not forget, though, that their broadband and call costs are still less than those offered by most of their competitors.
Customer reviews seem to rate them as fairly average, with the standard mix of people who've had nothing but trouble, and those with glowing reports.
But for simplicity - and seeming to know what their intended audience wants - they're hard to beat.