Is EE any good as a mobile provider?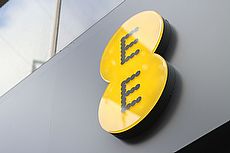 THEY'RE the biggest single mobile network in the UK, they're famous for their adverts featuring Kevin Bacon, and they offer some seriously fast mobile data speeds.
Having only been launched in 2012, as the result of a seemingly neverending merger process between T-Mobile and Orange, EE were the UK's first 4G network - and they've set the bar for the other operators since.
Their size and the speed of their growth has caused problems, however - even before their rivals started to express concerns about BT's takeover, they had a reputation for poor service.
In this review we'll look into those customer service issues, along with their coverage, their data speeds, their prices and what else they offer.
A quick word: as prices can vary so much depending on the choice of handset, in this and other our other mobile operator reviews we focus on SIM-only deals in order to give a flavour of how much their deals cost - but we will look into the kind of range of handsets they offer as well.
EE SIM-only deals
EE offer their SIM-only plans on either 30-day rolling terms or with 12-month contracts. There are advantages to being willing to sign up for a year - the prices are lower, and there's a wider range of plans to choose from.
Here's what's available to those who only want to commit for 30 days at a time:
| | Data | Data speed | Calls and texts | Price per month | |
| --- | --- | --- | --- | --- | --- |
| | 250MB | 4G | 250 minutes, unlimited texts | £12.99 | |
| | 500MB | 4G | 500 minutes, unlimited texts | £15.99 | |
| | 1GB | 4G | 1,000 minutes, unlimited texts | £17.99 | |
| | 2GB | Double speed 4G | Unlimited | £20.99 | |
| | 4GB | Double speed 4G | Unlimited | £24.99 | |
| | 6GB | Double speed 4G | Unlimited | £27.99 | |
And here are the options for those happy to commit to a 12-month contract:
| | Data | Data speed | Calls and texts | Price per month | |
| --- | --- | --- | --- | --- | --- |
| | 250MB | 4G | 250 minutes, unlimited texts | £9.99 | |
| | 500MB | 4G | 500 minutes, unlimited texts | £12.99 | |
| | 1GB | 4G | 1,000 minutes, unlimited texts | £14.99 | |
| | 2GB | Double speed 4G | Unlimited | £17.99 | |
| | 4GB | Double speed 4G | Unlimited | £21.99 | |
| | 6GB | Double speed 4G | Unlimited | £24.99 | |
| | 8GB | Double speed 4G | Unlimited | £27.99 | |
| | 16GB | Double speed 4G | Unlimited | £19.99 | |
Note that like other providers, EE often run deals and offers on certain plans - at the time we were writing this review, they were offering their 12-month 16GB SIM for £19.99 a month.
The plans listed above are divided into two categories: standard plans and EE Extra plans.
EE Extra plans are easy to spot by their mention of "double speed 4G". Depending on how busy the network is, that means download speeds of up to 30Mb rather than 12-15Mb.
EE Extra customers also get free unlimited calls and texts to and from mobiles and landlines within the EU.
Their mobile phone plans
The plans available with EE's handsets on pay monthly terms are also split into categories - Essential, 4GEE and 4GEE Max.
Any plan that includes 1GB or less of data counts as an Essential tariff, coming with unlimited texts but only a finite number of minutes to UK landline and mobile numbers. While customers benefit from 4G, the maximum connection speed they'll get will be between 12-15Mb.
The 4GEE plans add unlimited calls to UK landlines and mobiles - and free calls and texts to UK numbers when we're in EU member states.
Users will also get 500MB of data to use in the EU, free of charge - and when they're using their data connection at home they'll get speeds of up to 60Mb where 4G+ is available (mostly in big cities, but also in some more rural locations).
The 4GEE Max plans are those featuring more than 5GB of data. Customers should be able to use their phone in the EU as if they were at home, with up to 15GB of their data allowance available to them as well as their (unlimited) UK call and texts allowances.
All three kinds of plan come with at least six months' free access to BT Sport, rather than at a cost of £6 per month; those with the Max plans will get BT Sport free online and on the app for the full 24 months of their handset contract.
Which handsets are available?
EE are usually among the first to announce whether or not they'll be selling the newest handsets when they're revealed, with the option to pre-register to be told as soon as they decide to offer a new device.
At the time we're writing this, for example, the other main networks are still making a big deal out of the recently released iPhone 7 and iPhone 7 Plus, but EE are already looking ahead to the release of the Google Pixel on October 20th.
Alongside the latest flagship handsets from all the biggest manufacturers, they also sell a decent selection of slightly older and mid-range handsets - including a couple of Microsoft devices and their own EE handsets.
The cheapest handsets - at the time of writing these include the EE Harrier Mini and the LG K8 LTE - cost nothing upfront with tariffs starting from £16.99 a month for 300MB of data.
More expensive phones, more data by default
The more expensive the handset itself, the more the minimum tariff will cost - obviously - but that also reflects higher minimum data allowances.
The iPhone 6S, for example, is available with a minimum of 1GB data per month; the minimum data plan we can get with the newer iPhone 7 is 2GB per month.
Cheaper handsets also have lower maximum allowances - not that they're not generous enough: the Harrier can be bought with plans offering up to 10GB a month, for example. New flagship phones, however, can be bought with plans offering up to 40GB per month.
Coverage
None of that information is any good, however, unless we can get a decent signal from them.
Since they first launched in September 2012, they've made huge strides to cover as much of the UK in as short a time as possible.
The operators that came together to form EE, T-Mobile and Orange, had fairly good 2G and 3G coverage, but when the fledgling 4G operator appeared, they were still testing their 4G network in just four cities: London, Cardiff, Bristol and Birmingham.
Even so, EE's Chief Executive at that time, Olaf Swantee, declared optimistically that it would be "the fastest roll-out in UK history", pledging not only to have 4G operational in the first 16 cities within a couple of months, but in rural areas in Wales, Cumbria, and Cornwall during 2013.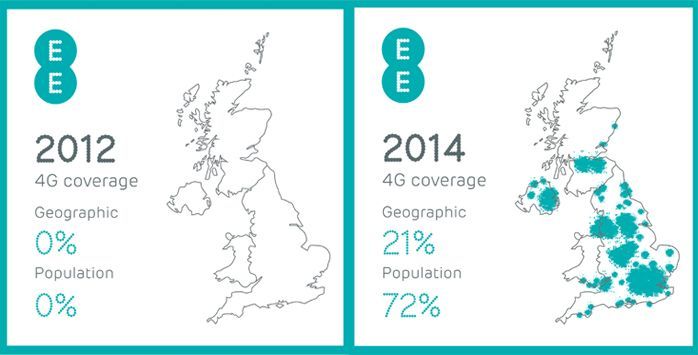 We're now at the stage where almost all of the UK population is covered - when they're in their home areas, at least - with geographical coverage at about two thirds of the UK.
In April 2016, EE pledged to get geographical coverage up to 95% by 2020 - which should mean that almost everyone (99.8% of the population) will have 4G mobile network coverage.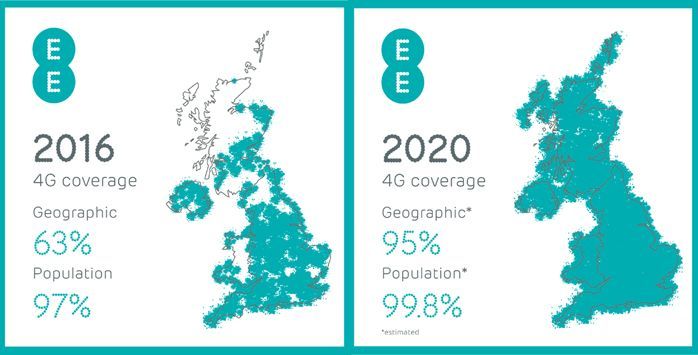 Usually we'd say that readers in urban areas have a good chance of being covered already, while those in more rural locations could well be out of luck - but EE do seem to have been sticking to their pledge to provide decent coverage to less populated areas.
EE are now making use of new owner BT's infrastructure to extend their network even further: they credited BT's fibre broadband network for making possible the switch-on of the 4G network in the Isles of Scilly.
Even so, while most people will be able to get a 4G signal from EE, the strength of that signal will vary depending on our exact location, whether we're indoors or outside, the device we're using, and various other factors. EE have a coverage checker on their website here.
Broadband and TV from EE
As well as selling mobile broadband, EE sell fixed line broadband and home phone.
As is fairly standard these days, getting EE's broadband relies on also taking their landline -and all packages come with an 18-month contract as standard.
Package
Broadband
Contract term
Upfront price
Monthly price
EE Broadband + Weekend calls
Up to 17Mb
Unlimited
18 months
£7
£19.50
for 18 mths,
then £28.50
EE Fibre + Weekend calls
Up to 38Mb
Unlimited
18 months
£7
£28.50
for 18 mths,
then £34.50
EE Fibre Plus + Weekend calls
Up to 76Mb
Unlimited
18 months
£7
£36.50
for 18 mths,
then £40.50
Customers who need a new phone line will also need to factor in a connection fee: it's usually £60 but at the time of writing it's half that, £30.
Note also that those opting for fibre broadband will usually need to pay a £50 fibre activation fee, also being offered at half price for the time being.
Most providers offer some kind of incentive for bundling more than one or two services these days, and EE are no exception: pay monthly mobile and 12-month SIM-only customers will get an extra 5GB of data free of charge if they take EE's broadband.
Once we've got EE Broadband, there's also the option to add EE's TV - which comes with a very clever take on Freeview: until Sky Q appeared, they offered more tuners than anything else out there, plus the ability to stream live content to other devices.
The box also allows users to download recordings to those devices - and keep those recordings for as long as they want.
Adding EE TV usually costs an extra £4.95 a month; those benefiting from a special deal on their broadband may find they're charged more to add EE TV to make up the difference, which seems a little sneaky.
There's more on EE's broadband and TV in our full review, available here.
Customer service
But while they provide good national mobile coverage and their set top box is just one of various innovative gadgets they offer, EE have had a somewhat disappointing history when it comes to their customer service.
In 2015 Ofcom fined them £1 million for the way they handled their mobile customers' complaints between July 2011 and April 2014.
For a couple of years they were the most complained about mobile and broadband provider in the UK, with complaints to Ofcom peaking at the end of the period above.
At that point, EE realised they had to do something - starting with bringing 1,000 customer service jobs back to the UK. Olaf Swantee hoped that, "within 18 months, I will be able to say that EE has done for customer service in the UK what it has done for networks".
By September 2015 they were able to say they'd seen complaints to the regulator drop by 50% - and by the end of June 2016 they were generating just four complaints per 100,000 customers:
Pay monthly mobile complaints per 100,000 customers, Q3 2014 - Q2 2016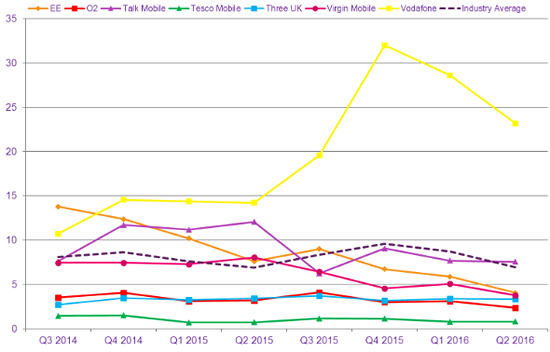 SOURCE: Ofcom Telecoms and Pay TV Complaints Q2 2016. Available here [pdf].
In conclusion
Given their ambition to roll out a nationwide 4G network in the fastest time possible, it's perhaps not surprising that something had to give in the early years - that something being customer service.
It's good to see that they've taken that problem seriously - and that now most of the basic 4G work is done, they're continuing to expand and improve their coverage: since September 2016 they've been introducing network speeds of up to 450Mb in certain areas.
They also win points for almost always being the first to offer the latest handsets, although that can often lead to them being beaten on price by at least one of their biggest rivals.
But coverage and speed do come at a cost - and now they're owned by BT, we may find that their dominance affects how competitive they feel the need to be.