BT Infinity vs Virgin Media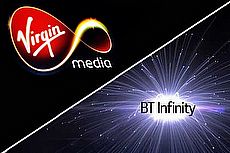 BT and Virgin Media are the two biggest ISPs offering fibre internet access in the UK - which naturally led us to wonder: who's doing it best?
In this guide we look at who's cheapest and who's fastest (skip to the end to see the results).
First though, check whether Virgin Media and BT Infinity are available in your area:
Enter your phone number and / or postcode above to check availability in your area.
Who's cheapest?
Let's start by asking: who does the fastest broadband cheapest?
The good news is that a little competition has done both BT and Virgin Media good: fibre is now not that much more expensive than ADSL, and there are options to suit most households in terms of price and download limit.
Here's a quick rundown of the broadband options for both providers, all with line rental and inclusive weekend calls:
Package
Broadband
Price
Total monthly
(incl. line rental)
50Mb Broadband + Weekend calls
Up to 50Mb
Unlimited
£8
for 12 mths,
then £19
£25.99
for 12 mths,
then £36.99
100Mb Broadband + Weekend calls
Up to 100Mb
Unlimited
£13
for 12 mths,
then £24
£30.99
for 12 mths,
then £41.99
200Mb Broadband + Weekend calls
Up to 200Mb
Unlimited
£21
for 12 mths,
then £32
£38.99
for 12 mths,
then £49.99
Infinity 1 + Line rental
Up to 38Mb
40GB usage
£10
for 12 mths,
then £21
£27.99
for 12 mths,
then £38.99
Unlimited Infinity 1 + Weekend calls
Up to 38Mb
Unlimited
£10.99
for 12 mths,
then £23
£28.98
for 12 mths,
then £40.99
Unlimited Infinity 2 + Evening & Weekend calls
Up to 76Mb
Unlimited
£25
for 12 mths,
then £30
£42.99
for 12 mths,
then £47.99
By this basic measure, Virgin Media offer slightly faster, supposedly more expensive, deals for about the same price, sometimes even a little cheaper, than BT charge for their much slower fibre offerings.
Most impressively Virgin Media's slowest fibre deal manages to beat BT's lowest price - and the BT deal also suffers from having a 40GB download limit.
Looking more closely at price
However, just looking at the headline package costs isn't always the best guide to which providers offer the better deals overall.
Special offers
Special offers for new customers often range from money off vouchers to money off the package for the first few months.
These deals can make considerable savings, so they're worth looking into. Here's what Virgin Media and BT are offering at the moment:
BT
What's on offer?
When you join online for:
Online Exclusive: Unlimited broadband just £5.99 for 12 months (usually £18/mth) + £75 BT Reward Card
Sorry, this offer ended 25 May 2016
BT Unlimited broadband up to 17Mb
Online Exclusive: Infinity 1 up to 38Mb (40GB usage) + TV Starter just £10 for 12 months (usually £25/mth) + £125 BT Reward Card
Sorry, this offer ended 25 May 2016
BT Infinity 1 up to 38Mb fibre broadband (40GB usage) + TV Starter
Online Exclusive: Unlimited Infinity 1 + Entertainment Plus TV just £20.99 for 12 months (usually £35/mth) + £125 BT Reward Card
Sorry, this offer ended 25 May 2016
BT Unlimited Infinity 1 up to 38Mb fibre broadband + TV Entertainment Plus
£125 BT Reward card
Sorry, this offer ended 25 May 2016
Any BT Infinity Broadband, with or without BT TV.
£75 BT Reward card
Sorry, this offer ended 25 May 2016
Any BT Broadband , with or without BT TV.
Free phone line installation or reconnection worth £130
With any BT Broadband package
See more deals and prices, and check availability on our main BT table here.
Virgin Media
What's on offer?
When you join online for:
Money off TV, broadband and phone for 12 months + free set up worth £49.95 + 6 months free Netflix
One of Virgin Media's Big Bundles
Save over £180 on broadband and phone + free set up
Virgin Media broadband
(with a Virgin phone line)
Exclusive offer: 50Mb broadband + phone £5 a month for the first 6 months (then £17.50)
This exclusive 50Mb broadband and weekend calls deal only
See more deals and prices, and check availability on our main Virgin Media table here.
Cutting phone line costs
Virgin Media distinguish themselves from BT by allowing customers to sign up without a phone line, although the saving for doing so is somewhat lower than we might expect.
Let's look, for example, at the 200Mb fibre deals from Virgin Media (which we review in more depth here):
Package
Price
Line Rental
Total monthly
200Mb Broadband + Weekend calls
£21
for 12 mths,
then £32
£17.99
£38.99
for 12 mths,
then £49.99
200Mb Broadband
£43.25
N/a
£43.25
It's not a big saving at all - and given the introductory offers available when adding in the phone, it can even be more expensive over the course of the contract.
But ditching the home phone line does mean potentially bigger savings further down the line - there's no need to worry about the cost of landline calls, and it's the only way to avoid increasingly steep line rental costs.
There's more information on broadband without a phone line here.
BT offer a discount when line rental is paid for 12 months in advance, a lump sum of £194.28 for the year. That reduces monthly line rental to the equivalent of £16.19 a month, which brings the BT Infinity deals a little closer to Virgin's in price.
That said, Virgin also offer upfront line rental - and at £164 a year until February 2016, it makes their line rental considerably cheaper than BT's.
Bundle options
Both Virgin Media and BT are big on phone, TV and broadband bundles, offering big discounts for their triple play subscribers.
Both offer a large range of on-demand content - at least some of which is free to all customers - all the core Freeview channels and movies, and Sky Sports or BT Sport for an additional monthly fee.
BT's TV bundles tend to be cheaper than Virgin's:
Package
Basic channels
Price
BT TV Starter
Up to 80
(12 in HD)
£0
BT TV Entertainment Plus
Up to 108
(12 in HD)
£10
BT TV Total Entertainment
Up to 130
(28 in HD, 1 in UHD)
£16
VM: More TV
70
(10 in HD)
£20
VM: TV M+
130
(11 in HD)
£22.50
VM: TV L
170
(11 in HD)
£29.50
VM: TV XL
230
(47 in HD)
£39.50
That's because Virgin Media has the edge in terms of the sheer number of channels available and their Tivo box, one of the best set top boxes on the market.
For more on the details of the providers' TV packages - and how they compare with Sky's - have a look at our TV guide.
Whilst it doesn't include BT, our Sky vs Virgin guide is also worth a look for more about how Virgin perform against their closest competitor.
Who's fastest?
Virgin Media advertise much faster speeds, and their claims tend to stand up. Technical differences between the networks should allow Virgin to deliver faster speeds, and independent testing confirms that customers do actually receive those higher speeds.
A cable apart
BT's "up to 38Mb" Infinity broadband service uses superfast fibre optics to link together BT exchanges and green street cabinets, creating a fibre to the cabinet (FTTC) network.
From there, BT connect to homes via a normal copper phone line, referred to as "the last mile".
Virgin Media have a separate fibre optic network which runs underneath the pavements of the areas in which it is installed (remember the chaos of all that digging?).
Then there's a short stretch of efficient coaxial cable to connect a customer's home to the fibre network outside.
The technical difference means that when Infinity was first launched, BT could only advertise speeds of up to 40Mb - at the time Virgin were offering up to 50Mb.
The much greater speeds their network is capable of - now up to 200Mb in some places - are something Virgin have been keen to play up ever since BT Infinity launched in January 2010.
Headline speed versus reality
However, in 2014 Ofcom said there was strong evidence that Virgin Media's network slowed down more at peak times, saying, "[BT] FTTC connections were less affected by peak time contention than cable [Virgin Media] connections".
That means Virgin Media users experience slightly slower speeds during the busiest periods of the day.
Peak time speeds tend to be lower anyway because of the sheer amount of people sharing the network at those busy times.
But for what that means in terms of actual speeds, here are Ofcom's latest figures from November 2014 (published February 2015):
Advertised speed
Average speeds
over 24 hours
Average speeds
at peak time
(8-10pm weekdays)
Up to 50Mb
52.5Mb - 53.3Mb
51.5Mb - 52.8Mb
Up to 38Mb
32.1Mb - 34.4Mb
31.9Mb - 34.2Mb
Up to 100Mb
94.3Mb - 99.5Mb
86.5Mb - 95.0Mb
Up to 76Mb
62Mb - 65.1Mb
59.3Mb - 62.6Mb
Up to 152Mb
129.5Mb - 135.8Mb
115.0Mb - 124.5Mb
Among BT's up to 76Mb customers, 93% can get speeds of more than 90% of that maximum speed during peak hours.
It's easy to see that the faster Virgin services suffer the most, but Virgin's maximum speeds are actually higher than their advertised headline speeds, which means the drop isn't as great as it could be.
Everyone on Virgin's 50Mb service gets the advertised headline speed. Among those on the faster packages, only 59% of 100Mb customers manage that, but only 33% of 152Mb customers got speeds of at least 90% of the advertised headline speed.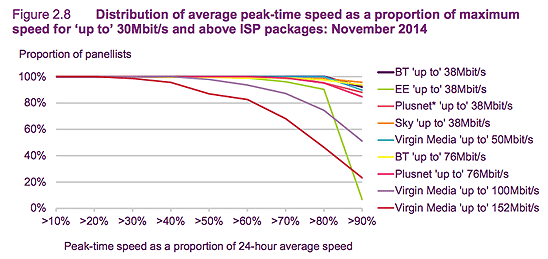 SOURCE: Ofcom, UK fixed-line broadband performance, November 2014. Available here
Ofcom have previously said that aside from contention, traffic management also plays a part in the reduction of speed for Virgin Media customers at peak times - but they haven't said by how much.
Virgin may claim to have the 'Ferrari' of broadband services but this report clearly shows it gets stuck in rush hour traffic. BT fibre on the other hand is far more reliable ensuring customers enjoy an open road however fast they're travelling.
BT spokesperson, 2013
Virgin Media's traffic management policy is no longer as restrictive as it once was, but it does slow the upload speeds of customers who reach "soft" upload limits.
Once customers on their 50Mb package have uploaded 1GB of data in the space of an hour between 4pm and 11pm weekdays, and between 11am and 11pm at weekends, their upload speeds will be throttled by up to 50% for 60 minutes.
Those with faster connections can upload more before they're throttled - 152Mb and 200Mb customers can upload almost 2GB of data before they're affected.
If users continue to upload data and hit a second threshold, their uploads will be slowed even further, and for another two hours from that point.
Since February 2013, BT haven't applied soft limits to their unlimited packages.
The research suggests that BT Infinity may well provide a more consistent service in the evenings, particularly for heavier users.
Usage limit differences
As we've noted above, Infinity broadband comes with either a 40GB download limit or an unlimited allowance.
The 40GB limit is definitely an improvement on the previous 20GB cap, although it may feel a little restrictive - in late 2014 Ofcom reported that the average household got through around 60GB of data per month.
It's enough for those who want superfast broadband in order to stream a few hours of SD video per night without interruption, as well as surfing and checking emails.
For gaming or streaming addicts, either unlimited Infinity or a Virgin Media deal are likely to be a better bet - but remember that the extent of their unlimitedness differs.
As mentioned, BT say users on unlimited packages can download as much as they want without being slowed at any time.
This was a surprising move from BT, mainly because of the number of customers they have. Previously "truly unlimited" broadband was associated with ISPs with smaller customer bases, purporting quality over quantity.
Even Sky, despite having a glowing record for customer service, often run into difficulties because of the high demand for their truly unlimited broadband.
That said, BT's change of policy wasn't that big a jump for them, given that they previously only slowed peer-to-peer downloads during peak times. We can only assume BT know what they're doing.
See this article for more information on downloads.
All in all
In conclusion, Virgin Media continue to beat BT Infinity in several key areas: their cheapest options are cheaper; they offer the fastest speeds; they allow users to sign up for fibre without having to take a copper phone line too.
However, BT really aren't far behind.
Ofcom tests show they may be offering a faster real world service, with lower contention and fairer traffic management, and their special offers are extremely competitive.
Let us know which you prefer in the comments below.