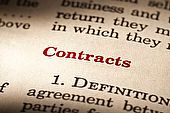 Check the small print: simple to say, much more difficult to do.
Broadband contracts are now near novella length and the language they use is almost uniformly opaque in exactly the sections where you'd hope it'd be most clear.
Here's why we've put together our take on broadband contracts:
What's in a contract?
A broadband contract's primary purpose is to establish the basic level of service the consumer should expect and what the provider should expect in return.
Generally the provider promises to:
Exercise reasonable care and skill to provide the agreed service
Pay any damages they're liable for if the service isn't provided (these are usually minimal)
While the consumer must promise to:
Use the service for a minimum period
Use the service legally (no hacking, for example)
Use the service reasonably (for example, within the download limit and according to the acceptable use policy)
Maintain any equipment the provider has given them
As you can see, contracts are heavily skewed: providers make it as difficult as possible for consumers to leave during the minimum contract period while taking little solid responsibility themselves for the level of service provided.
Tied up, tied down
The vast majority of broadband providers now sign up customers up to a minimum contract of 12 months.
18-month contracts are more common among packages with a higher monthly price, primarily those that include digital TV, as well as more recently fibre broadband.
Changing package - for example, moving to your provider's faster deal - often sparks a new mandatory contract. In general, that's the case no matter whether the change occurs before or after the initial period. Either way, it's worth checking with the provider before confirming the move.
A new contract may also apply if you take another service from the same provider, for example if you're a BT broadband customer and you want to add TV you will be required to take a new contract for both the TV and the broadband part of the package.
After the contract
Once the initial contract period is over, most broadband providers move their customers to a 30-day rolling contract and require just seven days notice of cancellation.
A very small proportion of providers used Automatically Renewable Contracts (ARCs), before they got banned by Ofcom.
With an ARC, once you come to the end of your lengthy contract the provider gives you 30 days' notice and then you can choose either to renew or cancel and go elsewhere.
As of 31st December 2011 however, the sale of ARCs for broadband (and phone) has been outlawed by Ofcom, as it was said to harm both consumers and competition.
Slamming
Distinct from an ARC is a practice known as slamming: simply, moving consumers to a new broadband service without their express consent.
In many cases, the first thing the customer knows about their new broadband provider is getting a bill from them in the post.
Never accept slamming. Signing up for more information from a provider, or starting but not completing online registration does not constitute permission to switch and you're entitled to ask to be moved back to your original provider.
Make sure the company involved gets their just desserts by reporting them to Ofcom

, too.
Getting out of a broadband contract
Broadband contracts are notoriously difficult to leave once you're tied in.
If you signed up to the broadband deal by phone, post or online and it's only been seven working days since the contract you may have a right to cancel under Distance Selling Regulations (see the full guide on this for more).
You also have rights if you're having serious problems with your connection or feel that you were mis-sold the broadband package.
See our guide here to making a broadband complaint for more on this situation.
If none of these situations apply to you - you're just dissatisfied but there's no serious failing on the part of the provider, you're moving home and don't want to take the provider with you or you've simply seen a better deal elsewhere and want to switch early - paying a cancellation or early termination fee is likely to be the only way out of a contract.
Here are a few provisions put together by Ofcom regarding opting out of a contract and the charges that apply.
Before you sign the contract, the minimum contract period must be clearly highlighted and easy to understand
It must also be absolutely clear that you risk having to pay a charge if you end the deal early, and you must also know how much that charge will be
The charge will never be more than the remaining amounts you would have normally paid, and also
The charge should reflect any savings a company might make when you cancel the deal, or anything that they can re-sell
Under the Unfair Terms in Consumer Contract Regulations Act 1999 as interpreted by Ofcom the cancellation cost must be less than the total cost of supplying the service to the end of the contract.
In practice, this means that most providers multiply the number of months you have left in your contract by slightly less than your monthly price.
So, say you have six months left and pay £10 a month you might be asked to pay £8 x six month which is £48.
Sidestepping a broadband contract
Charges like that make sidestepping a broadband contract altogether seem suddenly much more attractive.
Five UK broadband providers offer home contracts of 30 days or less, although they can be subject to fairly high setup costs.
Find out more about them in this full table and guide.
This article was first published 16 November 2011, it was last updated 22 March 2013.