Who's best for fibre broadband?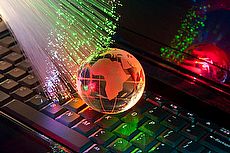 ©iStock.com/kynny
There are more fibre broadband providers in the UK than ever.
If you're trying to choose between the big, mainstream fibre ISPs, this is the guide for you.
Read on for our top four choices or click through to skip ahead to:
Our winners
So far, seven national ISPs have launched fibre broadband packages on the BT network which launched in January 2010. Virgin Media run their own fibre network.
Our top four fibre providers are:
Virgin Media: for the best speeds
Plusnet: the best budget choice
Sky: truly unlimited with good customer service scores
BT: for the best speed boosting router
You can see how each of the eight providers performed in the table below.
| | Speed | Usage | Fair Use | Customer Service | Router | Monthly Price | |
| --- | --- | --- | --- | --- | --- | --- | --- |
| | 50Mb, 100Mb, 200Mb | Unlimited | | | | £32.25 to £58 | |
| | 38Mb, 76Mb | Unlimited | | | | £32.98 to £37.98 | |
| | 38Mb, 76Mb | 25GB, Unlimited | | | | £27.40 to £42.40 | |
| | 52Mb, 76Mb | 25GB, Unlimited | | | | £29.99 to £49.99 | |
| | 38Mb, 76Mb | Unlimited | | | | £32 to £37 | |
| | 38Mb, 76Mb | Unlimited | | | | £34.50 to £40.50 | |
| | 38Mb, 76Mb | 50GB, Unlimited | N/a | | | £36.49 to £43.99 | |
| | 38Mb, 76Mb | Unlimited | N/a | | | £38 to £43 | |
For more on the ratings we've used please see our guides to:
BT Wholesale: spot the difference
Virgin Media, who have been providing fibre optic broadband since they took over NTL Telewest in March 2006, don't have to share their network.
BT have always shared their fibre network with their competitors - although in October 2010 Ofcom published regulatory guidelines that would stop them ever going back on that commitment.
"This statement is reassuring in that Ofcom agrees that we have been providing suitable unbundled access to our fibre for some months now," said BT at the time.
While the guidelines prevent any anti-competitive behaviour, such as exorbitant prices or restricted access, BT remain free to price wholesale access to their fibre network. So what's the difference between these BT fibre providers?
Clue: it's traffic management
At the time of this update, there's an obvious difference between the products offered by BT and those offered by most of their rivals in the table above: speed.
BT are in the process of upgrading all their entry level fibre customers from the 38Mb connections we're all used to, to a new mid-level fibre tier offering downloads of up to 52Mb and uploads of up to 10Mb.
This newest tier only became available to both BT and their resellers in early 2016, and we shouldn't be surprised that the only ISP offering packages using it so far are BT themselves.
Once we get beyond that difference, Ofcom's guidelines state that BT have to offer "virtual unbundled local access" to their fibre product. In other words, ISPs will be given a "wires only" product: BT can't set any network management on the line.
Additionally, as TalkTalk confirmed to ISPreview new fibre broadband providers can use their own engineers to connect customers, meaning they don't have to rely on BT Openreach.
"The wholesale product that BT and Openreach must offer must be designed to allow ISPs such as TalkTalk more flexibility to develop their own products.
"In particular, the product should be uncontended, unmanaged and not artificially capped, provided on a wires only basis and must be unbundled so that ISPs can provide the installation themselves rather than having to use an Openreach engineer," TalkTalk said.
We can understand why.
Not only does freedom to set their own traffic management and usage policies allow ISPs to establish unique selling points for their packages, but reliance on BT Openreach has often been behind many customer gripes.
The ISPs that have unbundled exchanges for normal copper phone line broadband (ADSL2+) have often gone on to establish a good reputation and opinion for their customer service - although that's not always the case.
As we reported in May 2012, fibre quickly proved to be profit making for the ISPs who took it up. Market competition is strong, which means prices have come down and providers have been encouraged to introduce more deals.
Surprisingly, the differences in traffic and network management have also caused some speed differences between the providers.
The best fibre broadband speeds
Ofcom's biannual report into real world broadband speeds looks at average speeds across the UK on the main network's ADSL2+ and fibre broadband connections.
Their last report, released March 2016, included more providers offering 76Mb fibre than ever before as the faster connections become available more widely, and BT's rivals find it more commercially viable to offer their own version of the service.
It was also the first showing for Virgin Media's newest top deal, offering up to 200Mb.
The result of the last speed test is below, with the providers listed alphabetically, alongside the current cost of their deals.
Advertised speed
24 hours
Peak time
8-10pm weekdays
Monthly cost
up to 38Mb*
34.3Mb - 35.5Mb
33.8Mb - 35.1Mb
£29.49
for 12 mths,
then £47.49
up to 38Mb
33.3Mb - 35.2Mb
32.9Mb - 34.8Mb
£28.50
for 18 mths,
then £34.50
up to 38Mb
32.3Mb - 34.2Mb
32.1Mb - 34.0Mb
£25
for 12 mths,
then £32.98
up to 38Mb
33.3Mb - 35.6Mb
33.1Mb - 35.4Mb
£28.99
up to 38Mb
31.7Mb - 35.1Mb
31.3Mb - 34.7Mb
£27
for 18 mths,
then £32
up to 50Mb
28.9Mb - 30.7Mb
27.5Mb - 30.1Mb
£32
for 12 mths,
then £40
up to 76Mb
57.4Mb - 61.1Mb
56.9Mb - 60.5Mb
£44.99
for 12 mths,
then £53.99
up to 76Mb
59.9Mb - 64.7Mb
53.8Mb - 57.1Mb
£32.50
for 18 mths,
then £40.50
up to 76Mb
54.8Mb - 58.1Mb
53.8Mb - 57.1Mb
£30
for 12 mths,
then £37.98
up to 76Mb
56.6Mb - 63.5Mb
55.6Mb - 62.4Mb
£43.99
up to 100Mb
93.3Mb - 98.2Mb
81.6Mb - 90.6Mb
£37
for 12 mths,
then £45
up to 200Mb
168.0Mb - 179.9Mb
148.0Mb - 164.4Mb
£45
for 12 mths,
then £53
* Figures not yet available for up to 52Mb service
SOURCE: Ofcom, March 2016. Available here [pdf]
*BT Infinity 1 speeds reflect those for up to 38Mb, the standard speed at the time. The price shown is for the up to 52Mb service.
Many of these packages come with introductory discount offers for new customers, which we'll look at in more detail below.
Ofcom's research found that, along with the speed results shown below, EE's up to 76Mb fibre deal had the fastest upload speed of all providers, averaging 17.1Mb.
Largely, that's because fibre over BT's network has much faster upload speeds - advertised as up to 19Mb - compared to Virgin Media, who even on their fastest package only advertise upload speeds of up to 12Mb.
Fibre offers
Finally, as we mentioned above, many of the fibre providers are competing for new business by offering introductory discounts.
However, some providers are also offering deals and incentives which we thought were worth listing here in full.
Here are some of the currently available offers from the biggest fibre providers:
Virgin Media
What's on offer?
When you join online for:
Need to know:
Money off TV, broadband and phone for up to 12 months + free set up worth £49.95
One of Virgin Media's Big Bundles
Save over £180 on broadband and phone + free set up
Virgin Media broadband
(with a Virgin phone line)
For more on Virgin Media and to search for packages see our review here.
BT
What's on offer?
When you join online for:
Need to know:
£100 BT Reward card with BT Infinity
Hurry! Offer ends in 2 days!
23 February 2017
Any BT Infinity Broadband, with or without BT TV.
Upfront costs and 12 month minimum term applies.
£50 BT Reward card with BT broadband
Hurry! Offer ends in 2 days!
23 February 2017
Any BT Broadband , with or without BT TV.
Upfront costs and 12 month minimum term applies.
Free phone line installation or reconnection worth £130
With any BT Broadband package
Minimum term applies.
For more on BT and to search for packages see our review here.
Sky
What's on offer?
When you join online for:
Need to know:
Reward Choice: £100 Tesco or M&S voucher or Prepaid MasterCard
Sorry, this offer ended 16 February 2017
Any Sky TV bundle
18 month minimum term. From £15 setup.


Sky Unlimited Broadband + line rental £18.99/mth for 12 months (then £28.99/mth)
Hurry! Offer ends 9 March 2017
Sky Unlimited broadband
(without Sky TV)
12 month minimum term. £9.95 set-up fee.


For more on Sky and to search for packages see our review here.
Do you have an opinion on who is best for fibre broadband? Let us know in the comments below.