Compare TV deals with Netflix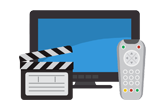 Comparing pay TV deals with us offers you:
Powerful search to find the best deal
Guides and reviews to help you decide
Check availability and compare TV deals with Netflix using the table below.
It's possible to add Netflix to the TV bundles available from some of the UK's leading digital TV providers. Some offer it during sign up, while others give us the chance to add it later, via our accounts or through the set top box.
To find the best TV deal with Netflix, search by provider, package price, or specify any other must have channels.
SORT DEALS BY:
Channels
HD Channels
Record TV
Includes
Contract
Upfront price
Monthly price
Top Deals
BT

TV Starter + Netflix (BT broadband customers only)

81
12
12 month
min term
£49


upfront

£8.99




per mth

GET DEAL
BT

TV Entertainment Plus + Netflix (BT Infinity customers only)

109
12
12 month
min term

Free setup

£13.49




for 12 mths,


then

£15.99

GET DEAL
Virgin Media

Mix TV + Netflix

151
11
12 month
min term
£14.99


upfront

£25.99




per mth

GET DEAL
Virgin Media

Fun TV + Netflix

191
11
12 month
min term
£14.99


upfront

£37.49




per mth

GET DEAL
Virgin Media

Full House TV + Netflix

246
50
12 month
min term
£14.99


upfront

£44.99




for 12 mths,


then

£47.49

GET DEAL

Includes BT Sport & ESPN free
Finding the best TV deal with Netflix
What can I watch on Netflix?
At any one time, Netflix has a library of about 3,000 different titles available to watch, including films, TV series and documentaries. They've become famous recently for the quality of their own productions, from Orange is the New Black and Sense8, to the Marvel series Jessica Jones and the animated comedy Bojack Horseman.
They also have a pretty good collection of recent TV shows from both here and the US; the UK content includes show like Sherlock, older seasons of Top Gear, Mr Selfridge and Derek, American shows include Brooklyn Nine Nine, Suits and Sons of Anarchy among many, many others. The "recent but not new" mantra also applies to their film catalogue – expect the blockbusters to be at least a few years old, and there are numerous gems from the 80s and 90s lurking in the collection.
Why should I add Netflix to my TV deal?
Adding Netflix to a TV deal may seem unnecessary – we can get it online its own with an online subscription easily enough. But there are advantages to bundling it with our TV package, the most obvious of which is the ability to easily watch all that content on a full sized screen – no having to fiddle with cables connecting the computer or tablet to the TV.
A couple of providers recognise that watching a streaming video service can affect other online activities, and allocate extra bandwidth to services accessed through their TV boxes – whether it's their own on demand content, catch-up TV, or Netflix. This ensures the video quality is as good as possible, while not bringing our other online activities to a grinding halt. Taking Netflix through the TV can therefore result in a better quality stream than we'd get watching on another device. It's also more likely that Netflix content will be included in TV content searches too – from simple like for like title matches, to offering recommendations based on our search terms.
What do I need to get Netflix?
As Netflix is a streaming service, it relies on a decent data connection – and when we're watching through the TV that most likely means using our broadband. Netflix say the minimum connection speed required to stream their content is just 0.5Mb, and their recommended minimum is 2Mb – lower than the TV providers' own minimum speed requirements for their own streaming services, which tend to be around 3Mb.
Getting Netflix doesn't have to mean getting fibre – unless another part of the TV subscription also depends on the extra speed that comes with fibre broadband. Unlimited broadband is probably a better idea – a medium quality SD Netflix stream will get through about 0.7GB per hour, while HD streams will use up to 3GB an hour. Some providers don't count on demand content watched through their set top boxes towards any data caps – but those with a two-screen or four-screen Netflix subscription may like the peace of mind.
Where can I get Netflix cheapest?
Netflix are famous for giving all their new customers a month's free trial, knowing that most of us will find ourselves hooked within a few weeks. Otherwise, however, they charge standard subscription fees depending on how many screens we want to watch on at once, or picture quality. Because it costs the same no matter whose TV deal we're adding it to, we're best off looking for the best value TV deal for us, then checking whether we can add Netflix on top of that. Use the comparison table above to search for the best TV deal that also offers Netflix.
Read our full guide here to Netflix for more on how the subscriptions work.
Why don't all the pay TV providers offer Netflix?
Not all pay TV providers offer Netflix. Sky are notable by their absence from the above table – and the rivalry between them and Netflix means it's possible that the broadcaster may never offer the service. That's something of a shame, as Sky are one of just two pay TV providers who also provide set top boxes capable of broadcasting in ultra HD – which is included in Netflix's four-screen subscription.
As is clear from the table above, however, Sky are the one exception – so there are plenty of options, offering a wide variety of channels and bolt-ons, that do allow us to watch Netflix through our pay TV deal.
More on Netflix and Pay TV

Almost a quarter of UK households have a Netflix subscription - so how can you get it on your TV?

Which big service, Netflix, Amazon Video or Now TV, gives you the best deal? We take a look.

Fancy watching Sky Atlantic or Sky Sports without needing a contract or satellite dish? Here's our guide to Now TV.

Getting Sky Cinema - the new name for Sky Movies - live and on demand, for the best price wherever you live.

The UK's biggest pay TV providers can be difficult to compare. We look at the differences.

Multiroom, TV services in every room, don't have to cost the earth.