Tooway satellite broadband review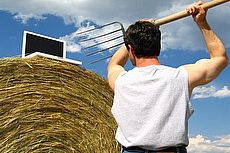 TOOWAY'S satellite broadband deals: do they really offer an alternative to poor quality ADSL for those in rural areas?
In the UK, satellite is often the broadband of last resort: an option for those still struggling with a dial-up connection, so far from a telephone exchange or decent 3G or 4G signal that broadband goes at a snail's pace, or for people unable to get any kind of internet access at all.
Tooway are one of the three biggest satellite broadband operators in the UK; like the others (SES and Avanti) they operate across Europe in order to provide some economy of scale.
The limitations of the technology mean that satellite broadband isn't superfast, but it can offer speeds on a par with a good ADSL service; in early 2013, Tooway upgraded their download speeds to up to 22Mb, and over time there have been improvements to data allowances and prices.
How it works
Like all satellite services, Tooway require a dish to be attached to the property with a clear line of sight, then, as with other broadband providers, a modem to connect the household's internet-enabled devices.
The satellite collects a signal from a Eutelsat geostationary satellite at the speed of light.
It can take from a quarter of a second to three quarters of a second to send and acknowledge the signal (round trip time), which allows for download speeds of up to 22Mb and upload speeds of up to 6Mb.
How much does Tooway satellite broadband cost?
Only a tiny proportion of broadband connections are via satellite, so although Eutelsat covers all of Europe, the (lack of) economy of scale results in an expensive connection.
For example: Broadband Wherever, one of the main Tooway distributors, charge from £14.95 for the 5Mb package, up to £84.95 for the up to 22Mb Extra deal.
That's far more than standard ADSL home broadband - and those are the prices for just the broadband service. Prospective customers must also factor in some rather steep equipment and setup costs.
Like all broadband connections, the cheapest deals offer slower speeds and a smaller monthly download limit: 5Mb with a 2GB data limit is the smallest package available, while the most expensive offers speeds of up to 22MB and a data limit of 100GB - although unlimited usage between midnight and 6am is included with Tooway 25, 40 and Extra.
The prices we've quoted below are those available from Broadband Wherever, although Tooway do list a couple of other recommended distributors on their site.
Package
Broadband
Contract term
Upfront cost
Monthly cost
Tooway 2
Up to 5MB
2GB usage
24 months
From £448
£14.95
Tooway 10
Up to 22MB
10GB usage
24 months
From £398
£24.95
Tooway 25
Up to 22MB
25GB usage (unlimited at night)
24 months
From £398
£44.95
Tooway 40
Up to 22MB
40GB usage (unlimited at night)
24 months
From £398
£64.95
Tooway Extra
Up to 22MB
100GB usage (unlimited at night)
24 months
From £398
£84.95
Note the upfront costs. As mentioned, they're rather steep - and these are the minimums charged by Broadband Wherever, but they do at least include professional installation.
Shorter contracts, of 12 months or on a month-by-month basis, are available for another £75 or £125 respectively; the prices we've listed here also include the cheapest router available with Broadband Wherever.
As we'll explain further below, both the upfront and monthly prices do vary from distributor to distributor, but the costs listed above are fairly standard.
Pay as you go broadband
Tooway also offer a pay as you go deal, Tooway Easy, which is only available for people who own their equipment and comes with an annual cost of £49.99.
Customers then pay for tokens as and when they need them; these give users a set amount of data to be used within a specified period of time:
| | Package | Token | Broadband | Token cost | Plus annual cost | |
| --- | --- | --- | --- | --- | --- | --- |
| | Tooway Easy | Two day | Up to 22Mb; 2GB allowance | £19.99 | £49.99 | |
| | Tooway Easy | Seven day | Up to 22Mb; 5GB allowance | £29.99 | £49.99 | |
| | Tooway Easy | One month | Up to 22Mb; 15GB allowance | £69.99 | £49.99 | |
Do I have to buy all the equipment?
There's no commitment-free way of signing up for satellite broadband. Customers must either buy the equipment outright, or rent it but agree to being tied in to a lengthy contract.
Depending on which supplier we go through, renting the kit will add between £5 and £7 to the monthly bill - it but does bring down the upfront cost. It also means signing up to a minimum two year contract - and customers are required to return some of the equipment when they leave.
Setup costs vary depending on distributor. Some offer free setup and free connection - but this again can add to the monthly price.
The option to "own your kit" allows customers to leave after just 30 days. The downside is that all of the equipment has to be paid for upfront, which can cost between £80 and £350 depending on the package being bought at the same time.
All customers can choose between installing the equipment themselves, which is free - or having a professional install it. Prices for installation vary depending on whether it's done by the retailer or a local installer, but expect to pay around £150.
Because satellite broadband is so expensive from the off, there is help available - we look at this more below.
The silver lining in the face of all these extra charges is that there's no need to have a home phone line to receive satellite broadband.
There's more detail on Tooway's packages here.
Help with setup costs
Until very recently, the only people who were guaranteed help with the cost of getting satellite broadband were those in Wales.
Wales
The Welsh Government have updated their broadband grants scheme to include a wider range of broadband options for those who can't get a decent connection - that is one of at least 2Mb.
The main requirement is that the new connection must at least double a household's download speed - so anyone whose connection averages out at 10Mb will only qualify for help if they go for a service offering at least 20Mb.
For those households where satellite broadband is the most realistic option for getting online at all, this shouldn't be a problem - so people looking at Tooway satellite broadband could be eligible for at least £400 towards the cost of the equipment and set up.
There's more on the scheme here.
England and Northern Ireland
Under the Government's commitment to getting basic broadband - and then superfast broadband - available to everyone in the very near future, satellite broadband is now much more affordable for people in rural parts of England and Northern Ireland as well.
After running two pilot schemes in Suffolk and West Yorkshire, the Government launched the nationwide version of their satellite broadband subsidy scheme in December 2015.
Like the Welsh scheme, it pays towards the cost of getting started - monthly subscription costs aren't included - and it's reckoned that most eligible applicants will benefit by about £350.
Eligibility depends on there being no other effort to improve broadband speeds in the area in the near future - say, within the next 12 months. Anyone thinking of applying can check whether their local superfast scheme is taking part here.
Potential problems
In the past, satellite broadband was held back because of latency problems - that is, degradation of the signal because of the sheer distance it had to travel.
Tooway say their acceleration technology shortens travel time, and the speeds now available are actually faster than those achieved by many home and mobile broadband deals.
However, to maintain those speeds in the face of the latency problems caused by satellite technology, Tooway apply very strict limits on downloads.
Tooway say customers who download more than their usage allowance won't be cut off, however their connections will be slowed significantly.
Even customers with the most expensive deal, Tooway Extra, will find that once they've used more than 40GB of data in a month they'll only be able to use email and do basic browsing - no Youtube or Netflix - at peak hours for the rest of the month.
People who do exceed their monthly usage allowances can purchase more in the form of Volume Booster Tokens, which start at 1GB, or persevere with extremely slow - 64Kb - access until their next billing cycle.
Another potential problem is the line of sight. The satellite must have a clear line of sight to work correctly - this is something that should be checked by the engineer at installation.
Before it gets to that point, it is at least possible to check the line of sight for ourselves on Tooway's website, using their nifty "dishpointer" tool; all potential customers must also complete a site survey.
Finally, satellite connections can be affected by very extreme weather: heavy snow, rain or wind, anything which disrupts the satellite.
Tooway are keen to emphasise that this only applies in very extreme conditions.
.