Tesco broadband review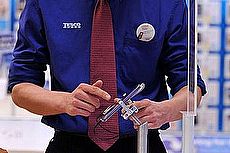 Broadband from supermarket giant Tesco is cheap and cheering for Clubcard holders.
Their internet and phone deals, provided on the Cable and Wireless network, are basic but fairly easy to understand.
That will change later in 2015 as a result of Tesco Broadband's sale to TalkTalk - which will affect all customers in contract.
But until then, low prices and the promise of Clubcard points for using the service are an attractive proposition for many.
Basic broadband and calls
Tesco broadband is an up to 14Mb service, which will mean about 7Mb speeds for the average household, with unlimited downloads.
Like almost all budget broadband providers, they require all broadband customers to also take their line rental.
Package
Price
Line rental
Total cost/month
Upgrading to inclusive Anytime calls costs an extra £5 a month. We told you Tesco keep things simple.
UK's cheapest?
These prices are among the UK's lowest.
Tesco are almost always in the top five cheapest broadband deals - the current top five are shown below - because they generally maintain an introductory offer reducing the cost of their broadband for the first 12 months.
Package
Broadband
Price
Line Rental
Total Price
Setup Cost
SimplyBroadband
Up to 17Mb
Unlimited
Free
for 18 mths,
then £5
£17.70
£17.70
for 18 mths,
then £22.70
Free
Visit TalkTalk
Broadband Unlimited (for existing Sky TV customers)
Up to 17Mb
Unlimited
Free
for 12 mths,
then £10
£16.40
£16.40
for 12 mths,
then £26.40
Free
Visit Sky
Broadband Unlimited + Talk
Up to 17Mb
Unlimited
Free
for 12 mths,
then £10
£16.40
£16.40
for 12 mths,
then £26.40
Free
Visit Sky
Broadband + Weekend calls
Up to 17Mb
Unlimited
£1
for 12 mths,
then £9.95
£16.40
£16.40
for 12 mths,
then £26.35
Free
Visit EE
Unlimited + Talk Weekends
Up to 17Mb
Unlimited
£2.50
for 12 mths,
then £9.99
£15.95
£15.95
for 12 mths,
then £25.94
Free
Visit Plusnet
A wireless router is included free with Tesco packages, and there's no charge for set up.
Up until late 2014, Tesco's line rental was among the more expensive, but despite the Big Four telecoms providers raising their prices in time for Christmas there's no sign of Tesco joining in just yet.
They also offer the option of paying for a year's line rental upfront, at the reduced price of £138. That's equivalent to a monthly line rental bill of £11.50 a month - almost the cheapest upfront option available.
In addition, call costs outside of allowance are fairly priced. As with other phone providers, inclusive calls last for up to 70 minutes, after which calls are charged at normal rates.
Paid call costs vary from 9.0p/min to 12.5p/min, with a call set up charge of 14.8p.
It's still free to dial 1471 (last number called) and 141 (withhold number). But basic voicemail - accessed by dialling 1571 - costs 50p per month.
The catch: how is Tesco so cheap?
Tesco broadband is pretty cheap and, as with all budget providers, we need to look at why.
Limited availability
Since November 2009, Tesco Broadband have run their home broadband service through Cable and Wireless on what used to be the Bulldog network.
That supplies LLU ADSL2+ to around 900 UK exchanges which means that availability, while fairly extensive, falls short of some of the larger suppliers - TalkTalk, for example, supply about 2,000.
You can check availability through our Tesco package search here.
Enter your phone number and / or postcode above to check availability in your area.
Those who can't receive Tesco broadband through the Bulldog network might wish to opt for an "out of area" Tesco Broadband deal for £17 a month plus line rental.
In addition, Bulldog's network isn't one of the UK's fastest: based on independent results from similar providers, 6Mb to 8Mb speeds seem likely to be the average.
Tesco broadband provide an estimated line speed through a postcode and phone number search on their site.
That'll be based on the property's distance from the local exchange and the technology available in the local area.
Unlimited small print
The promise of unlimited downloads should also be taken with a pinch of salt.
The provider's fair use policy notionally limits the amount customers can download.
However, we haven't heard of any customers actually falling foul of this policy - if you have, let us know in the comments - and, in any case, it should only affect very heavy downloaders.
It's worth knowing about, but not necessarily something to worry about unless you're a Skype addict or P2P fiend.
Customer service
It's worth bearing in mind that this is a basic broadband service, and it could be prudent to expect customer service to be similarly basic.
Having said that, Tesco aren't particularly well known for poor service, and the company's mobile phone customer service department gets more or less consistently positive reviews which, we think, bodes well.
Clubcard points
Finally, there's one more reason Tesco do things at low prices: to make you shop more with them, whether in their supermarkets, online or through one of their other services - and with the added incentive of Clubcard points.
Their broadband is no exception.
Enter a Clubcard or e-Clubcard number on sign-up, or through the "your profile" portal afterwards will earn you one Clubcard point for every £1 you spend on broadband and calls.
Tesco have also been known to offer bonus Clubcard points to new customers, so if the impending switch to TalkTalk doesn't put you off, keep an eye out for deals.