Is Plusnet broadband any good?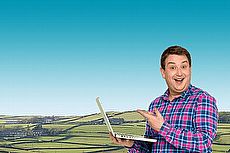 Plusnet claim they can deliver on service and stay low cost - are they right? We take a look.
Plusnet are owned by BT and use much of the larger provider's infrastructure, occasionally supplemented with their own equipment.
What they offer over BT, and indeed many other providers, is cheaper prices along with a reputation for decent customer service and some attractive extras such as flexible contracts and unlimited downloads outside of peak times.
To keep prices low, however, Plusnet do strongly encourage customers to take their home phone.
In this review of the service we're going to take an in depth look at Plusnet's:
First though, here's a quick run down of their main packages:
The following are available for those that take Plusnet line rental for £14.50, with inclusive weekend calls.
Package
Speed
Usage
Price
Essentials + Talk Weekends
Up to 16Mb
10GB
£5.99
Visit Plusnet
Unlimited + Talk Weekends
Up to 16Mb
Unlimited
£2.99
for 12 mths,
then £9.99
Visit Plusnet
Essentials Fibre + Talk Weekends
Up to 38Mb
40GB
£15.99
Visit Plusnet
Unlimited Fibre + Talk Weekends
Up to 76Mb
Unlimited
£12.50
for 9 mths,
then £19.99
Visit Plusnet
Or these deals are available, for a little more, with any standalone line rental provider.
BT's line rental, for example, is currently £15.45 a month, with inclusive weekend calls. Other line rental providers are cheaper.
For more details and pricing of options including Anytime call plans, search Plusnet's deals using the postcode tool above.

It's also worth noting that Plusnet are currently offering the following limited time special offers:
12 months unlimited broadband from £2.99 a month
ends 8 Apr 2014
Sign up for Plusnet broadband and phone here for this offer.
9 months unlimited fibre broadband just £12.50 a month
ends 8 Apr 2014
Sign up for Plusnet broadband and phone here for this offer.
Read on for the complete guide.
The UK's cheapest broadband?
Plusnet used to proudly wear the 'UK's cheapest broadband' crown, largely because of Essentials' 10GB download limit and the reasonably priced line rental detailed above.
Now, several providers undercut Plusnet, though only by pennies. Here are the UK's current top three cheapest deals:
Package
Broadband
Price
Line Rental
Total Cost
Initial Cost
Saver
20GB usage
£1.20
£13.99
£15.19
Free
Visit Primus
Unlimited Broadband + Weekend calls (mobile customer)
Up to 17Mb
Unlimited
£2
for 12 mths,
then £6
£15.40
£15.40
for 12 mths,
then £21.40
Free
Visit EE
Broadband + Evening & Weekend calls
Up to 14Mb
Unlimited
£2
for 12 mths,
then £6
£15.40
£15.40
for 12 mths,
then £21.40
Free
Visit Tesco
Plusnet fibre deals are also pretty competitive on price.
Essentials fibre is currently cheaper than BT Infinity, despite the fact that both are providing more or less the same service:
Speed
Usage
Price
Line rental
Total
Up to 50Mb
Unlimited
£7.50
for 6 mths,
then £15.50
£15.99
£23.49
for 6 mths,
then £31.49
Visit Virgin Media
Up to 38Mb
40GB
£15.99
£14.50
£30.49
Visit Plusnet
Up to 38Mb
20GB
£7.50
for 6 mths,
then £15
£15.99
£23.49
for 6 mths,
then £30.99
Visit BT
When it comes to big/unlimited downloads with the fibre service, Virgin Media actually just beats Plusnet to the post, but they're still cheaper than the same deal from BT:
Speed
Usage
Price
Line rental
Total
Up to 100Mb
Unlimited
£12.50
for 6 mths,
then £20.50
£15.99
£28.49
for 6 mths,
then £36.49
Visit Virgin Media
Up to 76Mb
Unlimited
£12.50
for 9 mths,
then £19.99
£14.50
£27
for 9 mths,
then £34.49
Visit Plusnet
Up to 76Mb
Unlimited
£20
for 3 mths,
then £26
£15.99
£35.99
for 3 mths,
then £41.99
Visit BT
Check our packages by cost table for more options.
All in all, Plusnet are still one of the cheapest ISPs out there, though no longer always the cheapest.
It's worth being aware that they keep pricing low by using a geographic pricing system and strongly encouraging customers to take their line rental.
Geographical pricing
Historically, Plusnet kept prices low by only passing the biggest discounts on to those in market 3 exchanges, the most competitive areas and the cheapest to supply.
However, as of July 2012, Plusnet's cheapest deals are now available in both market 2 and 3 exchanges.
That means, in line with all other providers except BT, only those served by a market 1 telephone exchange (where only BT wholesale is available) will pay an inflated price, around double what the majority of customers pay.
However, all other ISPs except BT also inflate prices for market 1 households so it's possible that Plusnet could still be the cheapest option available.
No phone? Expect fees
With phone or without, Plusnet now finally offer a free wireless router (if you don't count a charge for postage) like most other ISPs - previously you had to buy one from them.
As you can see above, however, in the main Plusnet's cheap prices tend to depend on taking their line rental.
Connection is only completely free when customers take home phone as well as broadband and although line rental is cheaper than elsewhere that isn't a switch everyone wants to make.
Without Plusnet home phone there's a £25 setup fee.
Plusnet's free connection also assumes that you take their deal on a 12 month contract.
Read more on home phone below and find more on one month contracts here.
Plusnet home phone
Luckily, since as we mentioned they push it pretty hard, Plusnet line rental is cheaper than most of the major providers, if not some cheap phone line specialists.
There's a choice of three call plans: inclusive Weekends, free with line rental, inclusive Anytime for £5 extra a month, and inclusive Anytime with International minutes for £7 extra.
All offer a basic voicemail package and free anytime calls to other Plusnet phone customers.
At the time of writing, UK landline calls are charged at 8.41p per minute at any time and UK mobile calls cost 12p per minute.
A 13.87p setup fee applies to non inclusive calls.
As well as inclusive UK landline calls with Anytime, customers get 25% off calls to top international destinations.
For £2 more a month, Anytime International offers 300 minutes each month to 35 international destinations.
0845 and 0870 numbers count as UK landlines within inclusive periods, which is a nice extra.
It's worth noting, that inclusive calls are capped at 60 minutes - so hang up and redial to avoid charges. Inclusive International calls are limited to 30 minutes, but again - you can redial to avoid charges.
You can choose to add extra features - such as caller ID and a more advanced voicemail service - when you sign up, these features usually cost from 99p to £4 (most are around £2.50).
Customer service stars?
Finally, Plusnet's reputation for customer service has, for a long time, beaten that of most of the larger providers.
As noted above, calling customer service is free from a landline and there's a 0345 number if the problem is your landline, which is standard rate to landlines even from a mobile.
The UK call centre staff had a reputation for being friendly and helpful but staying off the phone altogether is often possible - they will text updates to mobile phones, for example, and non-urgent problems are resolved through an online ticket system.
However, as the provider has grown larger in the two years or so we've started, perhaps inevitably, to hear more complaints regarding the quality of the support on offer.
Although they are still ranking among our top 5 for customer service they're not at the top and we're increasingly concerned about the quality of their support.
There are now better providers out there for service.
However, Plusnet still continue to offer much more flexible contracts than most providers.
The nitty gritty: contracts
Now lets get into the details: usage limits; those flexible contracts and speeds.
Usage allowances
Plusnet users pay based on monthly usage allowances as follows:
Essentials: 10GB
Essentials fibre: 40GB
Unlimited: Unlimited
See our usage limit checklist for more on what 10GB and 40GB actually mean in terms of your day to day internet use.
As an added bonus for customers on limited usage with Essentials, Plusnet's service is completely unlimited between the hours of midnight and 8am. During this time, internet use won't count towards the monthly total which is good to fall back on.
Plusnet have only recently moved to offering an 'unlimited' package. Previously their top deal was called 'Extra' and offered 60GB and 250GB with fibre.
You can read more on this in our news coverage of the update but Plusnet Unlimited is a much improved offering.
Flexible contracts
Plusnet offer a no contract option with a minimum term of 30 days on their standard broadband (e.g. not fibre) for a £25 setup charge.
That means take broadband and home phone without a contract and setup is £25, broadband without home phone and without a contract will cost £50 to setup.
While contracts at least a year long are standard practice in the broadband world, Plusnet's opt-out does mean that you can leave at any time with 30 days notice and no penalties.
Plusnet is currently one of the cheaper ISPs for short term contracts, although it's worth keeping in mind how long you may end up staying.
It's also worth considering if you can switch your line rental as well, as £25 setup is reasonable, whereas £50 starts to look a lot steeper.
For example, often in the case of student house shares that only need broadband for 9 months, it can be cheaper to take a longer contract and pay 3 months of cancellation than to pay the upfront cost of a no contract deal.
Whilst this also covers usage allowances (an issue for sharers), we've looked at these savings, as well as other short term packages, in more detail in our student broadband guide here.
Speeds
ADSL speeds
Plusnet's standard deals are advertised as up to 16Mb. According to Ofcom's most recent research actual averages are:
| | 24-hour average | Peak (8-10pm weekdays) |
| --- | --- | --- |
| Up to 16Mb | 8.4Mb to 10.6Mb | 8.2Mb to 10.4Mb |
That might sound disappointing but it actually puts Plusnet around the top of the pack when it comes to ADSL speeds.
The last Ofcom report, released March 2013, revealed that Plusnet has become the UK's fastest provider for up to 16Mb advertised speeds beating down the, now defunct, O2/Be network.
Plusnet have now held the top spot for two Ofcom reports running.
However, averages can only tell us so much. Remember that much more accurate estimated speed (i.e.: based on the local exchange and area) is available as part of the signup process.
Fibre speeds
Plusnet fibre broadband also did well in the Ofcom speed tests, beating the same 38Mb fibre product from BT. They're also one of our top four for fibre broadband in the UK.
In addition to the results below, Ofcom also noted that Plusnet had the fastest upload speeds on its fibre broadband deal than all other providers, including Virgin Media's up to 120Mb service.
Plusnet fibre up to 76Mb averaged upload speeds of 16.8Mb.
| | 24-hour average | Peak (8-10pm weekdays) |
| --- | --- | --- |
| Up to 38Mb | 31.9Mb to 35.4Mb | 31.3Mb to 34.7Mb |
| Up to 76Mb | 59.5Mb to 62.6Mb | 56.8Mb to 59.8Mb |
More on traffic management
Plusnet are unusual in that they take considerable effort to explain their traffic management system so it's worth mentioning here.
All traffic management aims to keep speeds up by prioritising the activities, such as browsing web pages, that you need to keep running fast as you go about your day-to-day online business and slowing others, like downloading files.
There's also a limiting system which restricts certain activities - such as P2P file sharing and streaming - at peak times.
All in all, these restrictions are likely to result in generally more consistent speeds. Those who do need downloads prioritised, for gaming or working from home through a VPN for example, can buy the Plusnet Pro add-on for an extra £5 a month on a rolling one month basis.
Traffic is managed as follows:
Essentials: prioritises VoIP
Unlimited: prioritises VoIP and gaming
Pro (£5 extra on any deal): prioritises VoIP, gaming, VPN, FTP and Other (which could include applications not using a standard port number)
In effect, higher priority traffic gets access to bandwidth before lower priority traffic.
Plusnet may not have the fastest advertised broadband speeds compared with other providers but by managing their network in a common sense way they've managed to vastly improve their customers' actual user experience online.
This is worth noting as you look at fibre: often when we say we want fast broadband, actually we want something more like broadband that doesn't stall.
And that's what Plusnet are going out of their way to try to offer here.
Decided? The best Plusnet deal
Plusnet broadband deals have a number of unique features - from unlimited off-peak downloads, to a unique traffic management policy - which have seen them slowly garner customers over the years and keep them.
However, do take the time to choose the best deal for your usage: you can find more help here.
And don't forget to keep an eye out for Plusnet's special offers, which are frequently changed.