Is Plusnet broadband any good?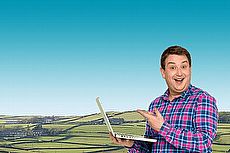 Plusnet sell themselves as customer service superheroes with super low prices.
Do those claims stack up? We've taken an in-depth look at the BT owned provider to find out.
Click through or read on for more on:
Plusnet prices
Let's start with those low prices. Here are the main Plusnet deals:
Package
Speed
Usage
Line rental price
Broadband price
Unlimited + Talk Weekends
Up to 17Mb
Unlimited
£15.95
£2.50
for 12 mths,
then £9.99
Visit Plusnet
Unlimited Fibre + Talk Evenings & Weekends
Up to 38Mb
Unlimited
£15.95
Free
for 6 mths,
then £14.99
Visit Plusnet
Unlimited Fibre Extra + Talk Evenings & Weekends
Up to 76Mb
Unlimited
£15.95
£19.99
Visit Plusnet
The deals above include Plusnet's line rental but they're also available, for a little more, with any other line rental provider, some of which are cheaper.
| | Package | Speed | Usage | Price | |
| --- | --- | --- | --- | --- | --- |
| | Unlimited | Up to 17Mb | Unlimited | £12.49 | Visit Plusnet |
| | Unlimited Fibre | Up to 38Mb | Unlimited | £17.49 | Visit Plusnet |
| | Unlimited Fibre Extra | Up to 76Mb | Unlimited | £22.49 | Visit Plusnet |
For more details on how prices change with Evening + Weekend, Anytime or International call plans or 30 day contracts, search Plusnet's deals here.

Be aware that the following Plusnet offers will only be available for a limited time:
£70 cash back + unlimited broadband £2.50 for the first 12 months (normally £9.99)
ends 18 Dec 2014
Sign up for Plusnet Unlimited broadband and phone for this offer here
6 months free Unlimited Fibre up to 38Mb (then £14.99)
Sign up for Plusnet Unlimited Fibre up to 38Mb broadband and phone for this offer here
The UK's cheapest broadband?
Plusnet used to proudly wear the 'UK's cheapest broadband' crown, largely because of the Essentials package, which had a 10GB download limit and was withdrawn in June 2014.
In a bid to regain that crown Plusnet launched a variation of it's Unlimited deal in mid November 2014. The new package offers the same deal except the minimum contract term is 18 months, instead of the standard 12 months.
To compare, here's that top three. Note though, that at the time of writing both Tesco and Fuel's cheapest deals have minimum terms of 12 months.
Package
Broadband
Price
Line Rental
Total Cost
Initial Cost
Unlimited Broadband
Up to 16Mb
Unlimited
Free
for 12 mths,
then £4
£15
£15
for 12 mths,
then £19
Free
Visit Fuel Broadband
Broadband + Evening & Weekend calls
Up to 16Mb
Unlimited
£2
for 12 mths,
then £6
£15.40
£15.40
for 12 mths,
then £21.40
Free
Visit Tesco
Broadband + Weekend calls
Up to 17Mb
Unlimited
£2.50
for 12 mths,
then £9.95
£15.75
£15.75
for 12 mths,
then £25.70
Free
Visit EE
And here's Plusnet's 12 month option.
Unlimited + Talk Weekends
Up to 17Mb
£2.50
for 12 mths,
then £9.99
£15.95
£18.45
for 12 mths,
then £25.94
Free
Visit Plusnet
As you can see, Plusnet are still very low cost, whether opting for the 12 or 18 month contract deals.
Fibre prices
Plusnet are among the cheapest available when it comes to fibre services.
Fibre from TalkTalk is slightly cheaper, not including the special offer, but Virgin Media are a bit more expensive and the same deal that are Plusnet are offering is considerably more from BT.
Note also that TalkTalk have recently bumped up their line rental, and BT are due to do the same 1st December. Plusnet have yet to announce any price increases on their line rental, but it's likely they'll follow suit at some point.
Speed
Usage
Price
Line rental
Total
Up to 38Mb
Unlimited
£6.75
for 6 mths,
then £13.50
£16.70
£23.45
for 6 mths,
then £30.20
Visit TalkTalk
Up to 38Mb
Unlimited
Free
for 6 mths,
then £14.99
£15.95
£15.95
for 6 mths,
then £30.94
Visit Plusnet
Up to 50Mb
Unlimited
£12
for 12 mths,
then £17.50
£16.99
£28.99
for 12 mths,
then £34.49
Visit Virgin Media
Up to 100Mb
Unlimited
£17
for 12 mths,
then £22.50
£16.99
£33.99
for 12 mths,
then £39.49
Visit Virgin Media
Up to 38Mb
Unlimited
£10
for 12 mths,
then £23
£16.99
£26.99
for 12 mths,
then £39.99
Visit BT
Plusnet home phone (if you want it)
As you can see above, Plusnet's cheapest prices tend to depend on taking their line rental. Without Plusnet home phone, there's a extra charge of a few pounds a months and a £25 setup fee.
Unlike most budget providers, however, Plusnet subscribers can choose to keep their existing landline if they'd like to, though it does pay to take home phone in terms of broadband and because it's generally good value.
There's a choice of three Plusnet call plans: inclusive Weekends, free with line rental, inclusive Anytime for £5 extra a month, and inclusive Anytime with international minutes for £7 extra.
All offer a basic voicemail package and free anytime calls to other Plusnet phone customers.
At the time of writing, calls outside of inclusive time were comparable to BT charges, though 0845 and 0870 numbers count as UK landlines within inclusive periods, which is a nice extra.
Extra features - like caller ID and a more advanced voicemail service - cost from 99p to £4 (most are around £2.50).
Geographical pricing
Finally, note that, historically, Plusnet kept prices low by only passing the biggest discounts on to those in market 3 exchanges, the most competitive areas and the cheapest to supply.
However, as of July 2012, Plusnet's cheapest deals are now available in both market 2 and 3 exchanges which means that their cheap prices are just as widely available as other providers'.
Those living in areas served by a market 1 exchange - that's the most rural with the least competition - might want to consider John Lewis (see full review here) who resell the Plusnet service but don't apply geographical pricing.
All in all, Plusnet are still one of the cheapest ISPs out there but they are no longer always the cheapest.
So what else have they got to offer?
Customer service superheroes
Plusnet's reputation for customer service has, for a long time, beaten that of most of the larger providers.
They've made it their focus by providing:
a free customer service line from a Plusnet landline and a 0345 number if the problem is your landline, which is charged at standard rate, even from a mobile;
an online ticket system for tracking and resolving non urgent problems which multiple call centre staff can easily collaborate; and
text updates.
The provider's own polls and independent surveys show high levels of customer satisfaction when compared with the big providers and they rank in our top 5 for customer service.
However, as the provider has grown larger and we've seen, perhaps inevitably, to hear more complaints regarding the quality of the support on offer.
In early 2014, we reported that Plusnet customers had been experiencing long wait times to get through to customer services, a problem Plusnet tell us they have now resolved by opening a second call centre.
For the time being, however, while Plusnet's reputation for service is still pretty good we think heroes might be pushing it.
Although Plusnet prices and their broadband, see below, make them a good provider in many ways, there are now better providers out there for service.
The nitty gritty: broadband
Finally, let's get into the details: broadband speeds, usage limits and contracts.
Plusnet speeds
Plusnet's standard deals are now advertised as up to 17Mb. According to Ofcom's most recent research released in October 2014 actual averages are:
| | 24-hour average | Peak (8-10pm weekdays) |
| --- | --- | --- |
| Up to 17Mb | 7.9Mb to 10.3Mb | 7.8Mb to 10.2Mb |
Ofcom's March 2013 report revealed that Plusnet had become the UK's fastest provider for up to 16Mb. While there's still not much in it, they aren't performing as well in Ofcom's latest research - reporting averages about 1Mb less than the other providers.
Plusnet fibre broadband is now counted separately in Ofcom's figures, those averages are:
| | 24-hour average | Peak (8-10pm weekdays) |
| --- | --- | --- |
| Up to 38Mb | 30.1Mb to 33.7Mb | 29.5Mb to 33.2Mb |
| Up to 76Mb | 57.3Mb to 60.1Mb | 55.4Mb to 58.2Mb |
Plusnet are one of our top four for fibre broadband in the UK.
More on traffic management
Plusnet are unusual in that they take considerable effort to explain their traffic management system so it's worth mentioning here.
All traffic management aims to keep speeds up by prioritising the activities, such as browsing web pages, that you need to keep running fast as you go about your day-to-day online business and slowing others, like downloading files.
There's also a limiting system which restricts certain activities - such as P2P file sharing and streaming - at peak times.
All in all, these restrictions are likely to result in generally more consistent speeds. Traffic is managed as follows:
Unlimited: prioritises VoIP and gaming
Pro (£5 extra on any deal): prioritises VoIP, gaming, VPN, FTP and Other (which could include applications not using a standard port number)
This is worth knowing about especially if you're looking at fibre: often when we say we want fast broadband, actually we want something more like broadband that doesn't stall.
And that's what Plusnet are going out of their way to try to offer here.
All unlimited
Plusnet users used to pay based on monthly usage but, as of June 2014, all their deals are unlimited.
Plusnet have only offered any unlimited packages since 2012 so this is a big change.
Flexible contracts
Plusnet offer a no contract option with a minimum term of 30 days on their standard broadband (e.g. not fibre) for a £25 setup charge.
That means take broadband and home phone without a contract and setup is £25, broadband without home phone and without a contract will cost £50 to setup.
While contracts at least a year long are standard practice in the broadband world, Plusnet's opt out does mean that you can leave at any time with 30 days notice and no penalties.
This might be useful, for example, for student house shares. We've looked at these savings, as well as other short term packages, in our student broadband guide here.
All in all: the best Plusnet deal
All in all, Plusnet broadband deals have a number of unique features - from unlimited downloads, to a unique traffic management policy - which have seen them slowly garner customers over the years and keep them, even in spite of some rough months in terms of service.
They're also one of the UK's cheapest ISPs.
Don't forget to keep an eye out for Plusnet's special offers, which are frequently changed.