Is Plusnet broadband any good?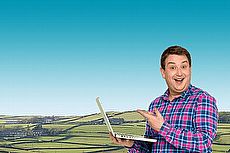 Plusnet sell themselves as customer service superheroes with super low prices.
Do those claims stack up? We've taken an in-depth look at the BT owned provider to find out.
Click through or read on for more on:
The UK's cheapest broadband?
Plusnet gained and proudly wore the "UK's cheapest broadband" crown on the strength of their old Essentials package, which had a 10GB download limit.
But with most providers moving towards unlimited data, Plusnet withdrew Essentials in June 2014.
In a bid to keep the crown, however, they occasionally run a variation of their basic Unlimited deal, which offers the same up to 17Mb broadband, but at much reduced cost or even free for 12 months.
The difference is that instead of the more usual 12 month contract, users are tied in for a minimum of 18 months - more normally associated with fibre broadband contracts.
Plusnet prices

When that offer isn't running, they still run some good introductory deals:
Unlimited broadband £2.50 for the first 12 months (normally £9.99)
Sign up for Plusnet Unlimited broadband and phone for this offer here
Unlimited Fibre Extra up to 76Mb £8.99 for the first 6 months (then £19.99)
ends 30 Jun 2015
Sign up to Plusnet Unlimited Fibre Extra up to 76Mb and phone for this offer here
And in the meantime, here are the main Plusnet deals:
Package
Speed
Usage
Line rental price
Broadband price
Unlimited + Talk Weekends
Up to 17Mb
Unlimited
£15.95
£2.50
for 12 mths,
then £9.99
Visit Plusnet
Unlimited Fibre + Talk Evenings & Weekends
Up to 38Mb
Unlimited
£15.95
£14.99
Visit Plusnet
Unlimited Fibre Extra + Talk Evenings & Weekends
Up to 76Mb
Unlimited
£15.95
£8.99
for 6 mths,
then £19.99
Visit Plusnet
Unlike other ISPs, Plusnet allow customers to take their broadband without having to take their phone service. £15.95 is pretty standard line rental at the moment, but there are cheaper options.
We look at Plusnet's home phone service in more detail below.
Note the difference in price when the phone line is removed from the equation:
| | Package | Speed | Usage | Price | |
| --- | --- | --- | --- | --- | --- |
| | Unlimited | Up to 17Mb | Unlimited | £12.49 | Visit Plusnet |
| | Unlimited Fibre | Up to 38Mb | Unlimited | £17.49 | Visit Plusnet |
| | Unlimited Fibre Extra | Up to 76Mb | Unlimited | £22.49 | Visit Plusnet |
In this case, the 17Mb broadband is only ever offered on a 12-month contract, with the 18-month commitment being reserved for fibre customers.
But we still haven't answered the question: are Plusnet still among the cheapest in the UK?
Well, here are the cheapest three available at the moment:
Package
Broadband
Price
Line Rental
Total Cost
Initial Cost
Everyday Broadband + Talk Weekend
Up to 17Mb
Unlimited
Free
for 24 mths,
then £8
£12
£12
for 24 mths,
then £20
Free
Visit SSE
Everyday Broadband + Talk Anytime
Up to 17Mb
Unlimited
Free
for 24 mths,
then £8
£20
£20
for 24 mths,
then £28
Free
Visit SSE
Superfast Fibre + Talk Weekend
Up to 38Mb
Unlimited
£10
for 24 mths,
then £20
£12
£12
for 24 mths,
then £32
Free
Visit SSE
And here's Plusnet's standard unlimited package:
Unlimited + Talk Weekends
Up to 17Mb
£2.50
for 12 mths,
then £9.99
£15.95
£18.45
for 12 mths,
then £25.94
Free
Visit Plusnet
As you can see, Plusnet are still very low cost.
Plusnet home phone (if you want it)
As shown above, Plusnet's cheapest prices come when customers take their line rental and home phone service. Without Plusnet home phone, factor in an increase of £2.50 a month and a £25 setup fee.
That's enough to potentially undo any savings gained by opting for a provider with cheaper line rental. But even if that weren't incentive enough, Plusnet's home phone service is generally good value.
There are several call plans available. Anyone taking standard broadband and phone line will get inclusive Weekend calls. Those taking one of the fibre options will get inclusive Evening and Weekend calls.
Customers on standard broadband can upgrade to inclusive Evening and Weekend calls for £2 a month. Anyone can choose to upgrade to inclusive Anytime calls for £5 extra a month, or inclusive Anytime with 300 international minutes for £7 a month.
For more details on how prices change with Evening + Weekend, Anytime or International call plans - or Plusnet's 30 day contracts - search Plusnet's deals here.
At the time of writing, calls outside inclusive time were comparable to BT charges, though 0845 and 0870 numbers count as UK landlines within inclusive periods, which is a nice extra.
All packages also offer basic voicemail free of charge, and free anytime calls to other Plusnet phone customers.
Extra features - like caller ID and a more advanced voicemail service - cost from 99p to £4 (most are around £2.50).
| Voicemail Plus | Caller Display | Anonymous call reject | Reminder Call, Call waiting, Call divert, Ringback |
| --- | --- | --- | --- |
| £3.00 | 99p | £4.00 | £2.50 |
Worth noting is that Plusnet allow customers to bundle Caller ID and the options that cost £2.50. Taking two will cost £3.00 extra a month, and each extra service will add £1.50 to the total bundle price, up to £7.50 for all five.
Plusnet last raised the cost of their line rental in September 2014, a few months before the bulk of the ISPs announced their price rises.
It's not unreasonable to expect them to raise prices again this year - after all, everyone's doing it - but there is an option to guard against that possibility for a while.
Like several other providers, Plusnet offer an upfront payment option which brings down the equivalent monthly cost of line rental. At the time of this update, it costs £155.88 a year, equivalent to £12.99 a month.
But there are no inclusive calls with that option, and customers who want inclusive calls will find the minimum add-on is the Evenings and Weekends package for £2 a month.
Fibre prices
Plusnet are among the cheapest available when it comes to fibre services.
It's often a fight between TalkTalk and Plusnet as to which of them is cheaper, but Virgin Media (who we look at in more detail here) aren't that much more expensive, while BT's 38Mb fibre costs more than Virgin's cheapest - faster - option.
Speed
Usage
Price
Line rental
Total
Up to 38Mb
Unlimited
£5
for 12 mths,
then £15
£16.70
£21.70
for 12 mths,
then £31.70
Visit TalkTalk
Up to 38Mb
Unlimited
£14.99
£15.95
£30.94
Visit Plusnet
Up to 50Mb
Unlimited
£7.50
for 12 mths,
then £17.50
£16.99
£24.49
for 12 mths,
then £34.49
Visit Virgin Media
Up to 100Mb
Unlimited
£12.50
for 12 mths,
then £22.50
£16.99
£29.49
for 12 mths,
then £39.49
Visit Virgin Media
Geographical pricing
Finally, note that, historically, Plusnet kept prices low by only passing the biggest discounts on to those in market 3 exchanges - which are the most competitive areas and the cheapest to supply.
In July 2012 though, they extended their cheapest offerings to those in market 2 exchanges as well. That means their best deals are broadly available to just as many customers as those from other providers.
People living in areas served by a market 1 exchange - that's the most rural with the least competition - might want to consider John Lewis (see full review here) who resell Plusnet but don't apply geographical pricing.
So, yes, Plusnet are still one of the cheapest ISPs out there - but they're no longer always the cheapest.
So what else have they got to offer?
Youview TV on Plusnet
Trials have been running for some time, but finally there's another ISP offering Youview TV beyond BT and TalkTalk.
Since May, Plusnet's fibre customers have been able to sign up for Youview TV from Plusnet; as it's only available to fibre customers, there's a minimum 18 month contract.
It starts at just £5 a month, regardless of whether customers opt for the basic Youview box or the Youview+ box.
The basic box is small and neat, and allows users to pause or rewind live TV for up to 30 minutes.
Youview+ is a larger box - to accommodate the 500GB hard drive that can store about 150 hours of HD content, or 300 hours of SD TV.
Both boxes are free to subscribers, although the better box comes with a £50 activation fee.
Whichever box you pick, you'll get up to 70 Freeview TV and radio channels - and 15 "premium" entertainment channels as standard:
| | | | | |
| --- | --- | --- | --- | --- |
| Animal Planet* | Crime and Investigation* | Comedy Central | Discovery Channel* | E! |
| British Eurosport 1* | British Eurosport 2* | Fox* | History Channel* | Discovery: Investigation |
| MTV* | Sony | SyFy* | TLC | Universal |
*channels available in HD for £3 a month; see below.
As with other Youview providers, the channels' own catch-up services are included - that's BBC iPlayer, ITV Player, 4oD, and Demand 5, as well as Milkshake!, UKTV (for Dave, Really and Yesterday), Quest, and where applicable, STV Player and S4C.
Customers can choose to add a couple of extra channel bundles to their package for £3 a month each.
There's the Kids TV bundle, including three channels each from Disney and Nickelodeon, plus Cartoon Network, Boomerang and Cartoonito.
Or there's the HD pack, which offers HD versions of the starred channels in the Entertainment pack above.
While it took BT and TalkTalk a while to be able to offer Netflix, it's already available through Plusnet's boxes. Existing subscribers can simply log in; those thinking about it can sign up through their TVs.
On top of all that Plusnet also offers access to Now TV and the Sky Store, with prices depending on what services users want to use.
Customer service superheroes
Plusnet's reputation for customer service has, for a long time, beaten that of most of the larger providers.
They've made it their focus by providing:
a free customer service line from a Plusnet landline, and a 0345 number if the problem is your landline, which is charged at standard rate even from a mobile - and therefore comes under most people's inclusive minutes;
an online ticket system for tracking and resolving non urgent problems, which means multiple call centre staff can easily collaborate and co-ordinate; and
text updates.
You'd expect the provider's own polls to show high levels of customer satisfaction, but independent surveys also rate them highly, especially compared to the other big providers - and they rank in our top 5 for customer service.
However, as the provider has grown larger we've, perhaps inevitably, heard more complaints regarding the quality of the support on offer.
In early 2014, we reported that Plusnet customers had been experiencing long waiting times to get through to customer services. Plusnet told us that's been resolved by opening a second call centre.
For the time being, however, while Plusnet's reputation for service is still pretty good "heroes" might be pushing it.
Although Plusnet prices and their broadband - see below - make them a good provider in many ways, there are now better providers out there for service.
The nitty gritty: broadband
Finally, let's get into the details: broadband speeds, usage limits and contracts.
Plusnet speeds
Plusnet's standard deals are now advertised as up to 17Mb. According to figures released by Ofcom in February 2015, the ISP's actual averages are:
| | 24-hour average | Peak (8-10pm weekdays) |
| --- | --- | --- |
| Up to 17Mb | 9.3Mb to 12.1Mb | 9.2Mb to 12.0Mb |
For a while in 2013 they were the UK's fastest provider for up to 16Mb, and after slowing down in 2014, have regained their fastest ADSL2+ title - beating even BT into second place; their average speeds were 8.9Mb to 11.8Mb.
But according to our own, highly scientific tests (read: in one house), Plusnet's higher speeds come at the cost of increased variability; TalkTalk may be slower, but their speed is more consistent. See how they compare with each other more deeply here.
Plusnet fibre broadband is now taken by enough people to be counted separately in Ofcom's figures. In Ofcom's last survey, they measure up like this:
| | 24-hour average | Peak (8-10pm weekdays) |
| --- | --- | --- |
| Up to 38Mb | 30.1Mb to 34.2Mb | 30.0Mb to 34.1Mb |
| Up to 76Mb | 61.3Mb to 64.0Mb | 57.1Mb to 59.7Mb |
On top of that, the regulator says Plusnet's 76Mb fibre is the fastest for uploads, offering an average speed of 17.1Mb.
Plusnet are one of our top four for fibre broadband in the UK.
More on traffic management
Plusnet are unusual in that they take considerable effort to explain their traffic management system, so it's worth mentioning here.
All traffic management aims to keep speeds up by prioritising the activities, such as browsing web pages, that you need to keep running fast as you go about your day-to-day online business and slowing others, like downloading files.
There's also a limiting system which restricts certain activities - such as P2P file sharing and streaming - at peak times.
All in all, these restrictions are likely to result in generally more consistent speeds. Traffic is managed in the following order of priority, ranging from what Plusnet refer to as Titanium for the top spot, to Bronze for the lowest:
Titanium: VoIP and gaming
Gold: Browsing and email, streaming, VPN, Plusnet FTP, download servers
Gold-plated: External FTP, download sites, "other services"
Bronze: P2P, Usenet
While it's not immediately obvious to casual browsers of the Plusnet site, their Pro add on still exists, at a cost of £5 a month.
For that, customers are promised lower latency and ping times. Their online usage is all given Gold or Titanium priority - and VPN, FTP and "other" services (which could include applications not using a standard port number) are bumped up to Titanium priority.
This is worth knowing about especially if you're looking at fibre: often when we say we want fast broadband, actually we want something more like broadband that doesn't stall.
And that's what Plusnet are going out of their way to try to offer here.
All unlimited
Plusnet users used to pay based on monthly usage but, since June 2014, all their new deals have come with unlimited data. Considering they only started to offer unlimited packages in 2012, that's a quick turnaround.
Flexible contracts
They're also one of the few providers to offer a no contract option, with a minimum term of 30 days on their standard broadband (e.g. not fibre), at £14.99 a month plus setup fees.
Take broadband and home phone without a contract and you'll face setup fees of £25; take broadband without home phone off-contract and you'll pay £50 for setup
While contracts at least a year long are standard practice in the broadband world, Plusnet's opt out does mean that you can leave at any time with 30 days notice and no penalties.
This might be useful, for example, for student house shares. We've looked at these savings, as well as other short term packages, in our student broadband guide here.
All in all: the best Plusnet deal
All in all, Plusnet broadband deals have a number of unique features - from unlimited downloads to a unique traffic management policy - which have seen them slowly garner customers over the years and keep them, even in spite of some rough months in terms of service.
They're also one of the UK's cheapest ISPs.
Don't forget to keep an eye out for Plusnet's special offers, which are frequently changed.